Investigation launched after Boko Haram victims 'raped by government officials in refugee camps'
More than two million people have been displaced by the conflict with Boko Haram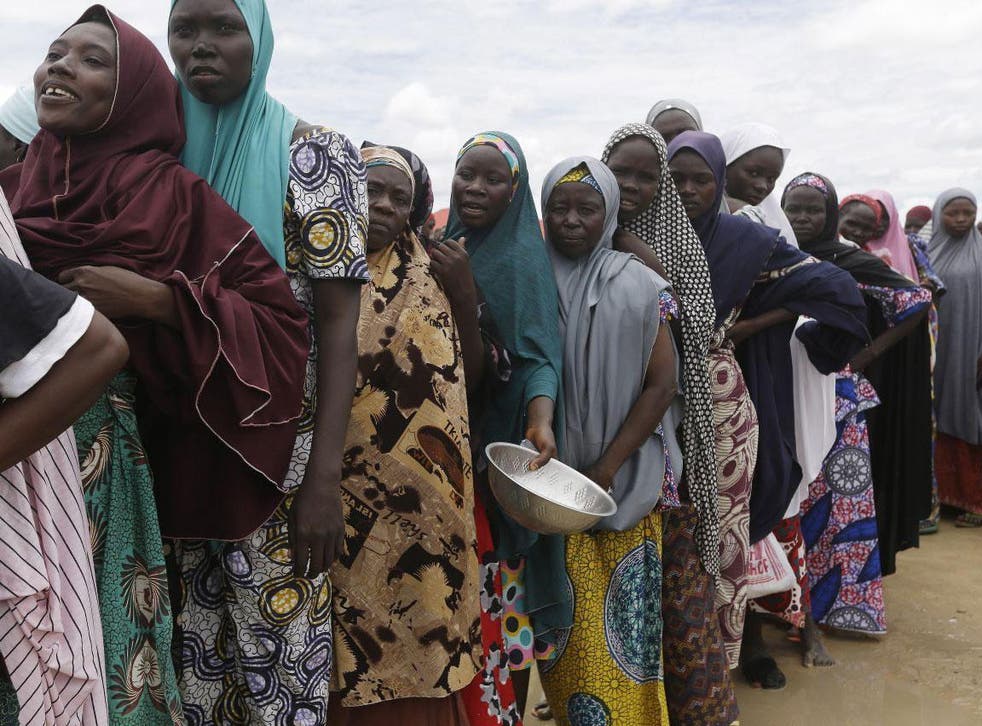 Police in Nigeria have vowed to investigate reports that refugees from Boko Haram have been raped and sexually exploited by government officials, including policemen.
A report by Human Rights Watch (HRW), an international humanitarian monitor, documented over 40 cases of sexual abuse in refugee camps in Maiduguri, Borno state.
The northern Nigerian region has seen extensive violence as the Boko Haram extremist group has waged a bloody insurgency, trying to establish an Islamic state.
Federal police chief Ibrahim Idris said the report had caused him "deep concern" and directed a special panel to conduct a "discreet and unbiased investigation".
Mr Idris said police commanders had been ordered to increase security at the camps to "ensure adequate safety of all IDPs [internally displaced persons] and... that all perpetrators of any criminal act are decisively dealt with in accordance with the law".
"Any act that violates the human dignity of the IDPs" will not be condoned anywhere, he added.
The governor of Borno state has also called for undercover police to patrol the camps.
However, as policemen among the alleged perpetrators, it is unclear how effective this measure will be.
The actions follow an expression of outrage from the country's president, Muhammadu Buhari, who said the allegations were "distressing" and promised to investigate them.
Boko Haram's use of rape as a weapon has been well documented, and the group have also taken thousands of women and girls hostage, sometimes forcing them into marriage.
Around 2.5 million people have been displaced by the fighting and many reside in refugee camps.
Thousands flee Boko Haram to camps in Niger
But the safety of these camps was placed in doubt by the allegations in the HRW report, which said 43 women and girls at seven different sites claimed they were raped by camp leaders, government officials, soldiers and vigilantes. Eight of the victims said they had already escaped from the custody of Boko Haram, where they were forced into marriage with fighters.
Most of the women interviewed by HRW were widowed or orphaned, and some said they were coerced into having sex by officials, who would withhold food, clothing or medicine in exchange for intercourse.
Others said they were drugged and raped or were falsely promised marriage in exchange for sex.
Beyond Chibok: Report shows alarming trends in countries affected by Boko Haram

Show all 16
A number of the women said as a result they became pregnant and faced a life of alienation in the camps.
"It is bad enough that these women and girls are not getting much-needed support for the horrific trauma they suffered at the hands of Boko Haram," said Mausi Segun, senior Nigeria researcher at Human Rights Watch. "It is disgraceful and outrageous that people who should protect these women and girls are attacking and abusing them."
More than 10,000 people have died in since the conflict with Boko Haram began in 2009.
AFP contributed to this report
Register for free to continue reading
Registration is a free and easy way to support our truly independent journalism
By registering, you will also enjoy limited access to Premium articles, exclusive newsletters, commenting, and virtual events with our leading journalists
Already have an account? sign in
Register for free to continue reading
Registration is a free and easy way to support our truly independent journalism
By registering, you will also enjoy limited access to Premium articles, exclusive newsletters, commenting, and virtual events with our leading journalists
Already have an account? sign in
Join our new commenting forum
Join thought-provoking conversations, follow other Independent readers and see their replies