Britain helps France in Mali conflict
UK sends aircraft to support military campaign against Islamist rebels
John Lichfield
Sunday 13 January 2013 01:00 Comments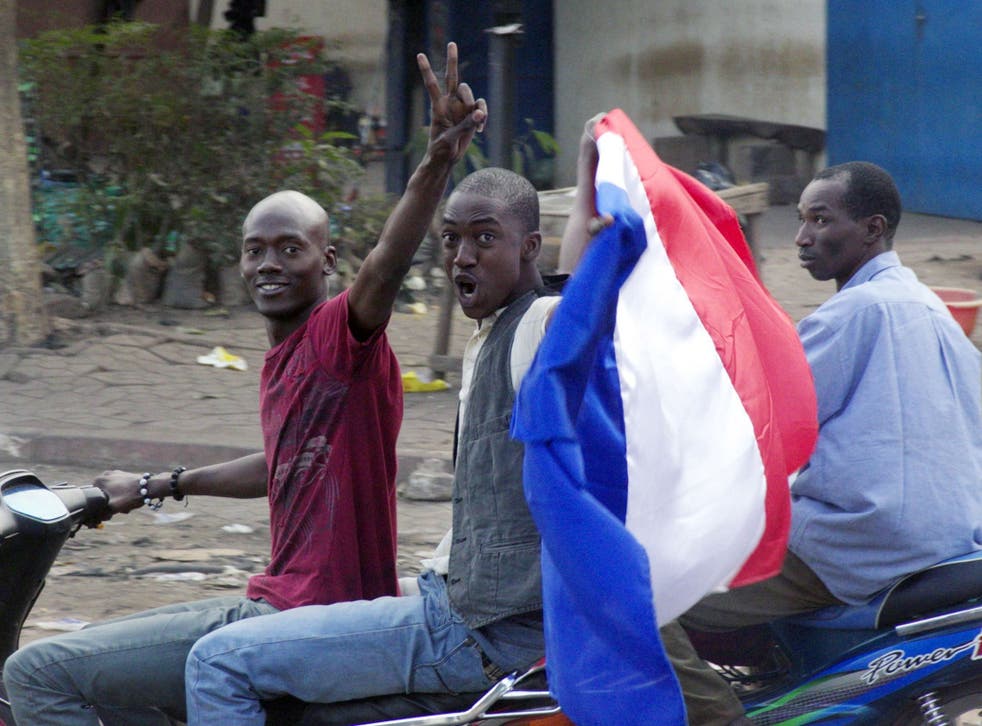 French military forces intervened in two African countries simultaneously yesterday with, at best, muddled results. A daring but botched helicopter raid by special forces early yesterday failed to free a French intelligence agent held in Somalia since 2009. The agent is believed to have been killed by his captors. At least one French soldier died and another is missing.
A simultaneous French intervention to check an advance by Islamist rebels in Mali appears to have had more success.
A French helicopter pilot was killed in an attack on two rebel columns threatening the towns of Mopti and Sévaré in central Mali. Paris said that several rebel units had been destroyed and their advance checked. Downing Street said last night it would assist by providing two military transport planes in Mali, although no personnel would be dispatched in a combat role.
Although Paris officially denied any link between the two actions 5,000 miles apart, the Somalia raid is believed to have been prompted by fears that the Malian intervention could endanger the lives of nine French hostages held across northern and eastern Africa.
The special forces raid on southern Somalia early yesterday failed to take al-Shabaab Islamist militants by surprise. French soldiers arrived under cover of darkness by helicopter from warships in the Indian Ocean and fought a bloody battle with rebels at a camp near Bulomarer.
The French Defence Ministry said that at least 17 rebels died. Paris said that one of its own soldiers had been killed and another was missing.
The hostage they were attempting to free, known by the pseudonym Denis Allex, was a French intelligence agent captured in Mogadishu in July 2009. He was "almost certainly killed by his captors", according to the French Defence Minister, Jean-Yves le Drian.
Al-Shabaab, part of the al-Qa'ida network, said that the French captive was not held in the camp that was attacked. In a statement, the Islamist group said that he was still alive and would be "judged in the next two days". It said that several French soldiers had been killed and that one wounded soldier had been captured. It threatened "bitter consequences" for France.
If it is confirmed that a new French hostage has been left in al-Shabaab's hands, the raid is likely to go down as a defeat or even a calamity. Apart from Mr Allex, there are eight other French hostages in northern Africa, six of them held by groups allied to al-Qa'ida in Mali and other parts of the Sahel region.
The French intervention in Mali mostly involved airborne firepower with some ground troops alongside Malian forces. The Defence Ministry in Paris reported yesterday that a Gazelle helicopter pilot had died in hospital of wounds received during the fighting. He was named as Damien Boiteux of the 4th helicopter combat regiment.
The Malian army said that its forces, helped by troops from France, Nigeria and Senegal, had blunted the rebel advance and were mopping up resistance Konna, an important town in the centre of the country. Some confusion surrounds the identity of the supporting troops, however. The Senegalese government said yesterday that it had no troops in Mali. The French Foreign Minister, Laurent Fabius, said that, at this stage, only French supporting forces were present.
"We are doing sweeps of [Konna] to find any hidden Islamist extremist elements," said Lieutenant-Colonel Diarran Kone, spokesman for the Malian armed forces. "We do not yet control the city, and we remain vigilant."
France, which claims to have legal cover from previous UN resolutions, intervened in the civil war in its former colony on Friday afternoon.
Paris has been trying to gather international support for a broader intervention later this year. It was asked to act immediately by the Malian government after the rebels, who control the deserts in the north, threatened to invade the more populous centre and south of the country last week.
President François Hollande said last night that security would be stepped up around public buildings and transport in France to protect against a possible attack. A loose coalition of Islamist groups has taken control of the open spaces of northern Mali in the past nine months. The more extreme groups have imposed an uncompromising interpretation of Islamic law, carrying out amputations in public squares and flogging women who do not cover their faces.
Register for free to continue reading
Registration is a free and easy way to support our truly independent journalism
By registering, you will also enjoy limited access to Premium articles, exclusive newsletters, commenting, and virtual events with our leading journalists
Already have an account? sign in
Join our new commenting forum
Join thought-provoking conversations, follow other Independent readers and see their replies