Burkina Faso: Elderly Australian doctor and wife kidnapped by jihadists near border with Mali during al-Qaeda attack
The couple were taken from their home in Djibo by an armed group overnight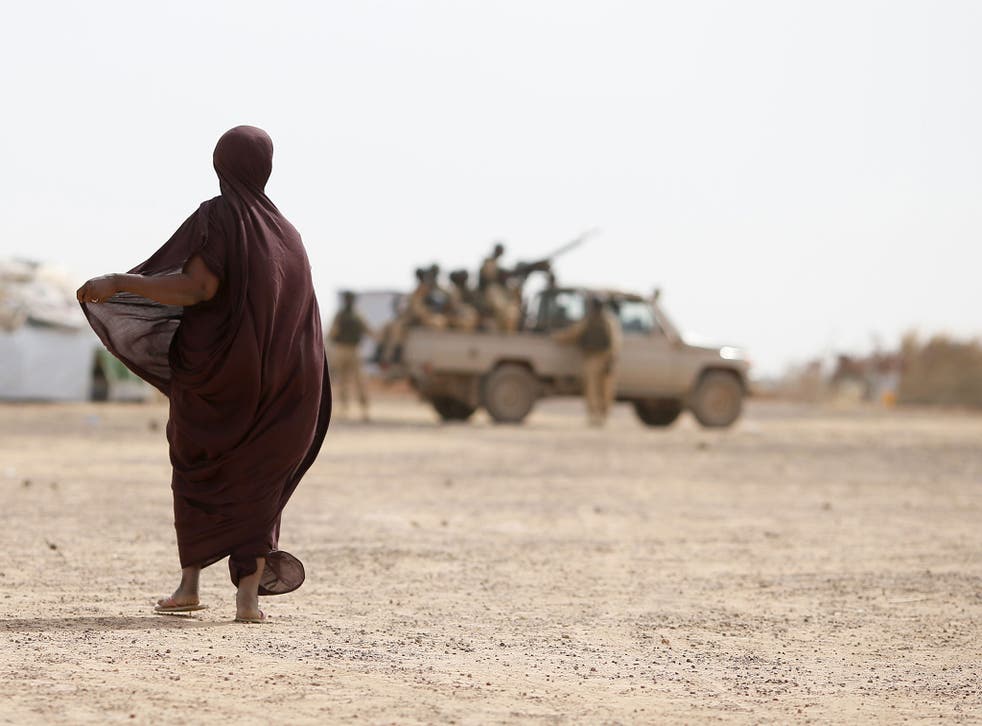 A friend of an elderly Australian couple kidnapped by terrorists in Burkina Faso has described them as "great people" who devoted their lives to the local community.
The man and woman, who The Independent has chosen not to name, had lived in the town of Djibo near the Malian border for decades working at a hospital.
They were abducted from their home in the early hours of Saturday morning, as al-Qaeda militants held 150 hostages more than 100 miles away in the capital, Ouagadougou.
Burkina Faso hotel siege ends
At least 23 people from 18 countries were killed in the bomb and shooting attacks at the Splendid Hotel and adjoining Cappuccino restaurant before security forces ended the siege.
That atrocity was claimed by Al-Qaeda in the Islamic Maghreb (AQIM), saying it was carried out in "revenge against France and the disbelieving West", but another group said it was responsible for the kidnapping.
Hamadou Ag Khallini, a spokesperson for Malian Islamists Ansar Dine, told AFP that the couple were being held by jihadists from the al-Qaeda-linked "Emirate of the Sahara".
He said they were alive and more details would be released soon.
A friend of the Australian couple, who did not want to be named, told The Independent the doctor and his wife moved to Burkina Faso in the 1970s and founded Djibo's first medical clinic, which is now full of patients and without its only doctor.
"They were taken at about 4am," the man said. "They were sleeping and they were taken from their beds. The door was found open and his glasses were found on the side."
Burkina Faso hotel attack - in pictures

Show all 10
The couple's friend, who lived in Burkina Faso with his family until six months ago, said that although the doctor is 82 and his wife a few years younger, they still work full-time.
"They're an old couple but they have a phenomenal amount of energy, they're just great people," he added.
The man said he was shocked by the attack at the Splendid Hotel, recalling how he used to visit the Cappuccino café with his wife and children, adding: "It was a nice little restaurant, it was very popular with Westerners."
There have been several kidnappings and attacks along Burkina Faso's border with Mali, where the French army, UN and African Union members intervened to drive out Islamist militants in 2013.
A Romanian security officer was kidnapped while working for a mining company in Tambao in April and three members of Burkina Faso's gendarmerie were killed in another attack along the border in October.
The Foreign and Commonwealth Office (FCO) advises against all travel to northern parts of the country, particularly to areas bordering Mali and Niger.
"There is a risk that terrorist groups including al-Qaeda in the Islamic Maghreb (AQIM), the Movement for Unity and Jihad in West Africa (MUJWA) and al-Mourabitoun may cross the borders from Mali and northern Niger into Burkina Faso to carry out kidnap attacks," its travel advise says.
More than 25 Westerners have been kidnapped in the Sahel region, including parts of Burkina Faso, Mali, Niger, Senegal and other nations, since 2008 and many are still being held.
Al-Qaeda has been known to send its own militants or pay criminal gangs to carry out kidnappings on its behalf, sometimes taking foreigners to remote desert areas in northern Mali to be exchanged for multi-million dollar ransom payments.
Burkina Faso has been undergoing political turmoil since its president of 27 years was ousted in a popular uprising in late 2014, followed by a failed military coup in September last year.
Update: Initial reports quoting Burkina Faso's government said the kidnapped couple were Austrian but the interior minister later confirmed they were Australian and this article was corrected accordingly.
Register for free to continue reading
Registration is a free and easy way to support our truly independent journalism
By registering, you will also enjoy limited access to Premium articles, exclusive newsletters, commenting, and virtual events with our leading journalists
Already have an account? sign in
Register for free to continue reading
Registration is a free and easy way to support our truly independent journalism
By registering, you will also enjoy limited access to Premium articles, exclusive newsletters, commenting, and virtual events with our leading journalists
Already have an account? sign in
Join our new commenting forum
Join thought-provoking conversations, follow other Independent readers and see their replies