Burkino Faso president Blaise Compaore resigns after 27-year rule following violent protests
Resignation comes a day after the army dissolved the government and protesters set fire to parliament
Loulla-Mae Eleftheriou-Smith
Friday 31 October 2014 14:43 Comments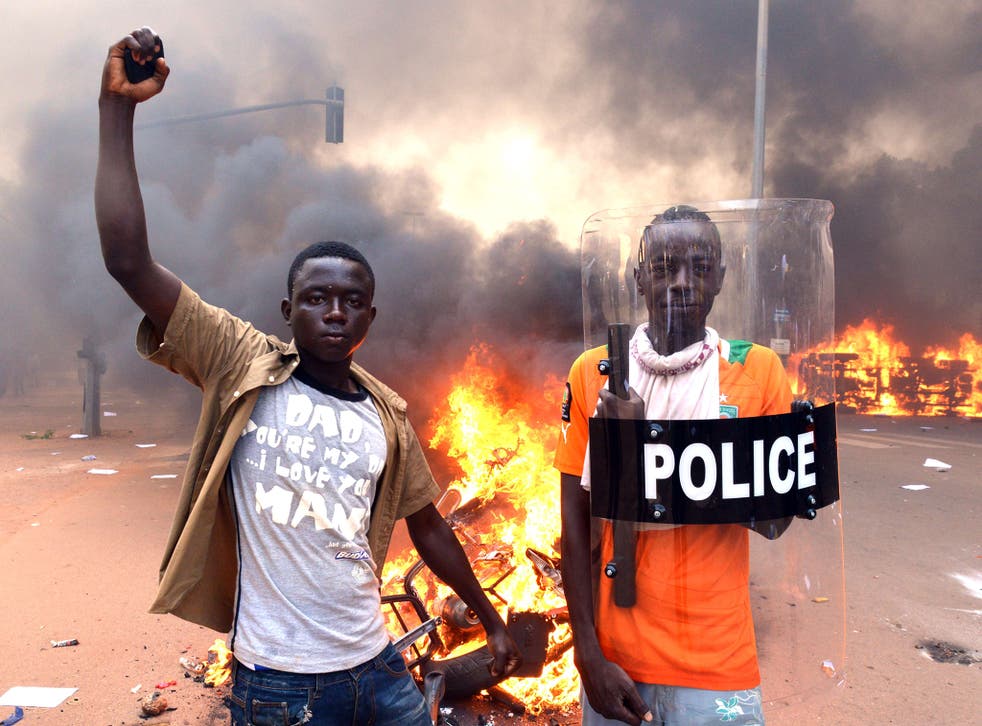 Burkina Faso's president, who has ruled the West African country for 27 years, has resigned.
Blaise Compaore, who has ruled Burkina Faso since he seized power in a 1987 coup, said in a statement that he has stepped down.
A heavily armed convoy believed to be carrying Mr Compaore was seen travelling on Friday towards the country's southern town of Po, near the border with Ghana, two diplomatic sources and local media reported.
The sighting took place as the former president's resignation statement was announced on local media.
Mr Compaore's resignation comes hours after appearing on television on Friday stating that he would head up a transitional government and remain in power until elections would be held in 12 months' time.
The army dissolved Burkina Faso's government on Thursday and set up a transitional government following violent mass protests in which parliament buildings were ransacked and set on fire.
Tens of thousands of protesters in the capital of Ouagadougou cheered as they were informed of the news by the army, and an army colonel appeared on television to announce Mr Compaore's resignation.
The former president's statement, read on television, said: "In order to preserve the democratic gains, as well as social peace, I declare a power vacuum to allow the establishment of a transition leading to free and fair elections within a maximum of 90 days."
"For my part, I think I have fulfilled my duty."
Army chief Gen Honore Traore has taken over as head of state. He said in a statement: "In line with constitutional measures, and given the power vacuum [...] I will assume as of today my responsibilities as head of state."
Tens of thousands of people took to the streets of Burkina Faso calling for Mr Compaore to step down on Friday in protest against his bid to seek a fifth term in power, with demonstrators shouting: "It is over for the regime" and "We do not want him again".
At least three protesters were shot dead and scores were wounded by security forces during the protests on Thursday.
Additional reporting by agencies.
Register for free to continue reading
Registration is a free and easy way to support our truly independent journalism
By registering, you will also enjoy limited access to Premium articles, exclusive newsletters, commenting, and virtual events with our leading journalists
Already have an account? sign in
Join our new commenting forum
Join thought-provoking conversations, follow other Independent readers and see their replies