Cairo's women take to streets and tell military: No more beatings
Hillary Clinton has condemned the ruling Council's 'disgraceful' handling of the protests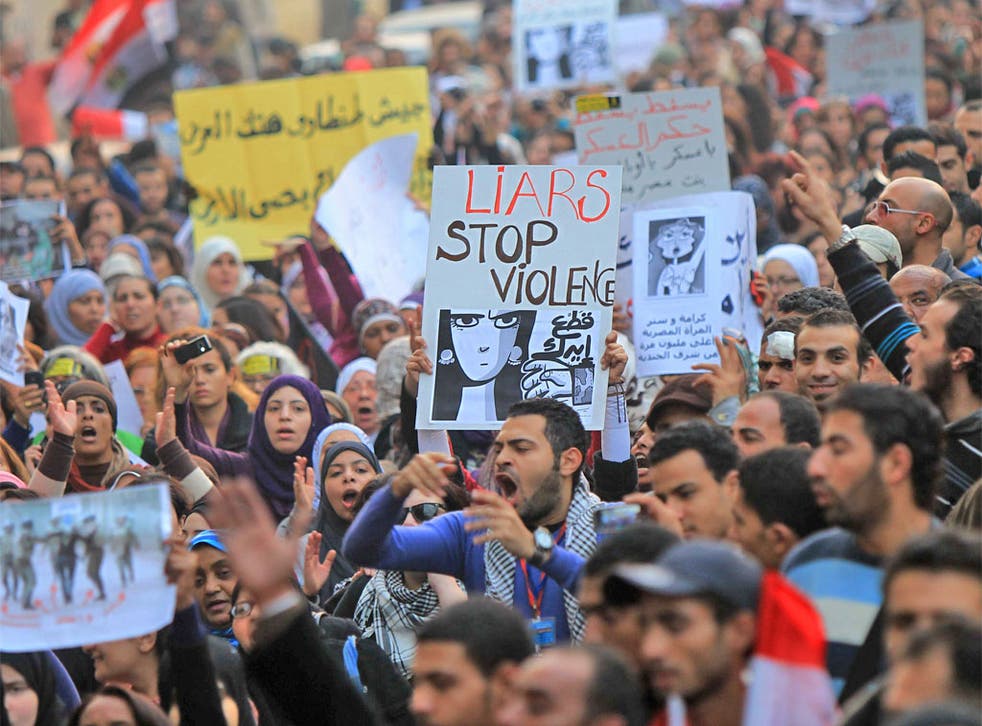 Thousands of women took to Cairo's streets yesterday to protest against attacks on them by security forces trying to quell unrest in the Egyptian capital.
Shouting slogans and surrounded by a protective ring of male protesters, the women's march came days after a brutal attack on a veiled female protester in Tahrir Square. Footage showing her being beaten senseless by military police and having her clothes ripped from her body has received worldwide coverage.
The incident angered the US Secretary of State, Hillary Clinton, who condemned the ruling military council's "disgraceful" handling of recent protests.
Ms Clinton said the conduct of Egypt's military "dishonours the revolution" and said the country's authorities were responsible for the "systematic degradation of Egyptian women". It is believed the woman in question has been released but has gone into hiding, too scared to speak to the media, despite frequent attempts by Cairo TV stations to contact her.
The attack – one of a number on women over the past four days – has generated fevered debate in the country, with TV talk shows devoting substantial time to it. Before yesterday's protest was over, the ruling military council issued an unusual apology for what it called "violations" – a quick turnaround after days of dismissing the significance of the abuse.
At a press conference earlier this week, Major-General Adel Emara had refused to denounce the treatment of female protesters, saying Egyptians should understand the circumstances behind the videos of army brutality that have been circulated by activists.
In a bizarre presentation, he played videos aimed at denigrating protesters, including one supposedly raising doubts about a woman's morals.
It showed the female activist discussing her husband and then later revealing she was unmarried.
"There is a methodical and premeditated plot to topple the state, but Egypt will not fall," the general told reporters.
The military council appears to be gambling on a presumption that Egyptians are growing weary of violence that has brought much of central Cairo to a standstill.
Yesterday morning, four people were reportedly killed as military police stormed Tahrir Square, the second dawn raid in as many days.
The sound of machine gunfire could be heard across the downtown area as the authorities tried to clear demonstrators who have been battling with the army since Friday.
Join our new commenting forum
Join thought-provoking conversations, follow other Independent readers and see their replies