Cecil the Lion: Zimbabwe searches for hunter who killed iconic big cat with bow and arrow and rifle
Popular with safari-goers 13-year-old Cecil was found skinned and decapitated outside the boundaries of Hwange national park
Alexander Sehmer
Sunday 26 July 2015 18:07 Comments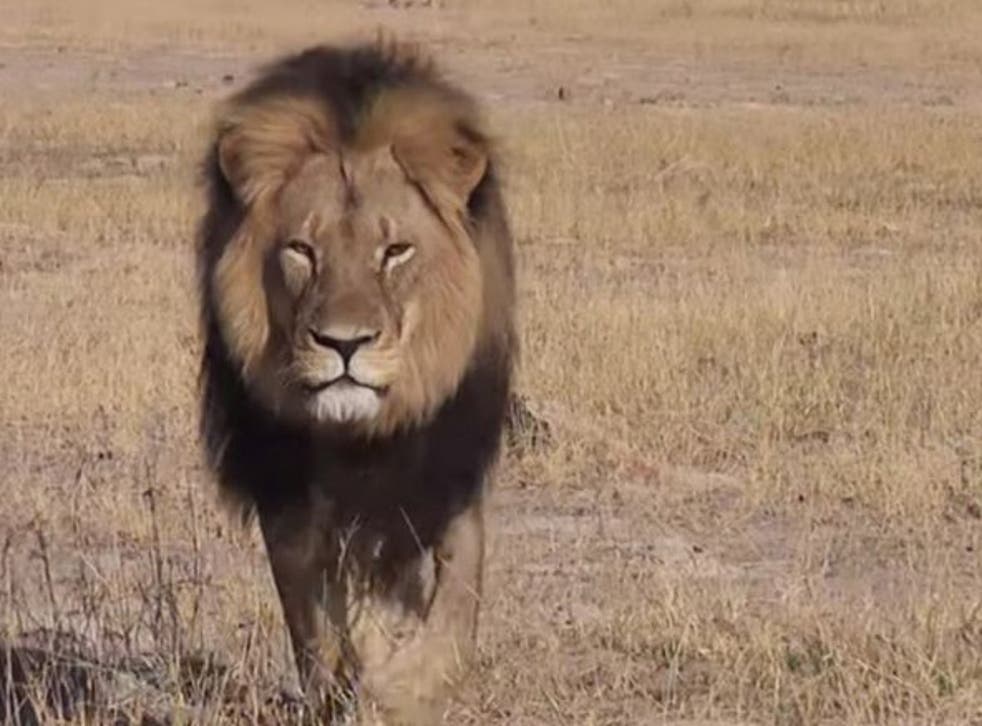 Zimbabwean authorities have begun an investigation into the killing of Cecil the Lion, probably the country's most famous lion and the star attraction of the Hawange national park.
Cecil was killed by a sports hunter and his head taken as trophy. His body was found skinned and decapitated outside the park.
Zimbabwean authorities are reportedly trying to track down the person who allegedly paid €50,000 (£35,000) to park guides for the chance to hunt Cecil.
Reports of the incident quote Jonny Rodrigues of the Zimbabwe Conservation Task Force (ZCTF) as saying that 13-year-old Cecil was shot with a bow and arrow and was then tracked by the hunter for two days as he wandered wounded, before being shot with a rifle.
According to Mr Rodrigues, the hunter was a Spanish citizen.
The Spanish animal charity Chelui4lions said it had written to the Spanish and EU authorities asking them to prevent Cecil's head being imported into Europe.
There has been speculation that Cecil was enticed outside the Hwange park boundary using a freshly killed animal as bait.
Outside of the park's boundaries it may not have been illegal to kill Cecil.
A statement from the Zimbabwe Professional Hunters and Guides Association (ZPHGA) said that one of the hunters was a ZPHGA member and the safari had taken place on private land.
The organisation said it would not comment on the "legal aspect" of the hunt until the investigation by the Zimbabwe Parks Wildlife Management Authority had been concluded.
Since Cecil's death a number of remarks attacking the group have been left by commenters on the ZPHGA's Facebook page.
Bryan Orford, a professional wildlife guide, has filmed Cecil in the wild:
Cecil was wearing a GPS collar making it possible to track his final movements.
He had the collar as part of an Oxford University research project into the impact of sports hunting on lions in the safari area around the national park.
Black-maned Cecil was popular with tourists, with some saying that he would pose for the camera. His death has re-awakened a debate on the hunting of Africa's wildlife for sport.
Register for free to continue reading
Registration is a free and easy way to support our truly independent journalism
By registering, you will also enjoy limited access to Premium articles, exclusive newsletters, commenting, and virtual events with our leading journalists
Already have an account? sign in
Join our new commenting forum
Join thought-provoking conversations, follow other Independent readers and see their replies