Central African Republic goes to polls after years of conflict
Authorities have repeatedly delayed the polls and some doubt groups at the heart of the conflict will accept the result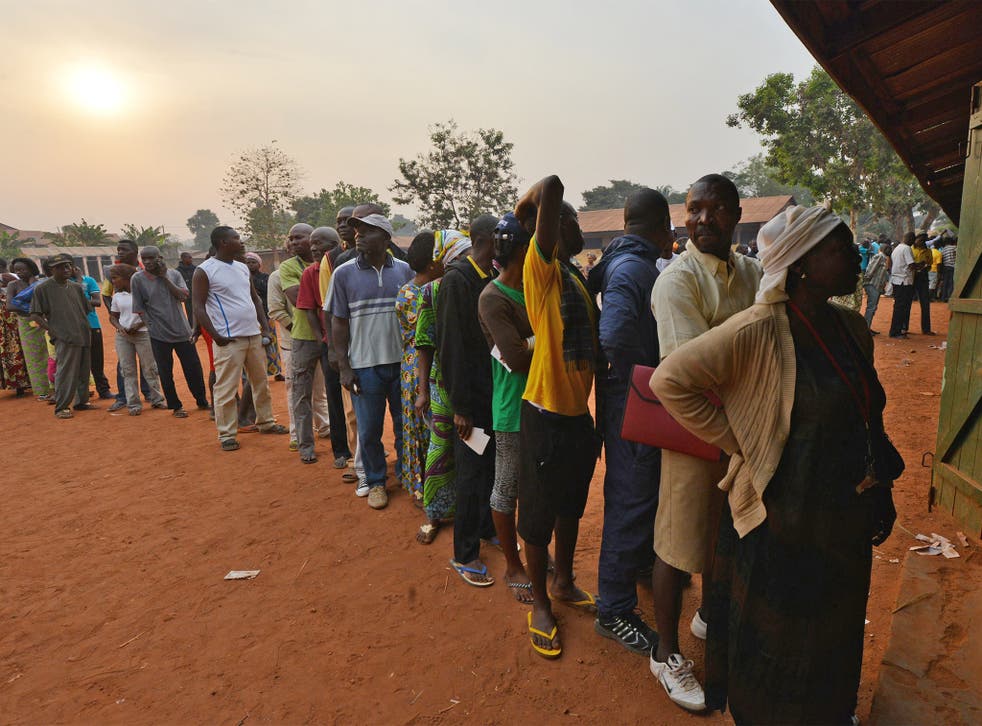 UN peacekeepers are patrolling the streets in Muslim districts of the Central African Republic's capital, watching as lines form of cautiously hopeful voters. After two years of inter-religious conflict that has left thousands dead, the people of the CAR hope long-awaited elections might finally bring some stability.
Authorities have repeatedly delayed the polls, not least due to violence in the capital Bangui in September, and some people doubt militia groups at the heart of the conflict will accept the result if it goes against them.
Mainly Muslim rebels from a group called the Seleka seized power in the majority Christian nation in early 2013, provoking reprisals from the Christian anti-balaka militias that triggered a cycle of religious and inter-communal killings. About one million people from a population of five million have been driven from their homes.
Thirty candidates are competing for the presidency but in the absence of opinion polls or an incumbent, it is hard to predict a winner. Leading candidates include the former prime ministers Anicet-Georges Dologuélé and Martin Ziguélé.
"I've been dreaming of this election for two years since the day armed men killed my father and my brother in Bangui. I voted for peace," said Ahmat Abouna, who fled to the Cameroon border town of Garoua-Boulai and voted along with thousands of other refugees.
Mr Ziguélé received a boost on 29 December when anti-balaka militias who have formed the Central African Party of Unity and Development said they would support his candidacy. Other candidates include the former foreign minister, Karim Meckassoua, and Bilal Désiré Nzanga-Kolingba, the son of a former president.
During a referendum on a new constitution this month, gunmen attacked voters in the capital and elsewhere.
World news in pictures

Show all 50
"This time, everything will be fine throughout Central African Republic," said Julius Rufin Ngoadebaba, spokesman for the National Electoral Authority. He rejected allegations that illegal voter cards had been distributed.
Many people in Bangui said they hoped the election will bring change to the country, ruled since May 2014 by the interim President Catherine Samba-Panza. She is barred by law from standing in the presidential election.
The Seleka withdrew from Bangui after their leader Michel Djotodia stepped down from the presidency in 2014 and the group's factions have entrenched themselves in the north-east.
Some have flirted with secession and convincing them to cede control won't be easy if the new president is deemed a threat to Muslims. The new president must also disarm militias.
The economy has struggled for years, with uranium deposits undeveloped, the cotton sector in trouble and gold and diamond mines under the control of militias.
Refugees in Cameroon, in the town of Garoua Boulai, were excited about the vote on 30 December. Nearly 12,000 are registered to vote in a camp of about 25,000, officials there said. Arnold Sami said that the people of Central African Republic have seen too much pain and suffering: "I am truly proud that they've decided to organise these elections, and after the elections I only want peace." AP; Reuters
Register for free to continue reading
Registration is a free and easy way to support our truly independent journalism
By registering, you will also enjoy limited access to Premium articles, exclusive newsletters, commenting, and virtual events with our leading journalists
Already have an account? sign in
Register for free to continue reading
Registration is a free and easy way to support our truly independent journalism
By registering, you will also enjoy limited access to Premium articles, exclusive newsletters, commenting, and virtual events with our leading journalists
Already have an account? sign in
Join our new commenting forum
Join thought-provoking conversations, follow other Independent readers and see their replies