Charred remains of massacre victims found in Tripoli
Regime troops killed 53 people in a warehouse and then burnt the bodies, say local people
David Randall
,
Jonathan Owen
Sunday 28 August 2011 00:00 Comments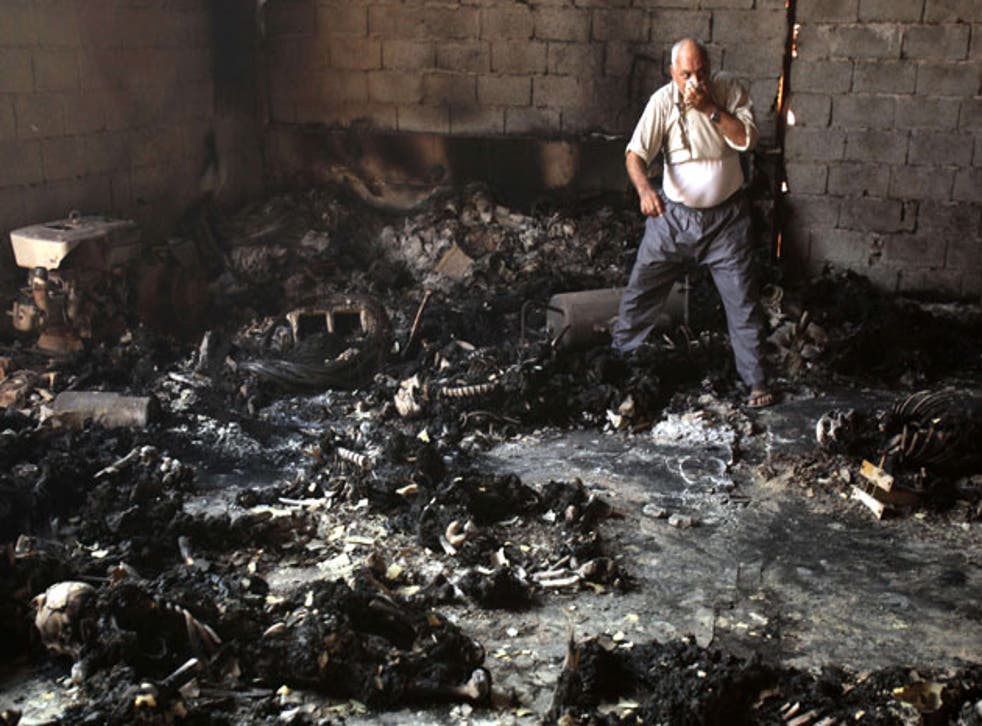 The terrible price many Libyan people have paid to be free of Colonel Gaddafi is becoming plain. Yesterday, only a day after more than 120 decomposing bodies were found in a Tripoli hospital, a British television team filmed the charred remains of an estimated 53 people in a burnt-out warehouse in the south of the city.
Stuart Ramsay of Sky News was led to the building by residents who had made the discovery. Inside was a scene of mass cremation: more than four dozen corpses of what were once human beings, their ages and genders impossible to tell. Ribcages, skulls and other bones lay in a blackened mess. Local people told of how the bodies of perhaps as many as 100 others lay nearby, including those of two soldiers with their hands behind their backs who had been executed for refusing to fire on the victims of the massacre, be they regime critics, civilians, or other refusenik soldiers.
The residents said they had been alerted by shooting some days ago, but when they tried to approach they were told by regime snipers that they would be shot if they did not retreat. After the Gaddafi men left, they went inside the warehouse, which is next to a military base. They said that in the past few weeks, they had seen people digging at night and the sound of gunfire. In the morning, the holes would be filled in.
But this is, like all civil wars, an exceptionally brutal conflict, with blame on both sides, and victims everywhere. The bodies keep piling up – civilians caught in crossfire, fighters lying where they fell, and the executed of both sides, including men from sub-Saharan Africa who may have been Gaddafi mercenaries, or just some poor wretch gone north to find work.
The first test for the National Transitional Council will be to halt these cold-blooded killings, and also, if they wish to rely on British and American support, ensure that their upper ranks are free from association with al-Qa'ida or its sympathisers.
Yesterday, The Independent on Sunday learned that the rebel military commander behind the successful assault on Tripoli had fought in Afghanistan alongside the Taliban and was an Islamist terror suspect interrogated by the CIA. Abdelhakim Belhadj, the newly appointed commander of the Tripoli Military Council is a former emir of the Libyan Islamic Fighting Group (LIFG) – banned by Britain and the US as a terrorist organisation after the 9/11 attacks.
The 45-year-old first went to Afghanistan in the late 1980s, where he fought against occupying Soviet forces. Arrested in Malaysia in 2004, he was interrogated by the CIA in Thailand before being extradited to Libya, where he was released from prison last year; he has since renounced violence. Mr Belhadj has become a hero of the Libyan revolution – and ally of the West.
A former comrade-in-arms insisted the rebel leader was not a future enemy in waiting. Noman Benotman, once a senior LIFG figure, and now senior analyst at the Quilliam think-tank, said: "I strongly believe he is capable of rationalising even the rogue elements within the rebels. He will do everything possible to prevent chaos."
He insisted Mr Belhadj "was never ever convinced by al-Qa'ida". But he added: "If the West delays supporting the NTC it runs a high risk that the capital and maybe the country will start to gradually drag into a situation of chaos." If this happens, "al-Qa'ida will not need any invitations or permissions to enter". The former LIFG member conceded there was a risk that some of the rebels could turn against the West. But he added: "I don't think there is a real or significant threat."
Founded in the 1990s by Libyan fighters returning from Afghanistan, the LIFG merged with al-Qa'ida in 2007, and in March 2011 renamed itself the Libyan Islamic Movement. Hundreds of its members are taking part in the fighting in Libya.
Mr Benotman said Islamists make up a large proportion of rebel forces. "About 20 per cent of the rebel forces are soldiers and officers that defected; within the 80 per cent I believe 30 per cent of them are Islamists."
Fighters from an Islamist brigade were responsible for the shooting of General Abdel Fattah Younes, commander of rebel forces, earlier this year, according to Mr Benotman. "They are an isolated Islamist brigade that has been dismantled," he said.
Register for free to continue reading
Registration is a free and easy way to support our truly independent journalism
By registering, you will also enjoy limited access to Premium articles, exclusive newsletters, commenting, and virtual events with our leading journalists
Already have an account? sign in
Join our new commenting forum
Join thought-provoking conversations, follow other Independent readers and see their replies