Clinton tries to heal rift between Egyptian President and the generals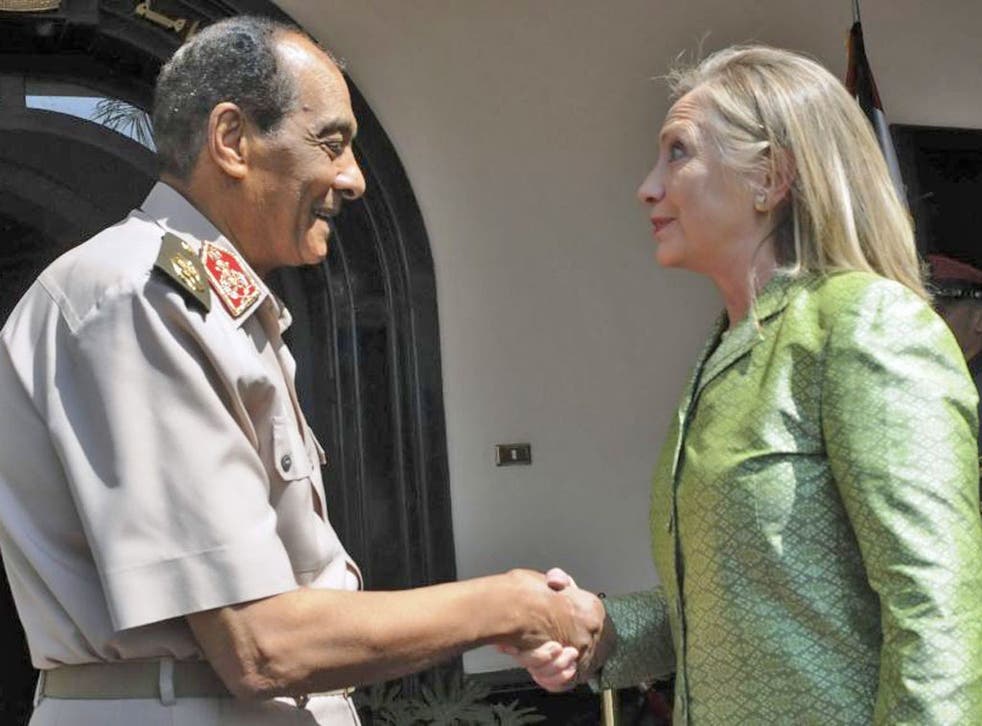 The US Secretary of State, Hillary Clinton, discussed Egypt's turbulent democratic transition with the country's top general yesterday as the military wrestles for influence with a newly elected President.
The low-key meeting with Field Marshal Hussein Tantawi, right, came a day after she met Islamist President Mohamed Morsi, whose powers were clipped by the military before he took office following the country's first free leadership vote.
Mr Morsi hit back by recalling the Islamist-dominated parliament that the army had disbanded, deepening the stand-off.
Mrs Clinton said after meeting Mr Morsi that her meeting with Field Marshal Tantawi would cover the army's return to a "purely national security role" . According to a US official , Mrs Clinton spoke of Egypt's political evolution, while Field Marshal Tantawi told her what Egypt needed most was help with its economic problems.
They also touched on regional security issues, such as the Israeli-Palestinian peace process.
REUTERS
Register for free to continue reading
Registration is a free and easy way to support our truly independent journalism
By registering, you will also enjoy limited access to Premium articles, exclusive newsletters, commenting, and virtual events with our leading journalists
Already have an account? sign in
Register for free to continue reading
Registration is a free and easy way to support our truly independent journalism
By registering, you will also enjoy limited access to Premium articles, exclusive newsletters, commenting, and virtual events with our leading journalists
Already have an account? sign in
Join our new commenting forum
Join thought-provoking conversations, follow other Independent readers and see their replies