'Up to 20 killed' in DRC protests hours after end of president's term
'On the issue of deaths, it looks bad,' the UN human rights director for Congo says
Tim Cocks
Kinshasa
,
Aaron Ross
Tuesday 20 December 2016 19:43 Comments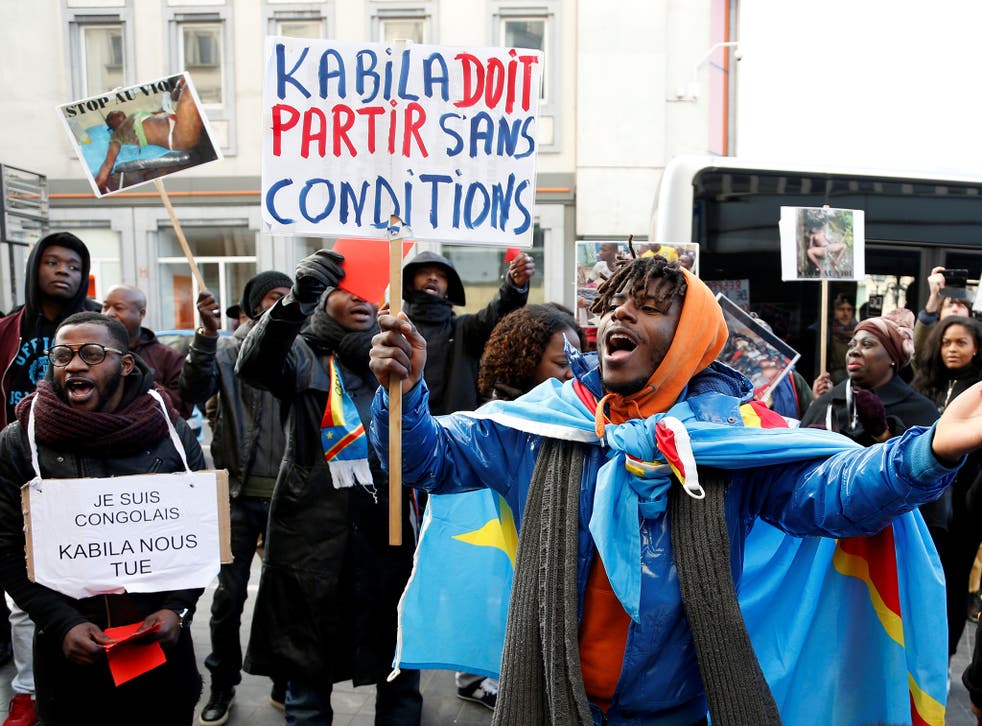 Security forces shot dead several protesters who had gathered in the streets of Kinshasa on Tuesday to demand that Democratic Republic of Congo (DRC) President Joseph Kabila step down after his mandate expired overnight.
Scattered protests started on Tuesday, and opposition leader Etienne Tshisekedi called on the Congolese people to peacefully resist Mr Kabila, who has remained in power beyond his constitutional mandate with no election to pick a successor.
Gunfire crackled in several districts of the capital Kinshasa, a city of 12 million, as measures to thwart dissent raised fears of bloody repression.
"On the issue of deaths, it looks bad," the UN human rights director for Congo, Jose Maria Aranaz, told Reuters. "We are reviewing allegations of up to 20 civilians killed, but it (the information) is pretty solid."
At least two civilians were killed overnight when soldiers opened fire during clashes in the neighbourhood of Kingabwa, two witnesses said. The government spokesman could not be reached for comment and a police spokesman had no information.
With a ban on demonstrations in force and a heavy military presence, Kinshasa's normally busy main boulevards were for the most part deserted as pockets of youths gathered in sidestreets only to be dispersed by volleys of teargas.
By sunset, the city was calm, although littered with debris and burned tyres from earlier rioting.
Scores of people were arrested, especially in the eastern city of Goma, rights groups said. Reuters witnesses saw more than a dozen young men who had been arrested seated in the back of a military truck near the university.
"I'm gravely concerned by the arrests of those who seek to express their political views," the head of the UN mission Maman Sidikou said in a statement, adding that UN staff had not been able to consistently gain access to jails to gather information on how many people had been arrested.
He called on Congo to end "politically motivated detentions".
World news in pictures

Show all 50
UN peacekeepers in armoured personnel carriers patrolled the streets, at one point cheered on by a crowd shouting: "Kabila, know that your mandate is finished!"
In Lubumbashi, in the heart of Africa's richest copper mining area, police and Kabila's elite Republican Guard fired live bullets to prevent demonstrations, Gregoire Mulamba, a local human rights activist, told Reuters.
Local activist Jean-Pierre Muteba reported at least one death, a 14-year-old boy shot by police. A police spokesman said he did not have enough information to comment.
The mayor of Lubumbashi, Jean Oscar Sanguza, told Reuters security forces had intervened to stop looters.
In the city of Kananga, in central Congo, fighting between security forces and a local clan militia shut down the airport.
In a video posted on YouTube, opposition leader Mr Tshisekedi called on people to "not recognise the ... illegal ... authority of Joseph Kabila and to peacefully resist (his) coup d'etat."
Authorities have blocked most social media.
Western powers are nervous of a repeat of the conflicts between 1996 to 2003 that killed millions, drew in half a dozen neighbouring armies and saw rebel fighters rape women en masse. Congo has never experienced a peaceful transition of power.
The United States and European Union have called for Mr Kabila to respect the constitution. Congo's former colonial master Belgium said on Tuesday it would "re-examine" relations with Mr Kabila and France urged the European Union re-examine its links with Congo.
Mr Kabila, who has ruled since 2001, rarely speaks about the issue in public, but his allies say the election was delayed because of logistical and financial problems. The constitutional court has ruled Mr Kabila can stay on until the vote takes place.
Reuters
Register for free to continue reading
Registration is a free and easy way to support our truly independent journalism
By registering, you will also enjoy limited access to Premium articles, exclusive newsletters, commenting, and virtual events with our leading journalists
Already have an account? sign in
Join our new commenting forum
Join thought-provoking conversations, follow other Independent readers and see their replies