Aga Khan accused of squeezing Kenya press freedom after newspaper sacks cartoonist and journalists
The 'Daily Nation', once renowned for its fearless independence, has sacked several senior journalists amid fears that its owner, the Aga Khan, is co-operating with the government ahead of elections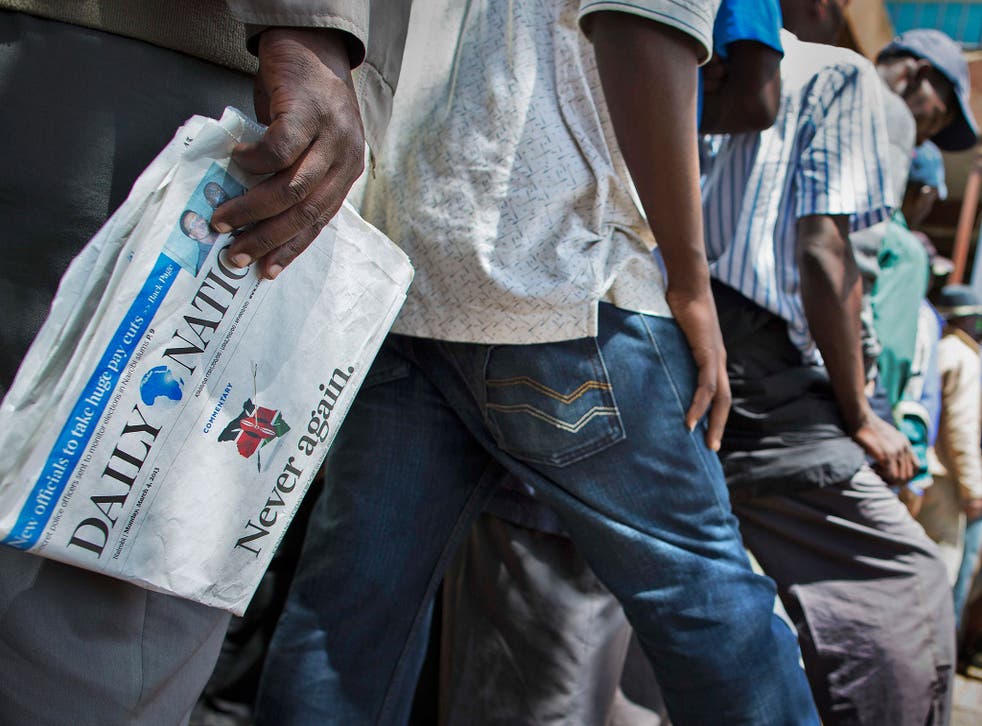 Until recently Godfrey Mwampembwa was one of Africa's best known political cartoonists and one of the prized assets of Kenya's Daily Nation newspaper.
When he was suddenly dismissed from the paper late last year, many were left baffled. None more so than Mr Mwampembwa himself.
Mr Mwampembwa, whose pen-name is Gado, learned of his fate from the paper's editor-in-chief, Tom Mshindi, when he attempted to return early from sabbatical.
"He said, 'They have decided not to renew your contract'," he told The Independent. I said, 'Who are they?' He couldn't answer.
"My reading is that the biggest pressure came from this administration."
The Daily Nation, East Africa's most influential newspaper, is owned by Prince Karim Aga Khan, a British businessman and the hereditary leader of the world's 15 million Ismaili Shias, who confer him with "demi-god" status. He now stands accused of acquiescing to demands from the Kenyan government to gag the newspaper in a bid to protect his business interests in the country. The government is by far the country's biggest advertiser and has the power to extend or rescind tax breaks.
Prince Karim, whose father's ex-wives included the actress Rita Hayworth, grew up in Nairobi and founded the Daily Nation in 1960, building it into the country's foremost newspaper. But his vast business empire – including the Aga Khan hospital, the Serena hotel chain, insurers and a Kenyan bank – has long since dwarfed his media interests.
As his empire has grown, so, too, have his vulnerabilities. In Uganda, President Yoweri Museveni's antagonism to Prince Karim's media interests led to a "taming" of his newspaper the Daily Monitor.
Since November last year, a series of senior journalists have been purged from the Daily Nation as well as Gado, including a managing editor who wrote a searing New Year's editorial attacking President Uhuru Kenyatta over his failure to tackle corruption.
The cuts have left the industry reeling, with executives and journalists accusing the Aga Khan of scheming with the government as the country heads into tense elections next year. Many fear that the government is seeking to roll back hard-won freedoms.
The Aga Khan's spokesman declined to comment, but the government denied claims of state-led pressure. "This has nothing to do with the presidency," said Manoah Epinisu, presidential spokesman. "Anyone saying that must be absolutely mad."
Widely regarded as Africa's most talented satirist, Gado lampooned African politicians with merciless aplomb. But, arguably, it was his endless drawings of President Kenyatta in shackles, when he faced charges at the International Criminal Court over ethnic violence, which drew most fire. "I was told that they, the board, say you have to stop," Mr Mwampembwa, a Tanzanian, recalled. "I was pretty much a marked man."
His troubles escalated with the publication of a cartoon pillorying Tanzania's then-President, Jakaya Kikwete, and he was persuaded to take time off to allow tempers to cool, before he was cut loose. But if Gado's departure had a sense of inevitability about it, the exit of other critical journalists did not.
Denis Galava, a seasoned journalist, was the most senior editor at the paper the day he wrote his now infamous leader, a no-holds-barred open letter to the president that went viral on social media.
"We reject the almost criminal… negligence with which your government has responded to our national crises this past year," he wrote in the 2 January editorial. "With the exception of a few family businesses and tenderpreneurs [those who win government contracts by tender] who raked in billions of shillings – thanks largely to political patronage – everyone is losing money in this country."
Mr Galava said events took a rapid turn. "Once it started trending, I knew automatically that the political and business class would be upset," he said. Within hours of publication, the State House, the President's official residency, was on the phone, he said, asking: "Why is the Nation declaring war against the President on the first day of the year?"
Mr Galava was officially sacked for not following correct procedure. He is contesting his dismissal, claiming such formal procedures did not exist.
Morale at the Daily Nation plummeted amid reports of a "hit list" of undesirable reporters and editors reportedly supplied to the Aga Khan at State House in December. Three journalists were made redundant this month in a sudden move that took their superiors by surprise. They included the Sunday Nation's news editor and the investigations editor.
Insiders privately suggest that coverage of massive corruption scandals, including allegations by the opposition that $1bn (£690m) raised by a eurobond sale remains unaccounted for, hit too close to home. Mr Galava's affidavit purportedly includes emails from Mr Mshindi, the editor-in-chief, urging reporters to "go slow" on sensitive stories.
"The reality is that all media is under a lot of pressure from the government," said Joseph Odindo, a former Daily Nation editor and now editor-in-chief at The Standard, owned by the family of the former president Daniel arap Moi. "There is arm-twisting, indirect pressure… on content and editorial decisions," Mr Odindo said
Mr Mshindi said of his decision to sack Gado that "no contract is everlasting." Accusations that management was caving in to government pressure were, he said, unfounded. "We have a very strong reputation of independence," he said. Nevertheless, the Daily Nation is facing threats to a reputation built on coverage of events such as the state's ruthless suppression of the pro-democracy Saba Saba riots in 1990, despite pressure from the Aga Khan's representative to pull stories. That opened the floodgates for the critical coverage that helped usher in multiparty democracy.
Under Mwai Kibaki, President between 2002 and 2013, Kenya's media independence flourished, but freedoms were threatened anew when Mr Kenyatta took power in 2013.
Mr Kenyatta, son of Kenya's first post-independence leader, has had a combative relationship with the press, his alleged role in the 2007-08 post-election violence defining his candidacy. When an article displeases him, he is alleged to thump his desk with a fist and dispatch aides to harangue the writer.
"It's a government that is really, really sensitive to critical reporting, and it doesn't hesitate to put on the screws," said Patrick Gathara, a cartoonist and commentator.
The government has attempted to push through draconian press and security laws, with the most anti-democratic provisions already struck out by the Supreme Court. Critical bloggers face harassment and detention.
How the Daily Nation responds to its current crisis, Mr Gathara said, will prove critical as elections approach. "More government interference is inevitable. The practice is now established," he said. "If they can go after the Nation, they can go after anyone."
Join our new commenting forum
Join thought-provoking conversations, follow other Independent readers and see their replies