Ebola and insurgents risk derailing Barack Obama's Africa summit
Some delegations arriving in Washington will be asked to undergo medical screening upon arrival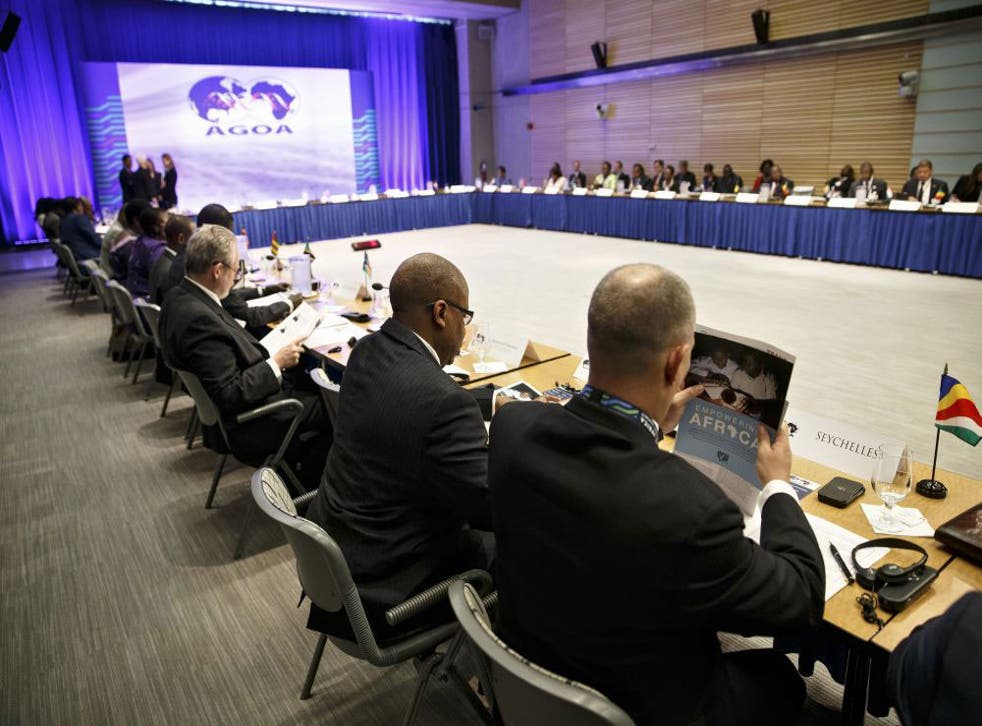 An unprecedented summit of African leaders that got under way in Washington today with the aim of encouraging new US investment in the continent's fast-growing economies risked being overshadowed by concern over Islamic insurgencies, terror threats and the Ebola emergency.
The three-day gathering, one of the largest of heads of state ever seen in Washington, was first proposed by President Barack Obama during a visit to three African countries last year. While his motivation may have been partly personal, with Kenyan parentage on his father's side, Mr Obama was surely also conscious of America's distant third-place standing after the European Union and China as an investor in Africa.
"We're determined to deepen partnerships, deliver on opportunities in trade, peace and security, and economic growth," John Kerry, the US Secretary State, declared in an opening session while urging all the leaders to adopt free-market economies. Mr Obama is due to address several of the summit's working groups on Tuesday and all the leaders will attend a formal dinner at the White House tonight.
Not every African leader received an invitation. Among those missing in Washington are Robert Mugabe of Zimbabwe and the Sudanese President Omar al-Bashir as well as the leaders of the Central African Republic and Eritrea. Meanwhile, among those who are expected, some will generate unwanted controversy including Yoweri Museveni of Uganda, where new anti-gay laws have drawn international condemnation.
Meanwhile Ellen Johnson Sirleaf, the Nobel Peace Prize-winning president of Liberia, as well as Ernest Bai Koroma, the President of Sierra Leone, announced last week that they would remain at home to deal with the Ebola emergencies in their countries. The spread of the deadly disease and the limited capacity of those countries affected to respond to it were expect to take away some of the summit's oxygen.
Yesterday, Nigeria confirmed the second case of Ebola in the country – a doctor who had helped to treat Patrick Sawyer, the US citizen who died last month after arriving in Nigeria from Liberia.
Countries dealing with violent insurgencies, notably that of the militant Boko Haram, were expected to use the visit to Washington to demand help in maintaining security and stability. "Since this is an international terrorist movement, it's important to tackle it internationally," President Paul Biya of Cameroon said in advance of the meeting. The issue will surely also be raised by President Goodluck Jonathan of Nigeria. Hundreds of US CEOs are also in Washington to be paired up with the leaders. US officials say they hope to announce deals worth almost $1bn before the summit's end. "We hope leaders and CEOs leave with some ideas how they might move forward on investment in the continent," said Assistant Secretary of State Linda Thomas-Greenfield.
"There is a historic opportunity if the summit can begin to change perception of Africa in the United States," noted J Peter Pham, Africa Director at the Washington-based think-tank the Atlantic Council. But he too is concerned that extraneous issues like the Boko Haram threat and Ebola could get in the way. "If that happens it will be a tremendous lost opportunity."
US officials stressed there was no question of the summit being cancelled or postponed because of the Ebola outbreak that has claimed more than 887 lives in Guinea, Liberia, Sierra Leone and Nigeria. However, they acknowledged that some delegations arriving in Washington would be asked to undergo additional medical screening upon arrival.
The US government is "taking the necessary steps domestically to protect the American people", one official said in the run-up to the summit. "We have no plans to change the agenda of the summit, but we will obviously adapt as needed and in consultation with our partners."
Join our new commenting forum
Join thought-provoking conversations, follow other Independent readers and see their replies