Egypt 'to conduct anal examinations on men accused of waving rainbow flag at Cairo pop concert'
Show by band Mashrou' Laila prompted homophobic crackdown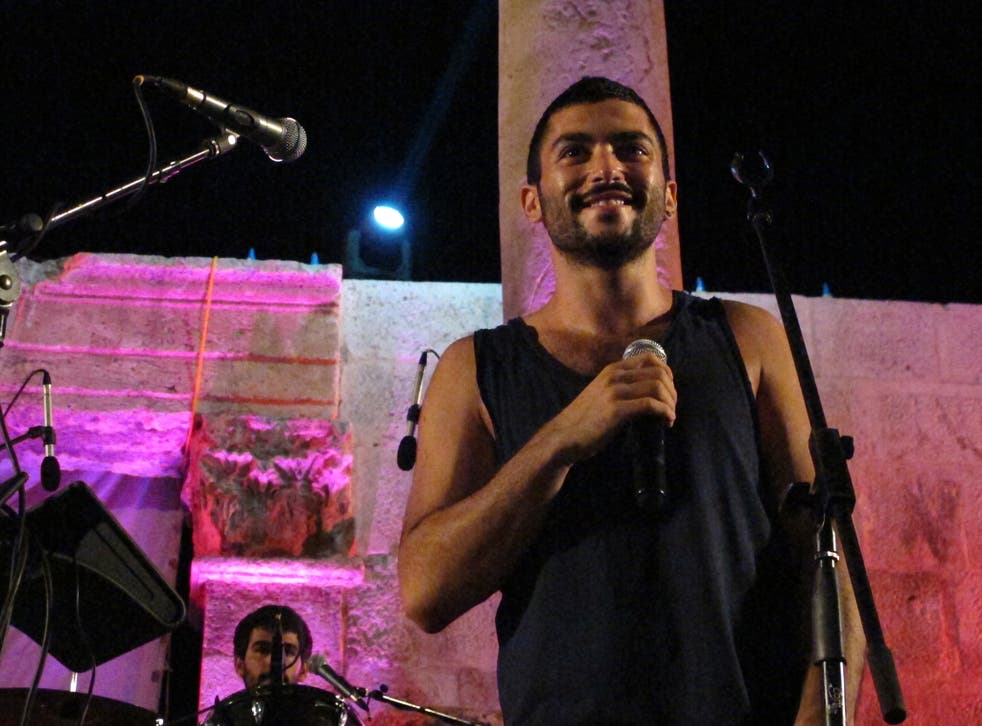 Egypt is likely to conduct torturous and disproven anal examinations on six men accused of waving rainbow flags at a pop concert, charities have warned.
The men are charged with "debauchery" and "promoting sexual deviancy", amid a crackdown on homosexuality, supported by the country's religious and media establishment.
They were arrested by security forces following a concert in Cairo by Lebanese band Mashrou' Laila, where several of the gay pride flags were waved by audience members.
The band's lead singer, Hamed Sinno, is openly gay and some of the band's lyrics talk about sexuality.
Mashrou' Laila said the Cairo show was one of their best ever but they have now reportedly been banned from playing in the country. They have previously been banned from playing in Amman, Jordan for similar reasons.
After the show, LGBT-rights group, Rainbow Egypt, thanked the band for "making us all feel so happy with this little victory".
Same-sex relationships are strongly disapproved of across the Middle East and North Africa, with gay men routinely arrested, sometimes through entrapment on dating apps. They are often subjected to forced anal examinations.
The procedures have been dismissed by doctors as medically worthless and are classed as torture by numerous international conventions.
Anal examinations "have no medical justification and cannot be consented to fully," according to the UN Committee against Torture.
There are fears the detained men, whose trial begins on Sunday, could also be mistreated in other ways. Egypt has a track record of abusing prisoners.
"The fact that Egypt's Public Prosecutor is prioritizing hunting down people based on their perceived sexual orientation is utterly deplorable," said Najia Bounaim, North Africa Campaigns Director at Amnesty International.
"These men should be released immediately and unconditionally – not put on trial."
Ms Bounaim added: "Forced anal examinations are abhorrent and amount to torture. The Egyptian authorities have an appalling track record of using invasive physical tests which amount to torture against detainees in their custody.
"All plans to carry out such tests on these men must be stopped immediately."
Human Rights Watch also branded the charges "trumped up" and called for the men to be freed.
LGBT+ rights around the globe

Show all 9
"Whether they were waving a rainbow flag, chatting on a dating app, or minding their own business in the streets, all these debauchery arrest victims should be immediately released," said Sarah Leah Whitson, Middle East and North Africa director at the NGO.
She added: "Egypt should stop dedicating state resources to hunting people down for what they allegedly do in their bedrooms, or for expressing themselves at a rock concert, and should instead focus energy on improving its dire human rights record."
Homosexuality is not illegal in Egypt but strongly disapproved of in the conservative majority-Muslim society. Police often use "debauchery" charges to harass men they believe are gay.
Register for free to continue reading
Registration is a free and easy way to support our truly independent journalism
By registering, you will also enjoy limited access to Premium articles, exclusive newsletters, commenting, and virtual events with our leading journalists
Already have an account? sign in
Register for free to continue reading
Registration is a free and easy way to support our truly independent journalism
By registering, you will also enjoy limited access to Premium articles, exclusive newsletters, commenting, and virtual events with our leading journalists
Already have an account? sign in
Join our new commenting forum
Join thought-provoking conversations, follow other Independent readers and see their replies