Egypt condemned for upholding right to deport gay foreign nationals after court bans Libyan national accused of homosexuality re-entry
Human rights groups say move sets a 'very dangerous precedent' for refugees
Heather Saul
Friday 17 April 2015 07:29 Comments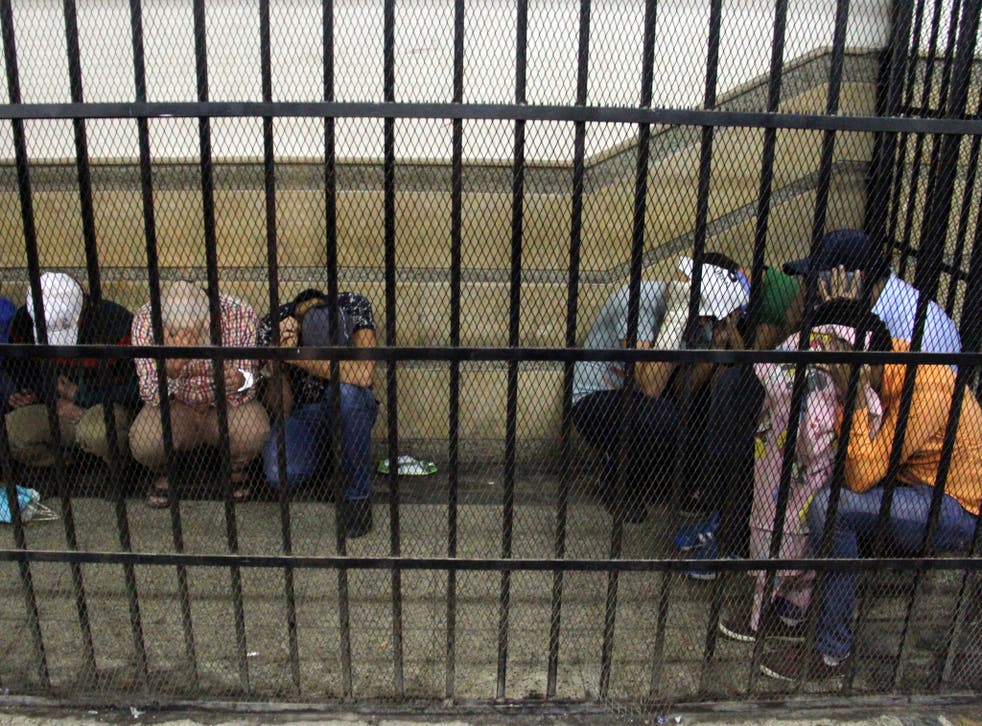 Egypt has upheld the decision to deport a man to Libya after he was accused of homosexuality, in a case that human rights groups fear could allow authorities to force gay migrants to leave the country or ban them from entering.
Ahram Online reports that Egypt's administrative court rejected an appeal by the unnamed man on Tuesday, who was arrested in 2008 after a legal complaint was filed accusing him of being gay and he was subsequently deported.
The Libyan national had appealed the interior ministry's decision to deport him on the basis that he needed to return to complete his studies at Cairo's Arab Academy for Maritime Transport. However, the court upheld the ruling, claiming that it was in the public interest and in the interest of religious and social values.
Amnesty International said the decision to refuse him re-entry into the country sets a "very dangerous precedent" for migrants and refugees.
Nicholas Piachaud, Amnesty's Egypt researcher, told The Independent: "It puts his life at risk and casts a long shadow over the lives of refugees and asylum seekers in Egypt. The ruling comes despite the fact that the United Nations Refugee Agency says no-one should be forcefully returned to Libya until the human rights situation improves.
"We have to see it in the context of Egypt's security forces regularly rounding up dozens of people on allegations they are gay or have engaged in consensual same-sex relationships. The mere suspicion that they are gay seems to be enough to arrest people."
In pictures: LGBT activists protest against 337

Show all 10
Mr Piachaud said that while being gay is not strictly illegal in Egypt, people are often arrested and charged with habitual debauchery, often alongside other charges relating to prostitution.
"Legally speaking, being gay is not explicitly outlawed, but in practice, security forces have used the law to punish people they think might be gay or have a different viewpoint," he added.
"What happened on Tuesday is that by rejecting the appeal, the court set a very dangerous precedent by saying that the interior ministry is in fact allowed to detain foreign nationals and deport them on the grounds that they are alleged to be gay or LBGT."
Graeme Reid, the director of Human Rights Watch's LBGT programme, blasted the decision for encroaching on the privacy of individuals living in the country.
"The decision of the Egyptian administrative court that it is lawful to expel or bar entry to gay foreigners in order to 'protect public interest and religious and social values' runs counter to Egyptian law," he said. "It is not illegal to be gay in Egypt.
"Sadly Egyptian authorities consistently use LGBT issues to distract attention from widespread disregard for civil and political rights that are the hallmark of the al-Sisi government. If the Egyptian authorities were really concerned about protecting the public interest, they would focus on the human rights abuses carried out by the government."
Register for free to continue reading
Registration is a free and easy way to support our truly independent journalism
By registering, you will also enjoy limited access to Premium articles, exclusive newsletters, commenting, and virtual events with our leading journalists
Already have an account? sign in
Join our new commenting forum
Join thought-provoking conversations, follow other Independent readers and see their replies