Egypt elections: Police and soldiers out in force as Cairo fears disruption from Islamic militants
Tens of thousands of police and soldiers have been deployed to secure the election, many in full combat gear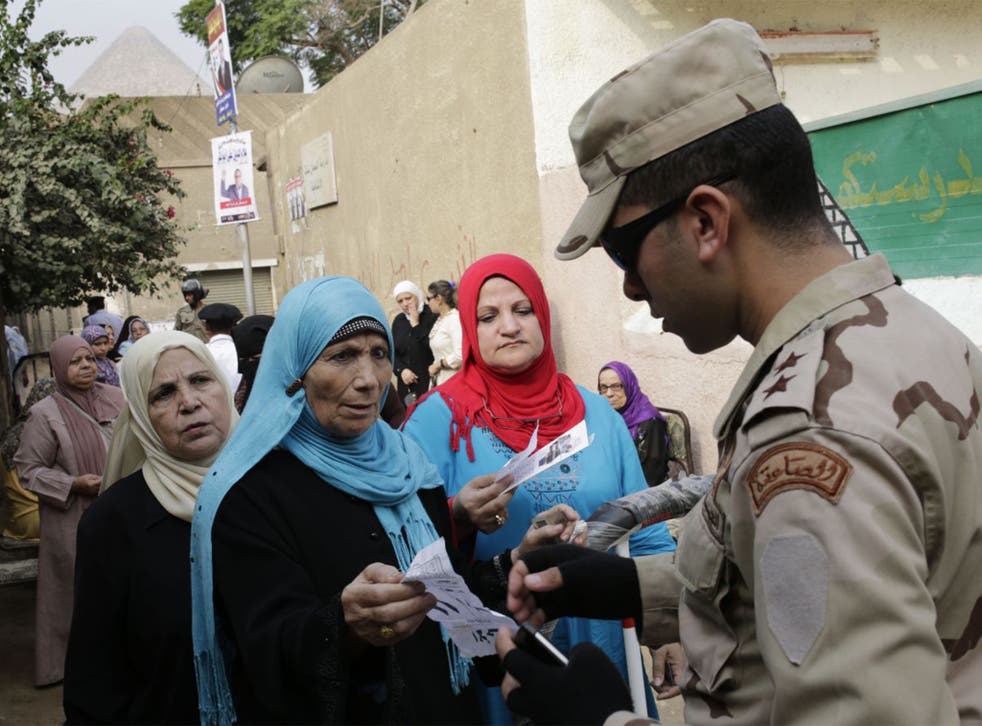 Egypt's first parliamentary election since the 2013 ousting of an Islamist president and the election a year later of the general who removed him began on Sunday.
The outcome is likely to be a compliant legislature that will back, rather than challenge, the policies of President Abdel Fattah al-Sisi.
Mr Sisi, who as military chief led the toppling of Mohammed Morsi, has spoken vaguely of his democratic convictions, preferring instead to focus on what he sees as the need for Egyptians to unite in the face of security and economic challenges.
Fearing attacks by Islamic militants in an attempt to disrupt the vote, tens of thousands of police and soldiers have been deployed to secure the election, many of whom were in full combat gear complete with camouflaged fatigues, helmets and body armour. Some wore ski masks.
In one polling centre at Imbaba, a one-time Islamist stronghold in Cairo's twin city of Giza, dozens of troops were on guard duty and sandbagged machine-gun positions were set up.
At another polling centre in Giza, policemen searched voters before allowing them in and asked some to leave their bags outside.
There was a resolve among early voters to keep Islamists out of the 596-legislature, with some saying they are casting their ballots specifically to ensure that.
Mr Morsi belonged to the Muslim Brotherhood, an Islamic group now banned and labelled a terrorist organisation. The Brotherhood won every election held since President Hosni Mubarak's ousting in February 2011 and until Morsi's removal in July 2013. This election is the first since the 1980s in which the group will not participate at all, one of the reasons why many are predicting a low turnout.
"Those who voted did so for an illegitimate chamber because the one (el-Sissi) who called for the election is illegitimate," said Mohammed Abdel-Hameed, a 36-year-old Brotherhood supporter from the southern city of Assiut, a stronghold of Islamists.
AP
Register for free to continue reading
Registration is a free and easy way to support our truly independent journalism
By registering, you will also enjoy limited access to Premium articles, exclusive newsletters, commenting, and virtual events with our leading journalists
Already have an account? sign in
Register for free to continue reading
Registration is a free and easy way to support our truly independent journalism
By registering, you will also enjoy limited access to Premium articles, exclusive newsletters, commenting, and virtual events with our leading journalists
Already have an account? sign in
Join our new commenting forum
Join thought-provoking conversations, follow other Independent readers and see their replies