Egyptian mummy and ancient treasures 'in near perfect condition' discovered in 3,500-year-old tombs
Findings believed to date back to 18th dynasty, in what experts are calling 'the discovery of the year'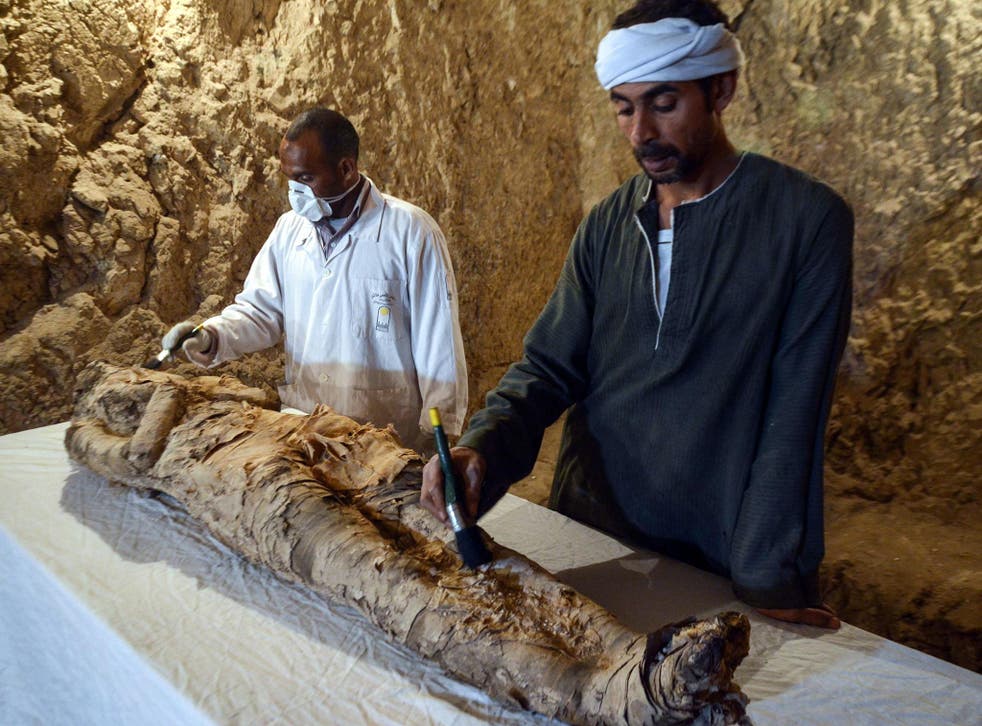 The Egyptian Ministry of State for Antiquities announced on Saturday the discovery of two ancient tombs at the necropolis of Draa Abou Naga, part of the Unesco World Heritage site of Thebes, near the Nile city of Luxor.
The occupants of the private tombs are as of yet unknown but believed by the ministry to date back to the 18th dynasty (1550BC to 1292BC). It's the latest find of a series of discoveries in Draa Abou Naga, and Egypt in general, after the minister Khaled Alnani announced at the beginning of 2017 that it would be "a year of discoveries".
The two tombs, seven and ten metres deep respectively, were found to contain a number of artefacts, including 40 funerary cones, 36 Usahbti statues, and funerary furniture, some of which was gold plated.
Of particular interest is a large painted wall, which has survived almost intact. "It's really beautiful," said famed Egyptologist Zahi Hawass, "and typical 18th dynasty. It looks like it was painted yesterday. In my opinion, this could be the best painted wall discovered in Draa Abou Naga in the last 100 years."
Also discovered were a number of mummies, skeletons, and a large painted statue of a woman named Isis Nefret – believed to be the mother of the tomb's occupant – in the form of the Ancient Egyptian god of the afterlife, Osiris. "It's in near perfect condition," said Mr Alnani.
Mostafa Waziry, who is leading the excavation, said he believes the find to be related to one that was announced three months ago. Less than 100 metres from the site his team announced the discovery of another important tomb, which Mr Hawass described then as "the discovery of the year". It contained a goldsmith named Amenemhat who lived 3,500 years ago, along with a host of other mummies and artefacts. It also included evidence that a man called "Marty" was buried there, although his body was never discovered. Speaking of one of the bodies found in the most recent tomb, Mr Waziry said: "I believe this is Marty."
With his "year of discoveries" coming to an end, Mr Alnani said that the results have been "exceptional". Other notable finds this year include a Roman-era mass grave near the Upper Egyptian town of Minya, a previously unknown pyramid at the Dahshur necropolis, and an eight-metre tall statue of King Psamtek I found in a suburb of East Cairo.
With tourism struggling since the revolution in 2011 and in the wake of recent terrorist attacks, Mr Alnani is trying to use "the power of Egyptian monuments" to get positive images of the country back into the press. This year has seen a number of large choreographed press events for announcements of impressive discoveries, leading to suspicions of the ministry strategically releasing finds for maximum effect, although ministry officials deny this.
At an event in September, Mr Waziry declared that they expected to find new discoveries in the area. "The next day, we started working immediately," he said, adding that the ministry only became aware of this latest find "10 days after the previous announcement".
Speaking during Saturday's announcement, Mr Alnani mentioned how important it was to see tourism restored to Egypt. But with Egypt currently reeling from its worst terror attack in modern history, in which as many as 305 worshippers were killed in a gun-and-bomb attack on a mosque in North Sinai on 24 November, the coming season is expected to see a further drop in visitors.
The loss of Western tourism has greatly affected the ministry's work, which in 2014, reported a 95 per cent drop in revenue from ticket sales, its main source of income. "If we have enough money then we have no problem," said Mr Alnani, "but if not, we have to balance our expenses between maintaining monuments and making excavations."
With some of the world's largest ancient monuments to maintain, Mr Alnani is under pressure to make up this shortfall. According to Mr Hawass, the ministry can spend up to 1.3 billion Egyptian pounds (£54.6m) a year on maintenance of monuments alone. In addition, the Grand Egyptian Museum, under construction near the Great Pyramids, is estimated to cost over $1bn (£750m), millions more than its original budget.
But according to Mr Waziry, there are other projects in the pipeline. He maintains that no other new discoveries have yet been made, but that he believes they are about to uncover a new tomb in Draa Abou Naga "within weeks". "What you see above ground is not more than 40 per cent of Ancient Egypt," he said. "If you start digging anywhere, you're going to find a lot."
Join our new commenting forum
Join thought-provoking conversations, follow other Independent readers and see their replies