Egypt plane crash: Co-pilot complained about plane's condition, wife claims
Russian investigators arrive in Cairo to help determine what caused the crash
Zachary Davies Boren
Sunday 01 November 2015 09:17 Comments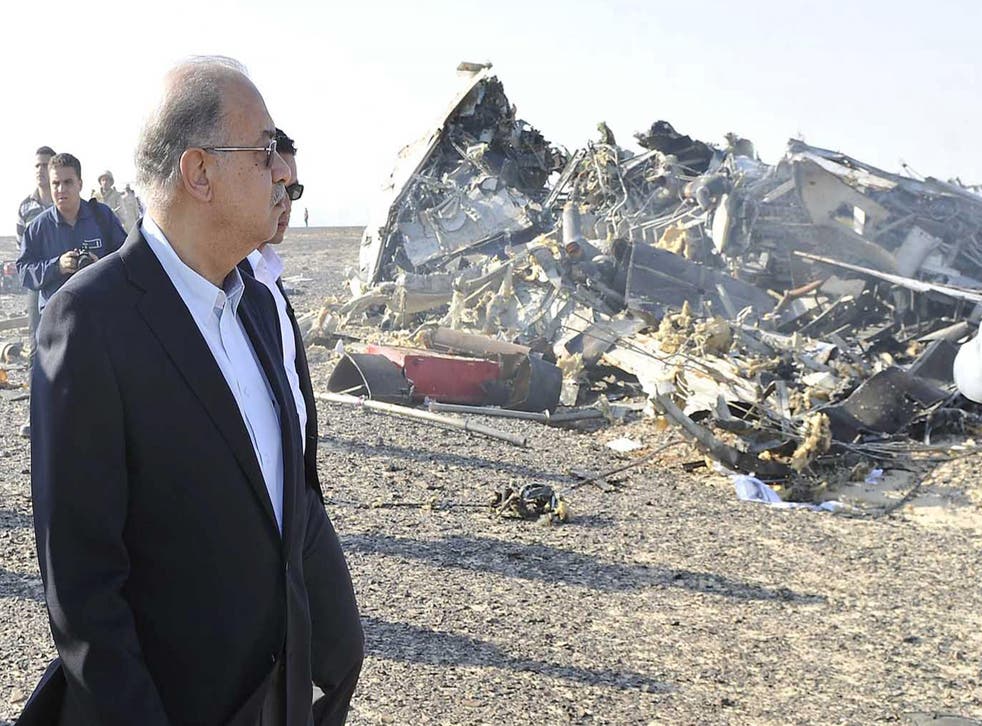 The co-pilot of the Russian airliner that crashed in Egypt - killing 224 people - complained about its "technical condition" before take-off, his wife has said.
Natalya Trukhacheva, wife of co-pilot Sergei Trukachev, told Russian state-controlled NTV: "He complained before the flight that the technical condition of the aircraft left much to be desired."
An Egyptian government official said that before the plane lost contact with air traffic controllers on Saturday morning, the pilot radioed in to report technical problems and said he would try and land at the nearest airport.
The crash killed all 224 people on the aircraft, including 25 children. Authorities have so far recovered 163 bodies from the wreckage in the mountains of central Sinai.
The Airbus A321, operated by Russian firm Metrojet, was en route from Red Sea resort Sharm el-Sheikh to St Petersburg.
The cause of the crash has yet to be officially determined, with Russian investigators arriving in Cairo on Sunday morning to help determine what happened.
Egypt plane crash: What we know so far
The Egyptian terrorist group Wilayat Sinai, which allies itself with Isis, said it shot the plane out of the sky "in response to Russian airstrikes that killed hundreds of Muslims on Syrian land".
Russia's transport minister Maksim Sokolov said the claim "can't be considered accurate" while Egypt's army spokesman also dismissed it.
Militants in the region have never previously taken down a commercial airline or fighter jet, but there have been reports that they have acquired Russian shoulder-fired, anti-aircraft missiles.
That said, these type of weapons are only effective against low-flying planes and helicopters and the Metrojet flight was cruising at 31,000 feet.
Sinai, however, is the most unstable area in Egypt, with much of it listed as a 'restricted military zone' due extremist insurgents having killed hundreds of soldiers and police and insurgency.
Russia, an ally to Syrian President Bashar al-Assad, launched air raids against opposition groups in Syria including Islamic State on September 30.
Isis has called for a holy war against both Russia and the United States in response to airstrikes on its fighters in Syria.
Until the cause of the crash has been established, two of Europe's largest airliners - Lufthansa and Air France-KLM - said they would avoid flying over the Sinai peninsula.
The investigation is ongoing, with search efforts at the crash site resuming early on Sunday morning and Russian experts arriving to help to recover bodies look into what happened.
Both black boxes have been recovered.
A statement from the office of Egyptian President Abdel-Fattah el-Sissi said Russian leader Vladimir Putin has commended the efforts of investigators "to uncover circumstances surrounding the incident".
Meanwhile Metrojet has said the A321-200 aircraft was in good shape and that the pilot was experienced.
It said captain Valery Nemov had 12,000 hours of flying experience, including 3,860 in A321s.
Russian airlines became infamous for poor safety in the early years following the 1991 collapse of the Soviet Union, which caused severe financial troubles and regulatory disorder.
Although accidents have diminished in recent years, crashes persist, many of them blamed on human error.
Register for free to continue reading
Registration is a free and easy way to support our truly independent journalism
By registering, you will also enjoy limited access to Premium articles, exclusive newsletters, commenting, and virtual events with our leading journalists
Already have an account? sign in
Register for free to continue reading
Registration is a free and easy way to support our truly independent journalism
By registering, you will also enjoy limited access to Premium articles, exclusive newsletters, commenting, and virtual events with our leading journalists
Already have an account? sign in
Join our new commenting forum
Join thought-provoking conversations, follow other Independent readers and see their replies