Egypt plane crash 'could only have been caused by mechanical impact', Metrojet officials say
Airline officials did not rule out any possible causes but said the plane was in 'good condition'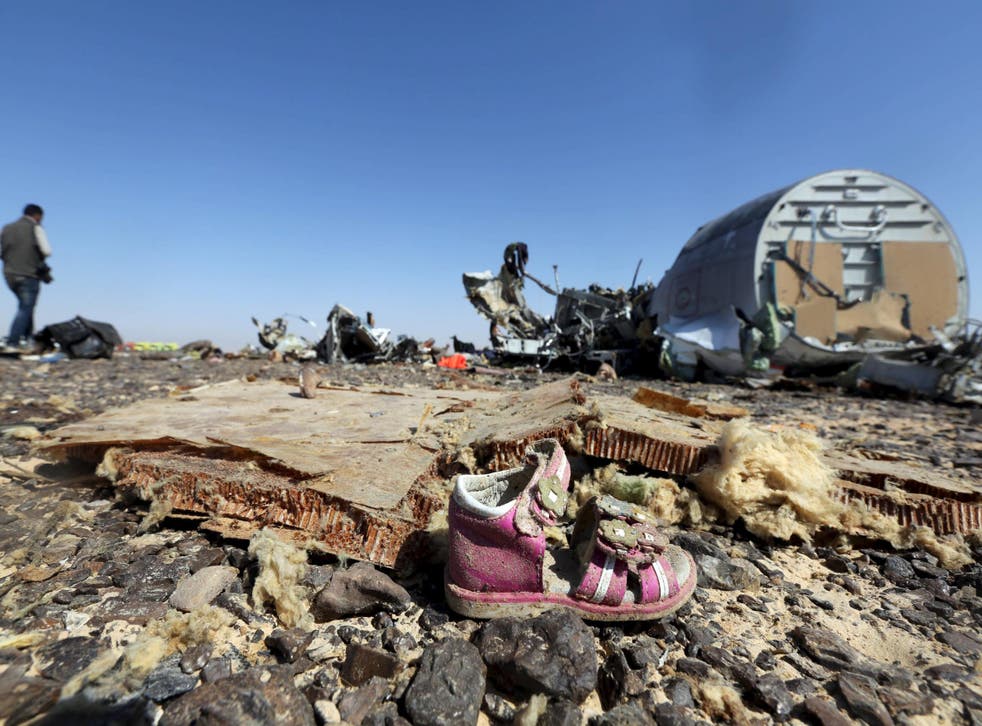 Metrojet has claimed that the cause of the disaster that killed 224 people "could only have been a mechanical impact on the plane" as it flew over the Sinai peninsula.
Alexander Smirnov, the airline's deputy general director, said the aircraft had undergone checks and was in "good condition" despite a tail-strike accident in 2001.
He spoke at a press conference today as investigations continued in Egypt to find the cause of the disaster, adding: "At this stage we don't think anybody will be prosecuted because all our planes are in good condition."
Egypt: Russian plane crash debris seen strewn across the Sinai
Another official was quoted saying: "The only reasonable explanation is that it was [due to] external activity."
Immediately after Saturday's disaster, the airline said the plane was in "full working order" and being operated by an extremely experienced crew, including with a pilot who had flown for more than 12,000 hours.
Andrei Averianov, Metrojet's deputy general director of technical and production issues, said: "Before the A321 began falling, it most likely had received considerable damage to its construction that would not allow it to fly.
"Obviously, due to this, when the catastrophic situation started to unfold, the crew completely lost control over the plane, which would explain why there were no attempts to communicate and report on the emergency situation on board."
Records show the Airbus A321 had been damaged by a tail-strike accident while landing in Cairo in 2001 but Metrojet said the aircraft was fully repaired and any weakened points in its bodywork would have been detected in the course of routine checks.
The Japan Airlines Flight 123 disaster in 1985 was caused by incorrect repairs after a tail-strike seven years before.
An explosive decompression 12 minutes into its flight led to a crash killing 520 passengers and crew in the deadliest single aircraft accident in history.
Flight 9268 was just 25 minutes into its scheduled flight from Sharm el-Sheikh to St Petersburg on Saturday morning when it disappeared from radar over the Sinai peninsula.
Egyptian officials said the pilot radioed to report technical difficulties and planned an emergency landing at the nearest airport before losing contact with air traffic controllers.
Russian passenger plane crashes in Egypt

Show all 20
Officials said wreckage was spread over 12 square miles, with the Airbus A321 appearing to have split into two, with one section hitting the rocky ground and another burning as it fell.
Wilayat Sinai, an Egyptian jihadist group allied to Isis, claimed responsibility for the crash, saying it downed the jet "in response to Russian airstrikes that killed hundreds of Muslims on Syrian land".
Investigators said initial inspections showed no evidence of a missile strike or explosion and that it was too early to draw conclusions from the plane's break-up and airline officials said a video posted by Isis' propaganda wing was probably fake.
However, the Kremlin confirmed today that it had not ruled out terrorism in its own investigation.
Additional reporting by agencies
Join our new commenting forum
Join thought-provoking conversations, follow other Independent readers and see their replies