Elephant crisis: Ivory poachers are killing animals faster than they are being born
Study found 100,000 elephants were killed in Africa within three years
Heather Saul
Friday 22 August 2014 16:51 Comments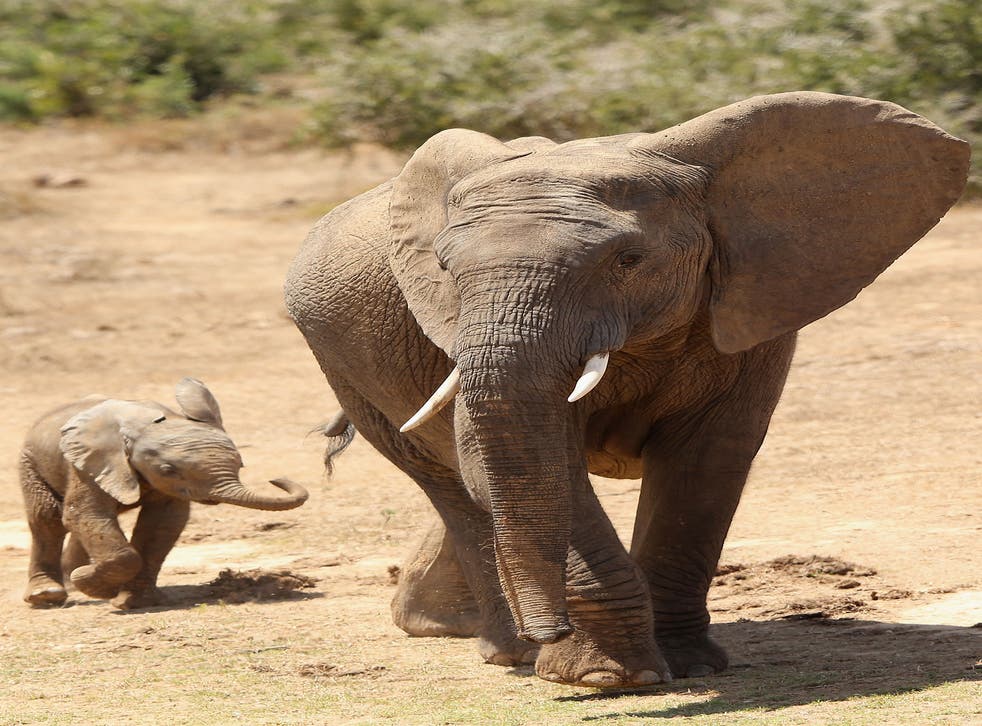 Ivory poachers are killing elephants faster than they are being born, a new study has suggested.
A study conducted by a team at Colorado State University suggested up to 100,000 elephants were killed between 2010 and 2012 because of the illegal poaching trade.
They found that Africa lost an average of seven per cent of its entire elephant population each year. Elephant births boost numbers by about five per cent each year, meaning more are being killed than are being born.
The team say this number raises concerns over the species survival in Africa, with poaching levels found to be particularly high in Central Africa.
"Even today, we don't precisely know the number of elephants left in the world," said George Wittemyer, a co-author of the study and professor at Colorado State University. "It's been a disaster."
Mr Wittemyer and his colleagues began by studying elephants in Samburu, Kenya, to distinguish animal deaths by natural causes and poaching. They then extended their field census of carcasses to estimate the number of elephants killed illegally across the continent.
Poachers can sell two full tusks for up to $10,000 (£6,000) and a renewed demand for ivory in China is believed to be spurring the illegal killing, the study reports.
This surge, which appears to have started in 2008, correlated with a rise in ivory prices in 2009 as well as a rise in seized trafficked ivory shipments destined for China.
Mr Wittemyer told the Coloradoan "a concerted effort to devalue ivory as a collectible" combined with better enforcement by rangers in Africa's wildlife preserves is needed to halt the species' decline.
The study, published in the Proceedings of the National Academies of Sciences, is one of the first times researchers have been able to produce such a specific figure on the number of deaths because of illegal poaching.
Register for free to continue reading
Registration is a free and easy way to support our truly independent journalism
By registering, you will also enjoy limited access to Premium articles, exclusive newsletters, commenting, and virtual events with our leading journalists
Already have an account? sign in
Register for free to continue reading
Registration is a free and easy way to support our truly independent journalism
By registering, you will also enjoy limited access to Premium articles, exclusive newsletters, commenting, and virtual events with our leading journalists
Already have an account? sign in
Join our new commenting forum
Join thought-provoking conversations, follow other Independent readers and see their replies