Two years after Chibok, Boko Haram survivors describe how they can never truly escape
Exclusive: 'It was Fajr [prayer] when they came... they shot two people in front of us'
Adam Withnall
Friday 15 April 2016 11:28 Comments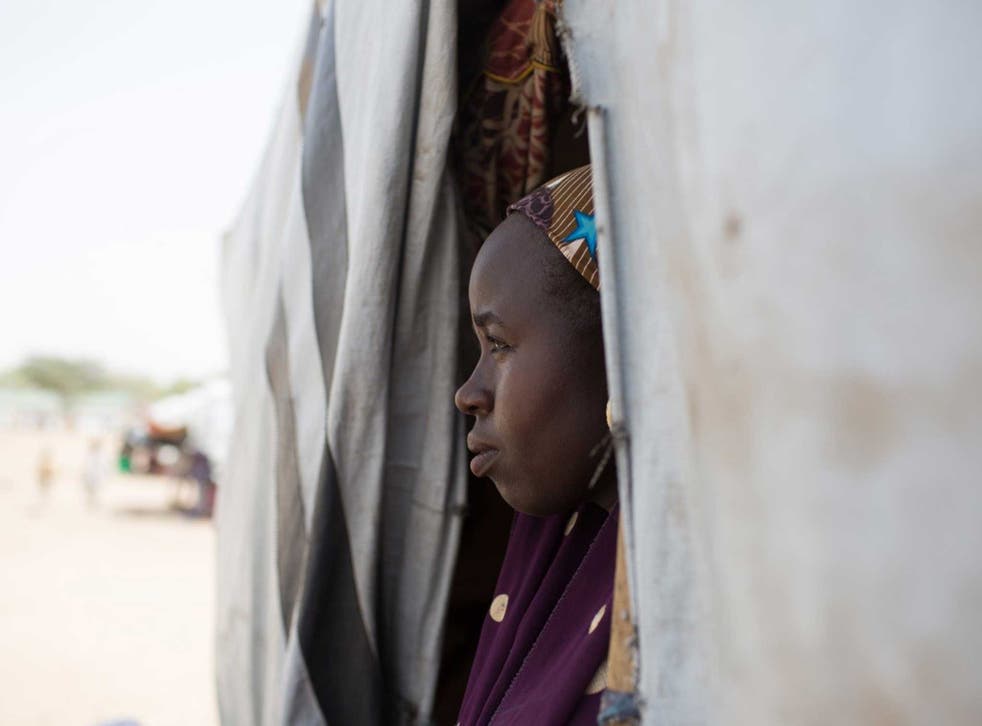 Two years after the world united in outrage over the abduction of hundreds of schoolgirls from the remote Nigerian village of Chibok, the horror for Boko Haram's victims is not over – even for those who escaped.
Speaking in an exclusive interview for The Independent, Boko Haram survivor Yagana reveals how she and her children still face the distrust and stigma of being a "Sambisa woman", named after the forest where militants hid following the Chibok kidnaps.
She was living in Bama in northeast Nigeria with her mother and children when the militants arrived.
"It was Fajr [prayer] when they came," she says. "We were on our way running to the barracks in Bama, when they shot two people in front of us. We ran back home and stayed there.
"My mother and two of my children ran in a different direction. My husband and I were divorced, so he was somewhere else too. Boko Haram took us to Shehu's Palace and enrolled us in Islamic school."
It is not known how many of the Chibok girls themselves are still alive. Only 57 of the 276 schoolgirls are confirmed as having escaped, and a video that emerged on Thursday purports to show just 15 of those still in captivity.
But while the video and the anniversary itself have sparked renewed calls to "bring back our girls", little attention has been paid to the fate of those who, after suffering horrific treatment at the hands of Islamists, are victimised all over again when they return to mistrust and persecution in their communities.
Yagana is one of around 250 survivors who have been working with the peace-building charity International Alert to overcome the stigma that goes with being former Boko Haram "wives".
The process aims to teach the victims about forgiveness and understanding through Islamic principles, and part of that involves discussing their experiences of capture.
"All they brought us to eat was beans," Yagana says. "We were not allowed to go anywhere.
"When you are with them, there is a constant fear that they can kill you. Or maybe the bombs or stray bullets from the [government] soldiers can also kill you. It was just terrible."
Yagana says it was when she and her fellow captives were told they would be "married" to fighters – Boko Haram's pretext for allowing its members to rape victims – that they felt compelled to risk fleeing.
"They said our men were pagans and they would marry us themselves. So the day before the marriage, we jumped over the fence and ran."
It took Yagana a month to recover from the physical trauma of what she had been through – but the psychological challenges remain, in spite of the workshops focussed on recovery and forgiveness being run by Alert and its partners in the Federation of Muslim Women's Associations in Nigeria (Fomwan).
Beyond Chibok: Report shows alarming trends in countries affected by Boko Haram

Show all 16
Yagana says she "didn't like the women [at the displacement camp where she now lives]… they would whisper when I passed by".
Another survivor, Aisha, told International Alert how she became pregnant after she was raped by a Boko Haram fighter. "I felt helpless and felt they had ruined my life, and no one would now take care of me… "I hated the baby".
Like Yagana, Aisha says life was "bad" in a government camp even after she was freed as part of the major Nigerian army offensive in late 2015.
"The women called me 'Boko Haram wife' and wouldn't let me use their belongings. A group of them even beat me up," she said.
The Nigerian government says it is assessing the new video to establish its authenticity, but two women whose daughters are missing have confirmed their identities among those shown.
The footage is the first to emerge of the girls since May 2014. It is understood to have been filmed on Christmas Day 2015, and sent to the Nigerian government as a representation of "proof of life" for the wider group.
Charities say the Chibok girls represent just a tenth of all the women and girls abducted by Boko Haram since 2012 to be used as "wives", sex slaves and, in some cases, suicide bombers.
They want the second anniversary of the most famous single kidnapping to focus attention not just on those who are still captives, but on those who are trying to rebuild their lives once free.
Kimairis Toogood from International Alert said: "With more victims now returning from captivity, we are appealing to the international community and the Nigerian government to do more now to support efforts to re-integrate them, and ensure they can build a life for themselves and their children."
Register for free to continue reading
Registration is a free and easy way to support our truly independent journalism
By registering, you will also enjoy limited access to Premium articles, exclusive newsletters, commenting, and virtual events with our leading journalists
Already have an account? sign in
Join our new commenting forum
Join thought-provoking conversations, follow other Independent readers and see their replies