Fake signer who stood next to Obama at Mandela ceremony 'was once charged with murder'
Thamsanqa Jantjie, who described himself as a schizophrenic, is reported to have faced a string of criminal charges since 1994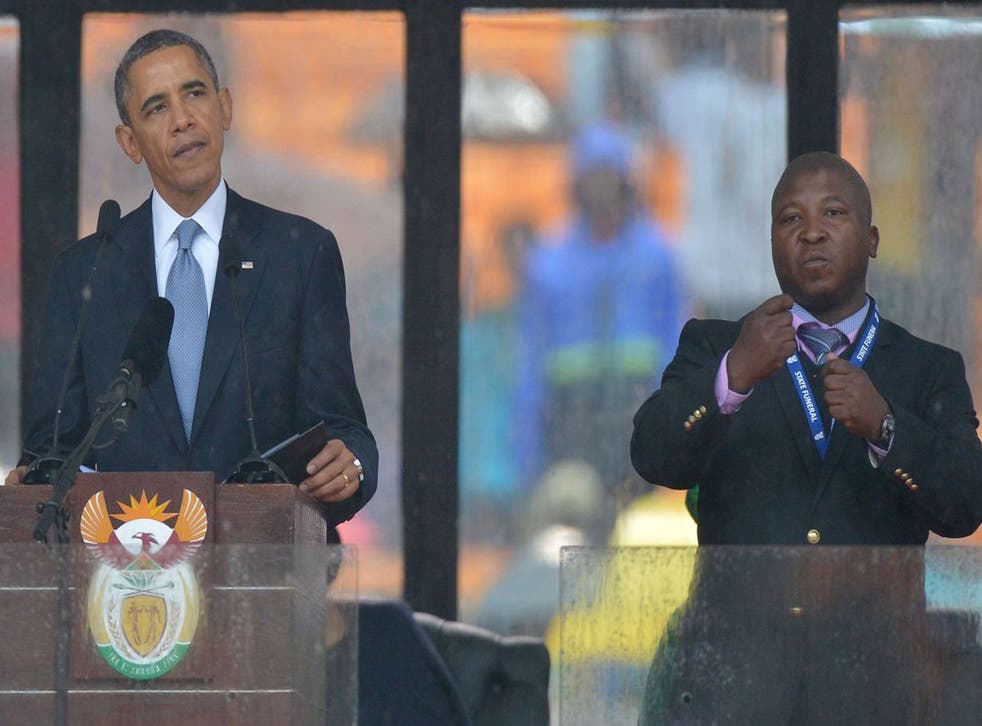 The sign language interpreter accused of "making up" hand gestures at Nelson Mandela's memorial service has faced charges of murder, rape, kidnapping and theft, it was reported today.
Court records uncovered by the South African news channel eNCA reported that Thamsanqa Jantjie has faced a string of criminal charges since 1994, and was accused of murder in 2003.
The conclusion of the murder case remains unclear, as the court files of the trial have been discovered empty. It has been alleged however that many of the charges brought against Jantjie were dropped due to him being deemed mentally unfit for trial.
Jantjie, who stood beside world leaders including Barack Obama as they paid their tributes to Mandela last Tuesday, caused controversy after it was reported that he had interpreted the speeches completely inaccurately. Responding to the claims, Jantjie claimed that he was schizophrenic, and was suffering from a hallucination at the time.
The records uncovered by eNCA have now raised further questions over Jantjie participation in the service, revealing that he was acquitted for rape in 1994, but convicted for theft a year later, and sentenced to three years in jail.
The records also show that over nine years Jantjie faced seven separate charges, including rape, theft, housebreaking, malicious damage to property, murder, and kidnapping.
Video: Interpreter at Nelson Mandela's memorial
Join our new commenting forum
Join thought-provoking conversations, follow other Independent readers and see their replies