'I need to see my baby survive': Children bearing brunt of South Sudan famine as millions face starvation
Parents struggling against war, drought and soaring prices to feed most vulnerable 
Lizzie Dearden
Thursday 09 March 2017 21:13 Comments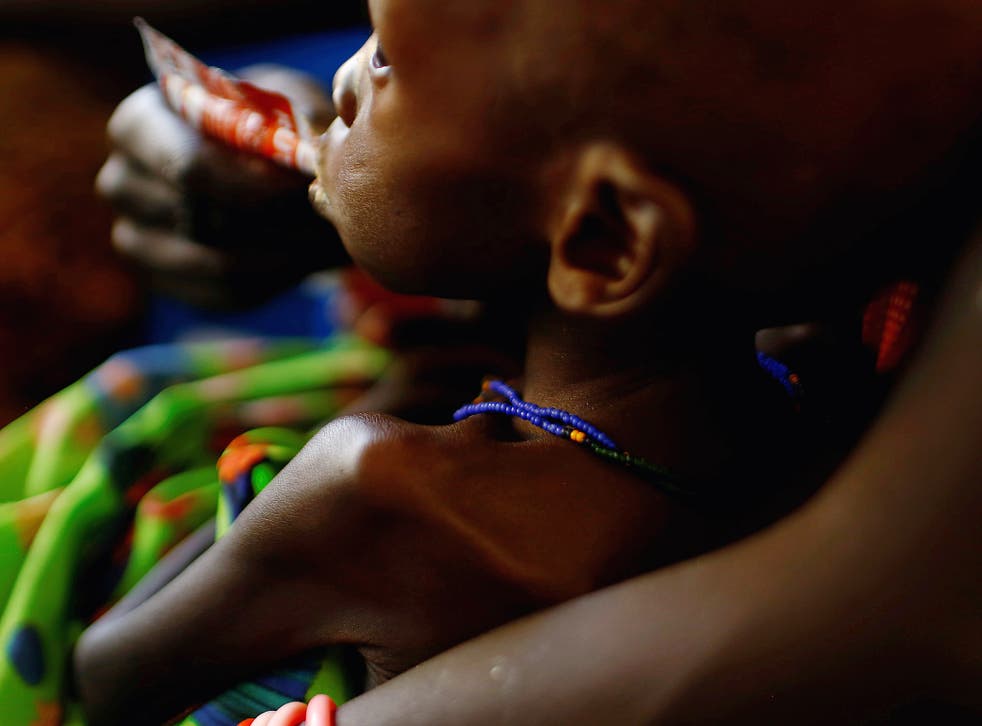 "I don't understand what has happened to my daughter. I see her losing weight, she is losing her body in front of my eyes," says Josephine Mahmoun.
"I'm so worried that she isn't recovering and won't recover."
Her daughter Dalia is among more than a quarter of a million children starving in South Sudan, where a famine has been declared for the first time in six years.
The six-year-old girl weighs just 13kg – the weight of a healthy 12-month-old baby – and is undergoing emergency treatment in Juba.
Some days Dalia is able to walk, but on others severe acute malnutrition leaves her unable even to sit up, skin stretched over her shrunken frame.
Ms Mahmoun told Unicef workers the family moved from war-torn Unity State in 2013 to escape fighting but could not escape violence that continues to blight the world's newest country.
"My daughter was born just before we became an independent country but they are almost the same age," the mother said.
"They are both so young and they are both so sick – that's how I see it. There is no difference between South Sudan and my child. The way my daughter is sick is the same way South Sudan is sick."
More than 270,000 children are suffering from severe malnutrition in Unity State, where 100,000 face starvation and another one million are on the brink of famine.
South Sudan situation

Show all 7
Another woman at the nutrition clinic told how she fled when her husband was abducted by an armed group during fighting, but found herself unable to feed her family.
"I saw people killed in front of me and women dragged into the bushes to be raped," Lomo Latabo added. "Some were even raped on the streets in front of everyone."
She escaped the violence but contracted malaria and lost a baby in childbirth. Her 18-month-old son, Khamis, caught malaria, then typhoid, then became malnourished, now weighing less than 7kg.
"All I want is to see my child survive and I'm scared he won't," Ms Latabo said. "I can only survive with what the UN gives us now.
"He used to laugh and be a happy baby but now he cries all the time or stares with a blank look on his face.
"I cry and I pray to god that my child will recover. There are only two things I need – medicine and food. I need to see my baby survive."
Mothers are also suffering from malnutrition, which leaves them unable to breastfeed their children as prices rocket for formula milk.
Starvation can kill in many ways, either directly or by leaving children vulnerable to deadly illnesses like pneumonia, while those who survive suffer irreversible damage to their mental and physical development.
"More than one million children are currently estimated to be acutely malnourished across South Sudan; over a quarter of a million children are already severely malnourished," said Jeremy Hopkins, a Unicef Representative in South Sudan.
"If we do not reach these children with urgent aid many of them will die."
More than 5.5 million children across East Africa are malnourished due to war, drought and lack of food and will be among the first victims of hunger if they do not receive immediate aid.
In South Sudan, which has been locked in a new civil war more than 40 per cent of the population – 4.9 million people – are at risk.
Famine was formally declared by the UN last month, meaning that at least a fifth of households face extreme food shortages, acute malnutrition rates exceed 30 per cent, and two or more people in every 10,000 are dying each day.
South Sudan: Soaring inflation sends prices skyrocketing
Thousands more have been killed in the conflict between the rival Sudan People's Liberation Army (SPLA) loyal to President Salva Kiir and the SPLA in Opposition backing First Vice-President Riek Machar.
Fighting, looting and burning combined with displacement and drought, as well as spiralling food prices, drove the decline into famine and the war continues to worsen the situation by preventing aid deliveries.
The South Sudanese government has also sparked international condemnation for hiking work permit fees 100-fold for foreign aid workers to $10,000 (£8,200).
Aid groups say they often face restrictions from authorities, who expelled the country director of the Norwegian Refugee Council (NRC) after security agents held him without charge for more than 24 hours.
As fighting shows no sign of slowing, the UN has warned the number of people affected by famine will continue to rise, leaving little hope for increasingly desperate families.
Nykena, a mother of two-month-old twins, said she is clinging on to the dream of health and safety for her sons after her home was burned to the ground.
"In South Sudan now, people are hungry. Everyday survival is a struggle," she said.
"I hope my children will grow up and become big, healthy people. The fighting that is happening now will not still be going on because everything must come to an end. For them, it will be a part of history. I hope."
Register for free to continue reading
Registration is a free and easy way to support our truly independent journalism
By registering, you will also enjoy limited access to Premium articles, exclusive newsletters, commenting, and virtual events with our leading journalists
Already have an account? sign in
Join our new commenting forum
Join thought-provoking conversations, follow other Independent readers and see their replies