Fears raised over Cairo retrial of Al Jazeera journalists Mohamed Fahmy and Baher Mohamed imprisoned with Peter Greste
Many believed that Mr Fahmy, the news channel's Cairo chief who recently gave up Egyptian citizenship, would be deported like his Australian colleague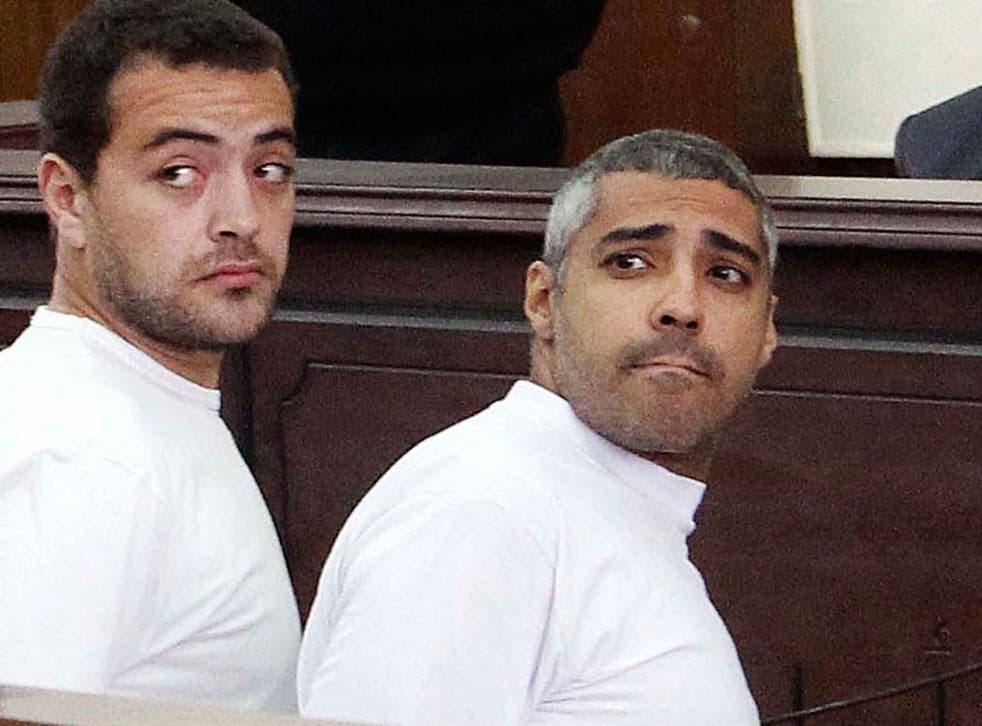 The retrial of two Al Jazeera journalists jailed in Egypt – Mohamed Fahmy and Baher Mohamed – will start on Thursday, court officials said today.
Many believed that Mr Fahmy, the news channel's Cairo chief who recently gave up Egyptian citizenship, would be deported like his Australian colleague Peter Greste. But a retrial has thrown that into question.
The trial date "represents our worst nightmare, to have to go through another circus of a retrial," Mr Fahmy's family said, adding that the journalist, who is also a Canadian citizen, had given up his Egyptian citizenship as part of a deal to be deported.
Canada's Consular Affairs minister, Lynne Yelich, said Ottawa was "deeply concerned" by the announcement, which came "despite assurances that Mr Fahmy would be released along with his colleague, Peter Greste". "Canada calls for the immediate release of Mr Fahmy," Ms Yelich said.
In pictures: Egypt protests on Arab Spring anniversary

Show all 11
Mr Greste, who is now back at home in Australia, was deported on 1 February under a new law that allows the Egyptian President, Abdel Fattah el-Sissi, to deport foreigners at any time during their prosecution.
Police arrested the three journalists in December 2013. Prosecutors accused them of being involved in terrorism and of spreading false information, though at the trial no real evidence was presented against them.
Mr Greste and Mr Fahmy received seven-year prison terms, while Mr Mohamed received a longer 10-year sentence because he had been found with a spent bullet casing. The journalists, as well as Al Jazeera and human rights groups, said they were arrested simply for doing their jobs as reporters. Ties between Qatar and Egypt were also strained following the military's ousting of the Islamist President, Mohamed Morsi, in 2013.
"Baher and Mohamed have been unjustly jailed for over a year, even though the entire world knows they are innocent," Al Jazeera said on its website. "With a date now set for the retrial the Egyptian authorities know exactly what to do: throw the entire case out and give Baher and Mohamed their freedom which has been denied to them for more than 400 days."
The move to retry the pair has raised fresh fears about the case. Mr Mohamed's wife, Jehan Rashed, has been campaigning to win her husband foreign citizenship. "Freedom is more precious than nationality," she said last week.
AP
Join our new commenting forum
Join thought-provoking conversations, follow other Independent readers and see their replies