Gambia election: President Yahya Jammeh in shock defeat to former Argos security guard Adama Barrow
Leader of unified opposition takes victory with 45.5 per cent of vote to Jammeh's 36.7 per cent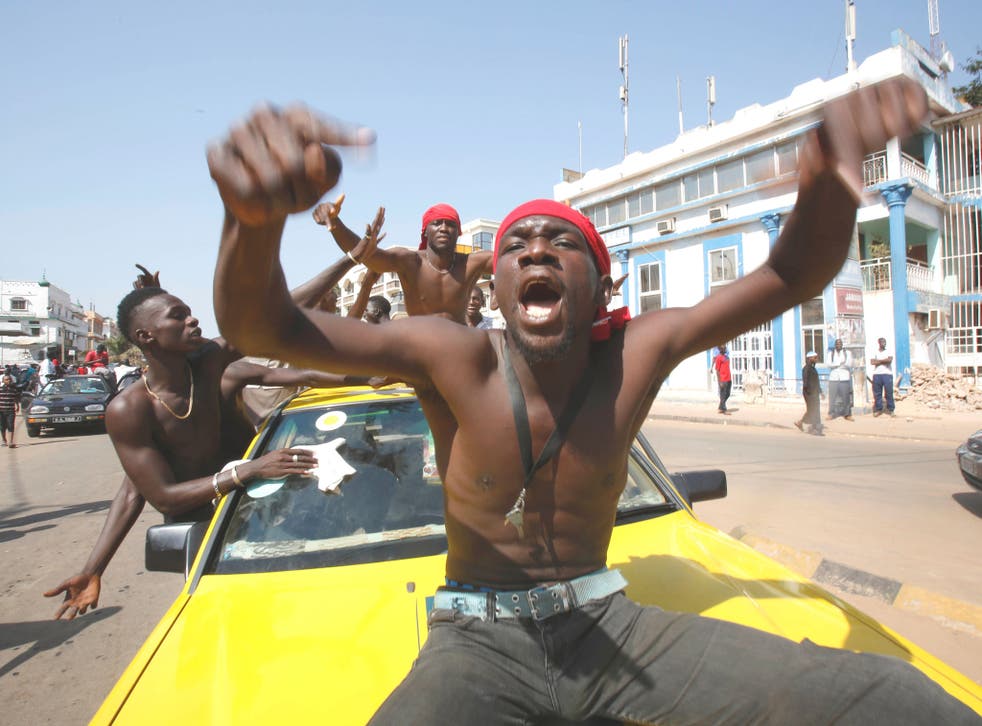 The people of Gambia have thrown out the man who has ruled the country with an iron fist for 22 years, in a shock presidential election result that shows even the most entrenched African leader can be defeated at the ballot box.
President Yahya Jammeh was slow to offer his concession on Friday, but eventually admitted poll defeat and vowed to help his successor Adama Barrow after the country's electoral commission declared he had been comprehensively beaten by the opposition leader.
Soft-spoken and understated, 51-year-old Mr Barrow spent more than three years living in London as a young man, working as an Argos security guard and developing a passion for Arsenal Football Club.
He later moved back to his home country and set up his own estate agency, and unexpectedly found himself with a real shot at being president when eight different opposition parties united behind his candidacy.
Electoral commission chief Alieu Momar Njie said Mr Jammeh received just 36.7 per cent of the vote compared to Adama Barrow's 45.5 per cent.
"I hereby declare Adama Barrow duly elected President of the Republic of Gambia for the next five years," Mr Njie said.
Election officials declared that Mr Jammeh would concede and said he would be calling Mr Barrow "to congratulate him and pray for peace and tranquility". The outgoing President himself had not issued a public statement by late afternoon.
If indeed he does succeed, Mr Jammeh will be rowing back heavily on comments he made during the vote on Thursday, when he said his victory was assured by Allah and the result would be "the biggest landslide in the history of the country".
At the final count of Gambia's 53 constituencies broadcast on state TV, Mr Barrow had received 263,515 votes, compared to Mr Jammeh's 212,099 and 102,969 votes or 17 per cent for Mammah Kandeh, the leader of the only opposition party not to back Mr Barrow. That represents a turnout of around 65 per cent of Gambia's nearly 900,000 registered voters, out of a population of about 1.9 million.
After the results, celebrations erupted in the streets of the capital Banjul, a normally sleepy seaside city whose white beaches lined with palm trees are a draw for European tourists.
Gambians shouted: "We are free. We won't be slaves of anyone". Some waved the Gambian flag and opposition party signs.
For the tens of thousands watching abroad from political exile, it was a day they thought might never come.
"There will be an economic boom, and people jailed can be freed, and people exiled abroad will come back home to their families," Aminata Jawara, a 23-year-old lab technician, told the Associated Press.
Earlier, Mr Njie said it was "very unique" for Mr Jammeh to be conceding, more than two decades after he seized power from Gambia's first president in a bloodless coup.
Jeffrey Smith, a human rights activist and founding director of Vanguard Africa, a US-based group which worked with the opposition coalition, said that if Mr Jammeh "can be defeated at the ballot box ... then anyone can".
"This is going to have resonance way beyond the tiny borders of Gambia," he said, describing the result as "a momentous occasion for the region writ large".
Mr Barrow, who campaigned as a reformer and said he would reverse Mr Jammeh's decision to withdraw Gambia from the International Criminal Court, said he was expecting a congratulatory phone call from the President.
The result was all the more shocking because of the tactics used by Mr Jammeh during the campaign. Voters faced a 24-hour internet blackout beginning when polling stations opened, and international phone lines were also cut – measures the President claimed were designed to prevent unrest.
During the months leading up to Thursday's vote, Mr Jammeh used state resources and media to advance his own cause, while the authorities clamped down on opposition activities.
But as the result became clear during the course of Friday, the internet was switched back on, and activists and journalists flocked to social media to declare victory for Mr Barrow.
Announcing the result, Mr Njie called for peace and tolerance to be respected, saying: "There will be celebrations, there will be disappointment, but we all know we are all Gambia."
World news in pictures

Show all 50
"We are happy to be free," said Omar Amadou Jallow, an opposition leader for the People's Progressive Party, which joined the coalition that backed Mr Barrow.
"We are able to free the Gambian people from the clutches of dictatorship, and we are now going to make sure Gambia becomes a bastion of peace and coalition. Our foundation will be based on national reconciliation."
Ramzia Diab, another opposition coalition member who fled to neighbouring Senegal after receiving death threats, said: "I never in my dreams believed he would concede. It almost feels too good to be true."
Register for free to continue reading
Registration is a free and easy way to support our truly independent journalism
By registering, you will also enjoy limited access to Premium articles, exclusive newsletters, commenting, and virtual events with our leading journalists
Already have an account? sign in
Register for free to continue reading
Registration is a free and easy way to support our truly independent journalism
By registering, you will also enjoy limited access to Premium articles, exclusive newsletters, commenting, and virtual events with our leading journalists
Already have an account? sign in
Join our new commenting forum
Join thought-provoking conversations, follow other Independent readers and see their replies