Hissene Habre trial: Former Chad dictator dragged out of court as hearing descends into chaos
The deposed president is being tried for crimes against humanity, war crimes and torture
Tom Brooks-Pollock
Tuesday 21 July 2015 15:49 Comments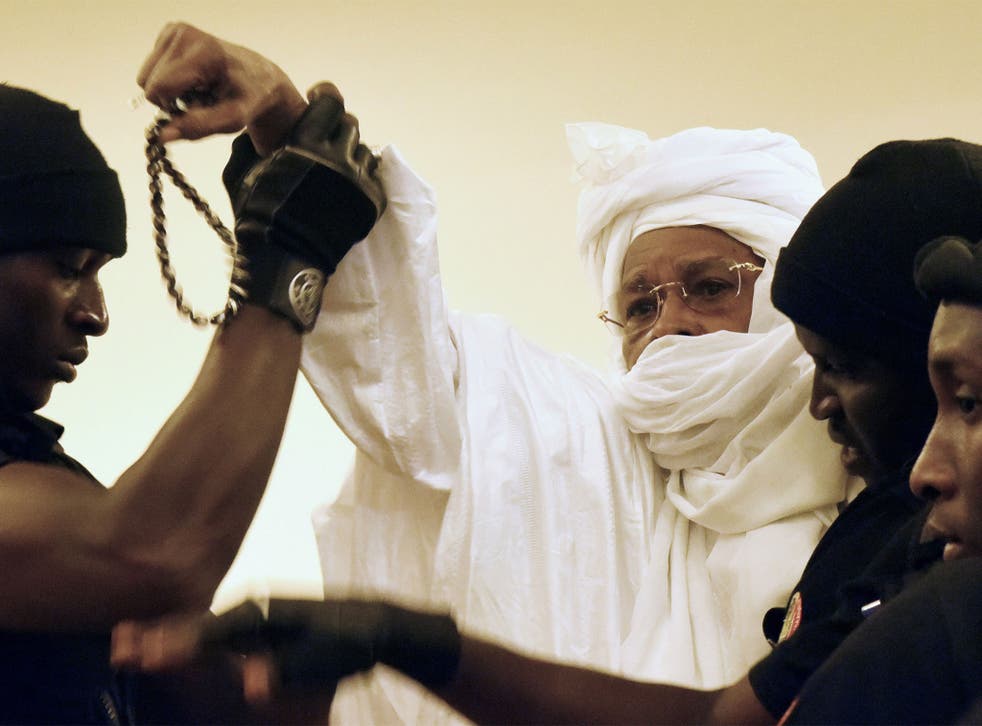 The former President of Chad Hissène Habré has been dragged out of court shouting after the first day of his trial for crimes against humanity descended into chaos.
Mr Habré - who is being tried over the deaths and torture of thousands during his rule of the country between 1982-90 - shouted that the trial was a "farce" before he was removed amid scuffles.
The unprecedented special tribunal, taking place in Dakar, the capital of Senegal, is the first time the leader of an African state has been prosecuted by another.
The former dictator – who is being tried for crimes against humanity, war crimes and torture – shouted that he did not recognise the court, while his backers in the court-room chanted support.
"This is not a trial, this is a masquerade!" the white robed Mr Habré shouted as he was taken away by prison guards before the trial began without him. "There is no trial. There are no lawyers. This is a false trial. Down with colonialism."
While he had waited for the trial begin, Mr Habré, surrounded by his own security guards, shouted that the trial was "a farce by rotten Senegalese politicians".
Mr Habré later issued a statement saying he had been illegally detained and would "not respond to the court." Tribunal head Gberdao Gustave Kam read the statement, adjourned proceedings until Tuesday and said Habre would be made to attend.
A 25-year campaign to bring the deposed president to justice – which has been compared to proceedings against the Chilean dictator, General Augusto Pinochet – began when Mr Habre was indicted by a Senegalese judge in 2000.
An estimated 40,000 people were killed by the Habré regime, according to a report published in May 1992 by a 10-member truth commission formed by Chad's current President Idriss Deby. The commission singled out Habre's political police force for using torture.
Around 100 witnesses are already in Dakar waiting to give evidence to the hearings, which are likely to last three months. Many campaigners were also in court, holding signs calling for justice for the victims.
The African Union established the special tribunal to try Mr Habré "on behalf of Africa", partly because many of its members are suspicious of the International Criminal Court, which they say has unfairly targeted the continent's leaders.
Additional reporting by Associated Press
Register for free to continue reading
Registration is a free and easy way to support our truly independent journalism
By registering, you will also enjoy limited access to Premium articles, exclusive newsletters, commenting, and virtual events with our leading journalists
Already have an account? sign in
Register for free to continue reading
Registration is a free and easy way to support our truly independent journalism
By registering, you will also enjoy limited access to Premium articles, exclusive newsletters, commenting, and virtual events with our leading journalists
Already have an account? sign in
Join our new commenting forum
Join thought-provoking conversations, follow other Independent readers and see their replies