Isis plans to use immigrant boats from Libya to cause terror in Europe and close shipping routes
The group heralded Libya as the 'strategic gateway for the Islamic State' to attack Europe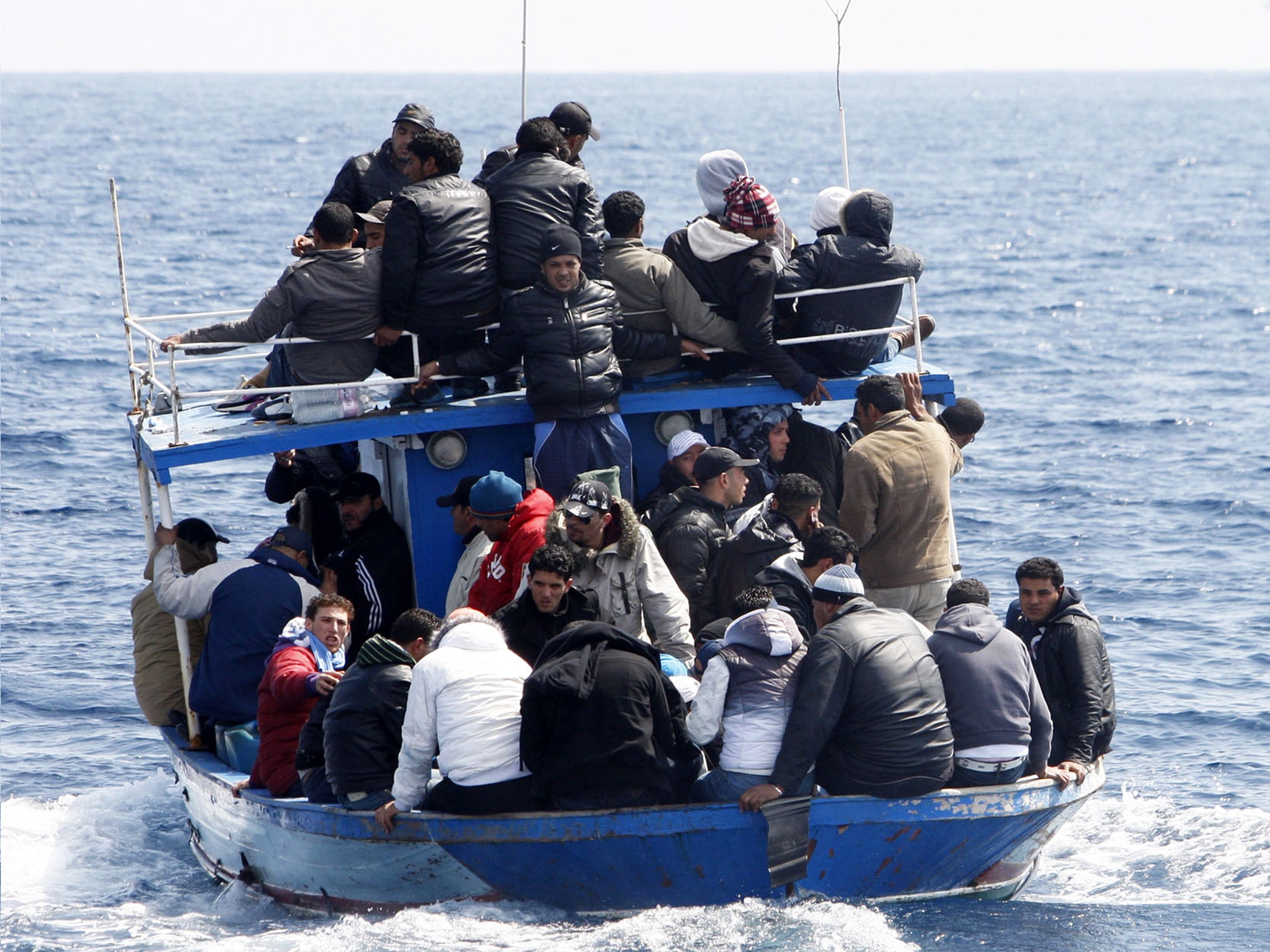 Propaganda released by Isis has detailed plans to use Libya as a base to cause "pandemonium" in Europe by hijacking immigrant boats crossing the Mediterranean.
The beheading of 21 Coptic Christians on a Libyan beach last week showed Isis was on the doorstep of Europe on a second front after months of fighting along the Turkish border.
An online essay written by a prominent Isis supporter claiming to be in Libya called the country the "strategic gateway for the Islamic State" and announced the "blessed expansion" of its so-called caliphate into North Africa.
The essay, translated by counter-extremism think-tank the Quilliam Foundation, said: "(Libya) has a long coastline and looks upon the southern Crusader states, which can be reached with ease by even a rudimentary boat and note that the number of 'illegal immigration' trips from this coast is massive, estimated to be as high as 500 people a day, as a low estimate.
"According to many [of these immigrants], it is easily possible to pass through Maritime Security Checkpoints and arrive in cities.
In pictures: Coptic Christians mourn victims of Isis beheadings
Show all 15
"If this was even partially exploited and developed strategically, pandemonium could be wrought in the southern Europe. It is even possible that there could be a closure of shipping lines because of the targeting of Crusader ships and tankers."
The essay claimed that the huge weapons stockpiles left by vying powers in Libya's civil war as well as years of military backing by Britain, the US and others could be exploited, along with its huge tracks of desert and mountain ranges that would be difficult for foreign intelligence to survey.
"My brothers, Libya, by the permission of God, is the key to Egypt, the key to Tunisia, Sudan, Mali, Algeria and Niger too," it continues.
"It is the anchor from which can be reached Africa and the Islamic Maghreb. However, for this dream to become a reality we must move quickly – partial commitment to the cause will not suffice."
Charlie Winter, the Quilliam researcher who wrote the report, emphasised that the essay must be treated as "unofficial propaganda" and could not be taken as fact, although it provided an insight into Isis' thinking.
It was initially written in Arabic and posted in January, he said, showing it to be intended for supporters rather than just to frighten Western powers.
A spike in the number of migrants fleeing the chaos in Libya has already been seen in recent months, with Italy recording at least 2,490 people landing on its shores since Sunday.
Italy's security services fear that the jihadists could take over the trafficking, the Times reported, as a source of revenue as well as to spread terror.
Migrants in Lampedusa claimed traffickers had forced them to leave Libya because of fears that Isis was planning to force them into its ranks.
"The traffickers want to get them out before that happens," an aid worker said.
Paolo Gentiloni, Italy's foreign minister, said after Isis captured part of the Libyan coast that Italy would be "ready to fight" the jihadists in Libya, but the Prime Minister later backtracked on his statement.
Isis' gains in the war-torn country had previously gone largely unnoticed as they gained a foothold in the coastal port city of Derna, nearby Sirte and Nofaliya last year.
Libya has been in turmoil as rival militias and governments fight for supremacy in the wake of Muammar Gaddafi's overthrow during the 2011 Arab Spring.
Isis seems to have seized its chance in the country by uniting existing Islamist militias under its banner, recruiting rival jihadists and reportedly sending top figures including its former leader of Iraq's Anbar province, Abu Nabil al-Anbari, to drum up support.
The group's military gains last summer had sparked a rush by other Islamist groups in the Middle East and North Africa to ally themselves with the group by pledging allegiance and changing their names.
Its ideology has spread much further than its origin in Iraq, with pledges of allegiance from terrorist groups in Egypt, Gaza, Jordan, Lebanon, Saudi Arabia, Tunisia, Yemen and now Libya.
The jihadists behind the beheadings in Libya call themselves the Tripoli Province of the Islamic State.
Days before Isis released its gory video depicting the Egyptians' murders, Libya's former Prime Minister warned that the group would soon reach the Mediterranean and even Europe if order was not restored in the country.
"(Isis) are growing. They are everywhere," Ali Zeidan said.
"In Libya, the situation is still under control. If we leave it one month or two months more I don't think you can control it.
"It will be a big war in the country and it will be here in Europe as well."
Join our commenting forum
Join thought-provoking conversations, follow other Independent readers and see their replies