Jacob Zuma latest: South Africa to appoint Cyril Ramaphosa as new President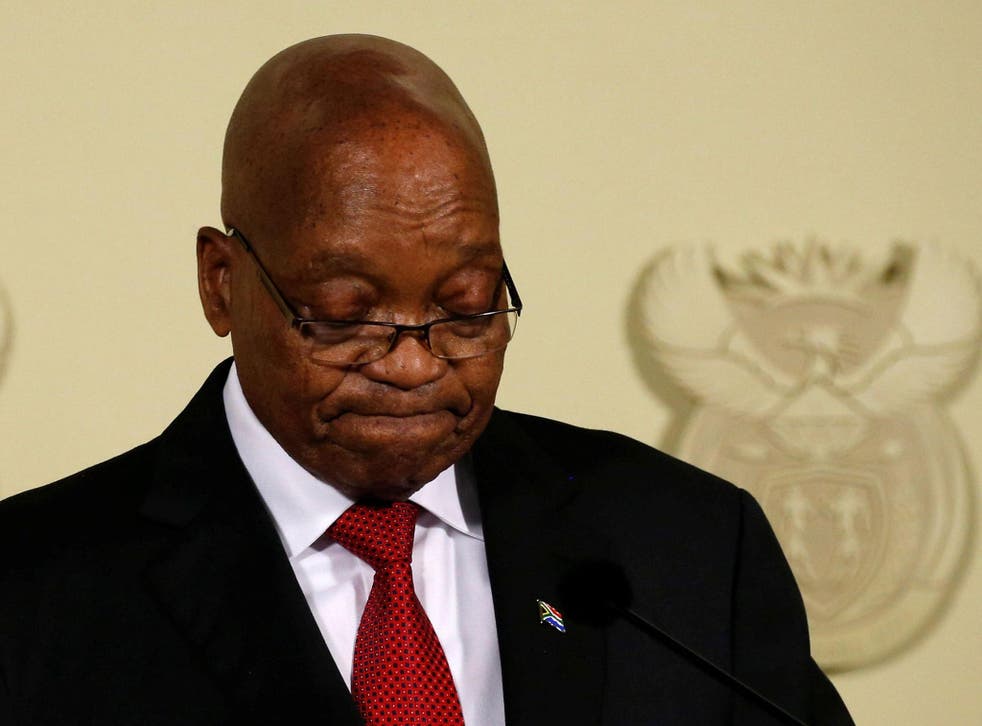 South Africa's parliament will confirm Cyril Ramaphosa as the country's new president ub a vote at 2pm (12pm GMT) on Thursday, the ruling ANC party has announced.
It marks a dramatic turnaround as South Africans woke up to a nation without Jacob Zuma at its helm for the first time in nine years.
Mr Ramaphosa, who was named the ANC's new leader and Mr Zuma's long-term replacement after a party election in December, became acting president after Mr Zuma's dramatic resignation speech in Pretoria on Wednesday night.
Also on Thursday morning, the South African parliament speaker Baleka Mbete said she had received a letter from Mr Zuma "informing her of his resignation as president of the Republic of South Africa".
"The Speaker thanks the President Zuma for his service to the people of South Africa in the last eight years and wishes him well," a statement from Ms Mbete's office read.
In his 30-minute address to the nation last night, Mr Zuma said he disagreed with the way he had been forced into an early exit by the ANC. After days of defiance, he nonetheless said a country's leader should never outstay his welcome and that he would accept what the party called his "recall".
"Defiant in defeat" and "Going, Going, Gone" were some of the newspaper headlines that captured the 75-year-old's reluctance to leave.
"South Africa's long nightmare is over," read the headline of an analysis on online news site Daily Maverick.
The foundation set up to guard the legacy of the late anti-apartheid icon Nelson Mandela said on Thursday that Mr Zuma's resignation brought to an end "a painful era for the country."
And the ANC itself hailed Mr Zuma's decision to resign.
Mr Ramaphosa's first state of the nation address was expected to take place on Friday. The speech had been scheduled to be delivered by Mr Zuma last Thursday, but was postponed after pressure mounted for him to resign.
The rand currency, which has gained ground whenever Mr Zuma hit political turbulence, soared to a near three-year high against the dollar on his resignation.
What happens next to Mr Zuma remains an open question. His presidency was dogged by claims of corruption and many South Africans have expressed a desire to see him exchange his seat of office for a prison cell.
Hours before Wednesday's resignation speech, armed police raided the luxury compound of the Gupta family, Indian-born billionaire businessmen who were key allies of the former president and who were alleged to have wielded undue influence over Mr Zuma in a scandal known in South African media as "state capture". Mr Zuma says his friendship with the Guptas simply relates to the fact they employed his son, Duduzane, at a time when he was "desperate" for a job.
Mr Zuma and the Guptas have always strongly denied any wrongdoing.
State broadcaster SABC said a Gupta family member was among those detained, while a senior judicial source said police were expected to arrest up to seven more people and that Gupta family members would be among them.
Police said the raid was in connection with a state-funded dairy farm, which prosecutors last month called a "scheme designed to defraud and steal".
The suspects were expected to appear in court on Thursday.
Additional reporting by Reuters
Join our new commenting forum
Join thought-provoking conversations, follow other Independent readers and see their replies