Kenya stages largest ivory burn in history in call to end illegal wildlife trade
'Anybody who owns ivory, you should be ashamed of yourself'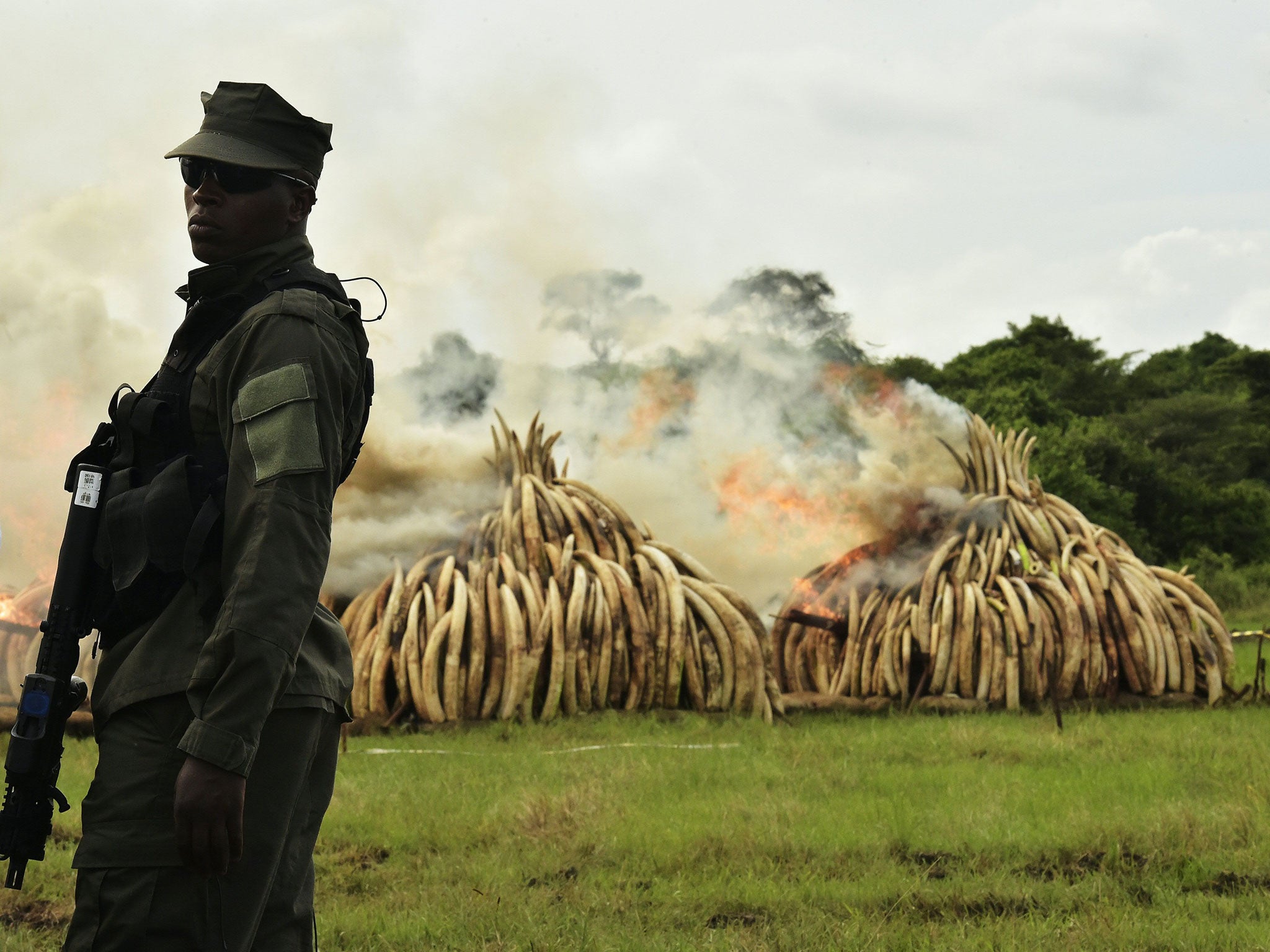 Kenya's President Uhuru Kenyatta has begun the largest ivory burn in history, setting alight over a hundred tonnes of poached tusks in a ceremony signalling the east African country's commitment to ending the illegal wildlife trade.
The 105 tonne haul – eight times more than has ever been destroyed at once – went up in flames in Nairobi national park in front of a crowd including presidents Ali Bongo of Gabon and Yoweri Museveni of Uganda, United Nations officials, conservationists, business figures and politicians from around the world.
Speaking at the burn ceremony, Mr Kenyatta said: "A time has come when we must take a stand and the stand is clear ... Kenya is making a statement that, for us, ivory is worthless unless it is on our elephants."
Kenya's Wildlife Service said the stacks of tusks and rhino horn represent more than 8,000 elephants and some 343 rhinos.
The African elephant, the world's largest land mammal, faces extinction because of mass poaching fuelled by demand for illicit ivory, mainly in Asian markets. Around 30,000 elephants are killed every year across the continent, a rate of slaughter that could bring about extinction within two decades.
Using the hashtag #worthmorealive, the Kenyan authorities aim to highlight the long term economic value of elephants left alive. President Kenyatta tweeted: "Our message is clear. Ivory is worthless unless it is on an elephant." Kenya-born Lupita Nyong'o, Oscar-winning star of Twelve Years a Slave, also took to twitter to hail a "historical moment" for her country.
Before the burn, Kitili Mbathi, head of the Kenyan Wildlife Service, said: "The reason we're doing this is to send a message that there is [no] intrinsic value in ivory, there is only value in elephants. Anybody who owns ivory, you should be ashamed of yourself. Do not buy ivory."
President Bongo of Gabon, who also spoke at the ceremony, offered a warning to those making money killing elephants and rhinos: "To all the poachers, to all the buyers, to all the traders, your days are numbered."
In pictures: Kenya stages largest ivory burn in history
Show all 15
The burn follows the Giants Club summit, a historic gathering of African heads of state, business-leaders and conservationists dedicated to saving Africa's elephants. Giants Club members Botswana, Gabon, Uganda and Kenya – who together hold over half Africa's elephants – used the summit to announce frontline protection measures to preserve remaining elephant populations.
Speaking at the summit, Kenyatta described poaching as a "direct threat" to Africa's economic progress, and pledged to seek a "total ban on the trade in elephant ivory" at the 17th meeting of the Convention on International Trade of Endangered Species (CITES) in South Africa later this year.
CITES banned commercial trade in African elephant ivory in 1989, but has since permitted one off sales, a move which many blame for the recent escalation in poaching.
Dr Max Graham, chief executive of Space for Giants, parent charity of the Giants Club, said: "Improved ranger forces, fences to reduce human-elephant conflict and enhanced legal frameworks for convicting poachers and traffickers will help conserve a significant number of elephants and buy us time to end the demand."
To burn such a large quantity ivory poses logistical problems, not least because of the high temperatures required. Divided between 11 pyres, the 105 tonne load will take days to reduce to ash.
Ivory burns have gained in popularity, partly because of their symbolic power, but also because stockpiles are expensive to guard and maintain. Ivory worth millions requires 24 hour security and high-tech compounds.
The first ivory burn took place in 1989 when Kenya's then President Daniel Arap Moi incinerated 12 tonnes of ivory in Nairobi National Park, telling the press "I appeal to people all over the world to stop buying ivory.''
Join our commenting forum
Join thought-provoking conversations, follow other Independent readers and see their replies