Kenya launches inquiry after police photographed kicking and beating man in crackdown on protests
Kenya's national police force announced a probe into the use of force in Monday's protests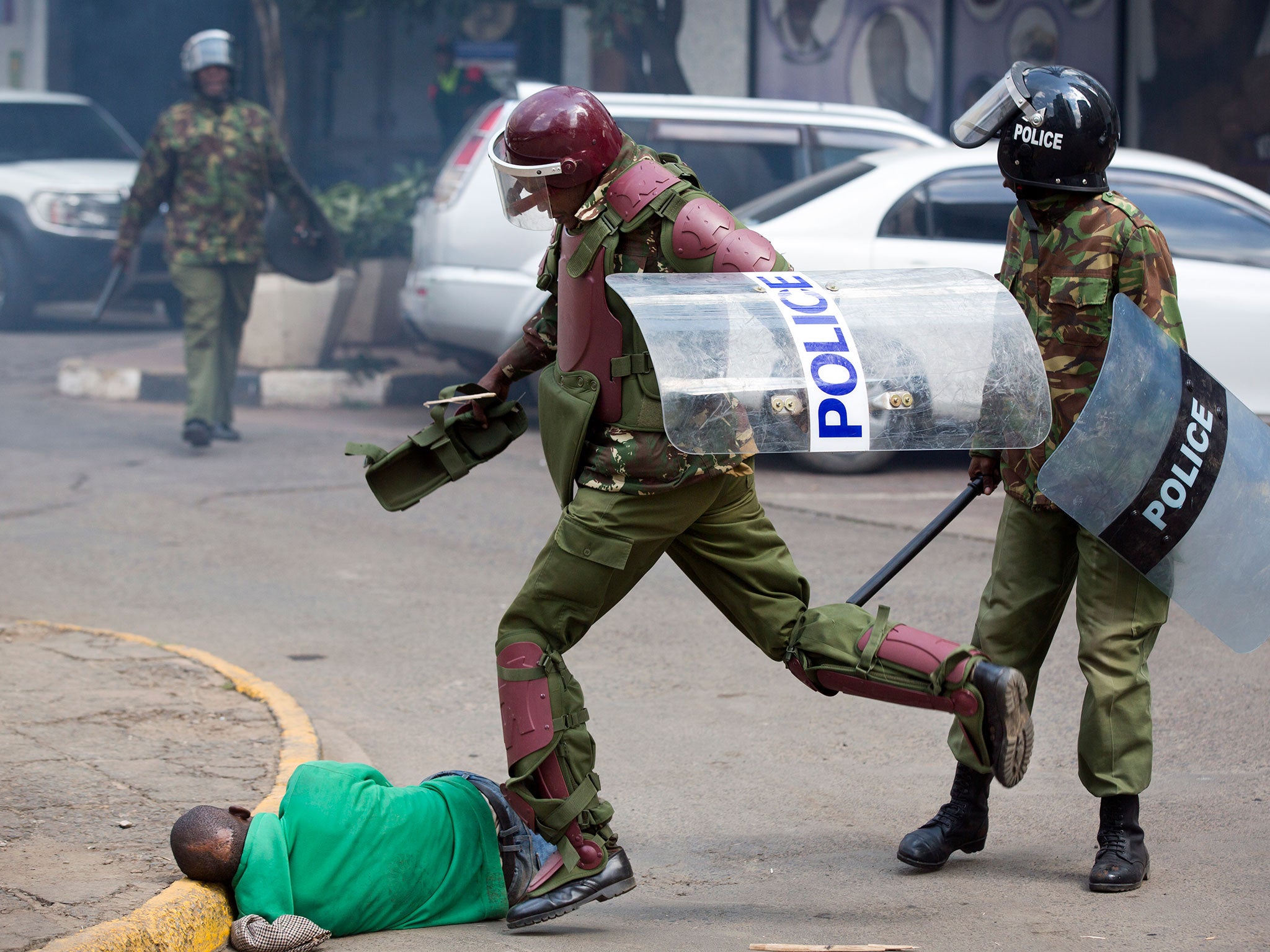 Shocking images of a protester being beaten and kicked by riot police in Kenya have ignited outrage over a crackdown on demonstrators.
Thousands of people were sharing a photo showing an officer wearing body armour and a shield kicking a man as he lay incapacitated on the ground.
"This image...will live on in infamy," wrote Al Jazeera Imran Garda in a Twitter post re-tweeted by more than 1,200 people.
The incident was captured by Associated Press photographer Ben Curtis as police deployed water cannons and tear gas to disperse protesters calling for electoral reforms in Nairobi.
Footage showed the man running out of a building before he fell to the ground and was quickly set upon by two police officers on Monday.
One beat him so hard with a large wooden truncheon that it broke into pieces, causing him to resort to kicking.
The officer appeared to take deliberate aim between the man's legs before a third officer joined the beating.
Warning: This video contains disturbing images
The protester feebly raised one hand at the start of the assault but then lay still in the road.
His fate was initially unknown but as reports of his death spread around Kenya, the Capital FM radio station said its reporters had found the man, named as Boniface Manono, alive in Kibera.
Reporters said the 36-year-old was recovering from his injuries in bed, picturing him wearing the same outfit seen on footage from Monday.
Videos from the protests showed bloodied protesters running screaming from riot officers, who were carrying wooden truncheons and shields.
At one point a shot was heard coming from inside a building, although it was unclear who fired it or if anyone was injured.
Hundreds of protesters had gathered outside the offices of the Independent Electoral and Boundaries Commission (IEBC) in Narobi as part of demonstrations calling for the oversight body to be scrapped.
In pictures: Kenyan police crackdown on protests
Show all 10
Police deployed tear gas and water cannons as some protesters threw stones at their lines.
Officials said they were forced to act to end rioting and looting in the capital but the hashtag #StopPoliceBrutality was trending on Twitter as Kenyans voiced their horror.
The Kenya National Commission on Human Rights (KNCH) said at least one person was believed to have died following the clashes.
Chairperson Kagwiria Mbogori said demonstrators suffered "serious bodily harm" even in cases where they had already been subdued.
The group said police actions had violated Kenya's constitution and international humanitarian law.
"When police disobey the law with such corrosive impunity, they lose legitimacy as law enforcers and alienate themselves from the very public they are mandated to serve," she added.
"Where protests turn violent, the police must be able to isolate the criminal elements from the rest of the protesters.
"Use of force by security forces during protests should be a last resort and must be necessary and proportionate. The use of brutal and indiscriminate force is counterproductive."
The KNCH was calling for the commanders of Monday's operation to be held accountable.
Joseph Boinnet, the head of Kenya's national police service, said an internal investigation was underway.
"I condemn the lawlessness visited on the public by rioters yesterday and an internal inquiry is under way to determine whether any police officer broke any law while quelling the riots," he said in a statement.
A group of 15 arrested protesters reportedly pleaded guilty to taking part in an illegal demonstration in a court on Tuesday.
They denied the more serious charge of being armed and breaching the peace.
Protests and scuffles with police were also reported in other cities, including Kisumu and Kisii, both in western Kenya.
The Coalition for Reforms and Democracy (Cord), which has accused the IEBC of bias ahead of Kenya's 2017 elections, said demonstrations would continue.
They are led by opposition leader Raila Odinga, who lost the most recent election in 2013 to President Uhuru Kenyatta.
After the disputed 2007 vote, about 1,200 were killed in ethnic fighting, causing international calls for authorities to work carefully with citizens to ensure peaceful polls.

Additional reporting by agencies
Join our commenting forum
Join thought-provoking conversations, follow other Independent readers and see their replies