Hundreds protest over police killing of homeless man accused of breaching coronavirus curfew in Kenya
Group tracking extra-judicial killings has 'lost count' during coronavirus curfew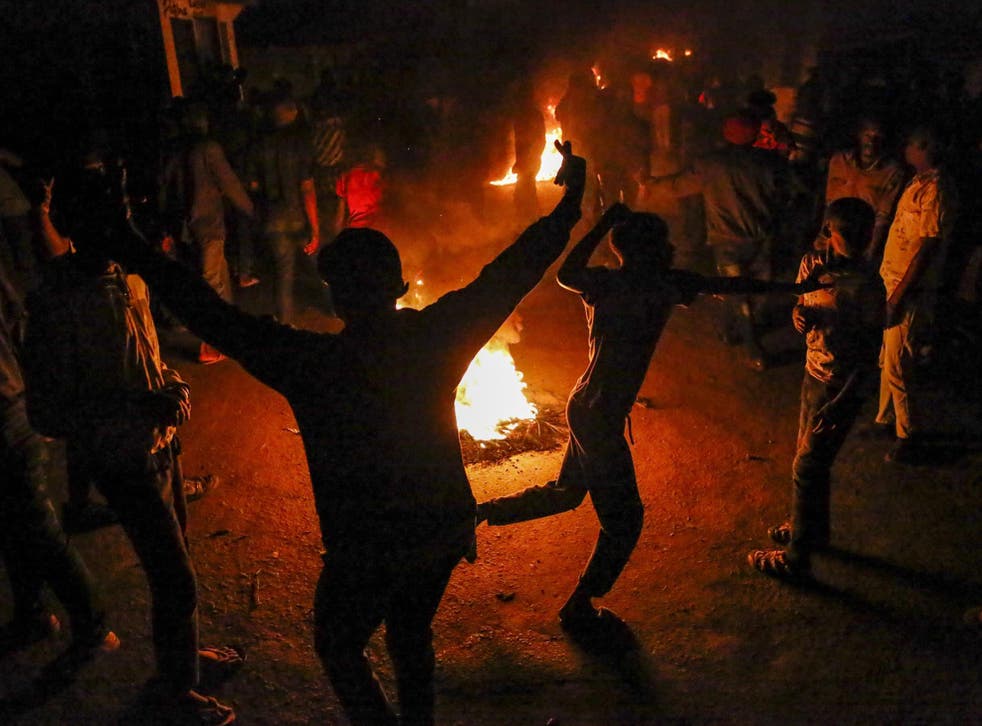 Hundreds of people have taken to the streets in Kenya's capital to protest the death of a homeless man believed to have been killed by police for violating a coronavirus curfew.
The body of 51-year-old James Mureithi was found lying in an alleyway in Mathare, a densely populated Nairobi slum, after he was allegedly shot by officers, prompting outraged residents to demand justice.
Mureithi was a university-educated automotive engineer who suffered a mental breakdown after divorcing his wife 10 years ago, said his brother, Dominic Njagi.
Social media reports suggest he had been working as a market porter while sleeping rough and was well-known locally by the name Vaite.
"The pathologist I talked to said my brother was shot twice; one on the legs and the other on the chest," Mr Njagi told the Associated Press. "The pathologist said the chest wound was at close range."
World news in pictures

Show all 50
According to analysis by Missing Voices, a group tracking and opposing extrajudicial killings in Kenya, 93 people have been killed by police or reported missing in 2020 – already the highest annual total recorded since their figures began in 2007, excluding 2019.
The country's Independent Policing Oversight Authority believes 15 people have been killed and 31 others injured by police officers enforcing the coronavirus curfew. The authority said it has dispatched teams to probe a further six deaths in the past four days allegedly linked to officers, including Mureithi's.
There has been "at least one [killing] a night since curfew began," said Wilfred Olal, who coordinates a network of social justice centres in slums across Kenya that is trying to keep track of curfew-related deaths since the measure was put into place in March. "To be honest, we've lost count. It's dozens. There are many more."
One victim, 13-year-old Yassin Moyo, died after being shot in the stomach by police on 30 March as he played with his siblings on their third-storey balcony at about 7pm, as the curfew was coming into effect. Police have claimed it was a stray bullet.
On Tuesday, Kenya's director of public prosecution ordered the arrest and prosecution of a police officer in connection with Yassin's death.
The country has so far confirmed 1,962 cases of coronavirus, 64 of which have been fatal.
People are more afraid of the police than Covid-19, said rights activist Boniface Mwangi, who said all of the Kenyans who have died at the hands of police enforcing the curfew have been from low-income neighbourhoods.
Kenyan deaths and the global protests over the killing of George Floyd in the US show that "struggles against police brutality are the same everywhere", Mr Mwangi added.
On Tuesday, dozens gathered outside the US embassy in Nairobi to protest Mureithi's killing, police brutality in Kenya and the killing of George Floyd, who died in Minneapolis police custody after an officer knelt on his neck for eight minutes despite his cries of "I can't breathe".
Holding placards reading "say their names" and "end white supremacy", the protesters told local media that the US should be held accountable for Kenyan police brutality, having provided Kenya with tens of millions of dollars in anti-terrorism law enforcement support in recent years, including hardware and training.
Around 50 police officers arrived at demonstration within 20 minutes, threatening to use force unless they dispersed, activist Njeri ​Wa Migwi told Standard Digital.
Within the US embassy itself, an extraordinary show of defiance was taking place, as officials joined fellow US diplomats in other African nations to express their deep concern at the situation unfolding in America.
In a highly rare condemnation of domestic policy, the US embassy in Nairobi tweeted: "We are deeply troubled by the death of Mr George Floyd in Minneapolis, adding: "Law enforcement must be held accountable in every country."
George Floyd protesters met with violence from police across US
In a video message, ambassador Kyle McCarter said: "The actions of the police officers in the killing of George Floyd were abhorrent and must result in justice and accountability for those responsible."
He added: "The voices of the American people, mine included, reflect their horror and anger at the repugnant acts of these officers. A strong, independent judicial system with the power to investigate and prosecute fully is the best means to ensure justice is served."
The US embassy in neighbouring Tanzania also condemned Floyd's death, with Congo ambassador Mike Hammer promoting a tweet that described the US as "shameful", asking: "How many black people must be killed by white police officers before authorities react seriously?"
It came as a coalition of dozens of former African presidents urged all of the continent's governments to "raise a strong protest" over Floyd's death in police custody.
The Forum of Former African Heads of State and Government insisted nations demand that the "perpetrators of this crime and all other crimes of this sort be punished with the utmost rigour".
"What level of cruelty must you reach that the entire world finally wakes up and manifests its indignation," said the statement signed by former Beninese president Nicéphore Soglo, the group's vice-president. "Enough is enough."
The group "stands in solidarity and supports all the measures" that the Black Lives Matter movement and elected black officials "will consider useful to put an end to these repeated provocations and barbarism purposely filmed by white supremacists", said the statement.
Join our new commenting forum
Join thought-provoking conversations, follow other Independent readers and see their replies