Kenya shopping mall attack: Tweets from survivors reveal the terror
The horrific scenes witnessed by a Radio Africa journalist and a young woman who hid among mattresses are recorded in heartbreaking successive social media posts
Adam Withnall
Tuesday 24 September 2013 12:47 Comments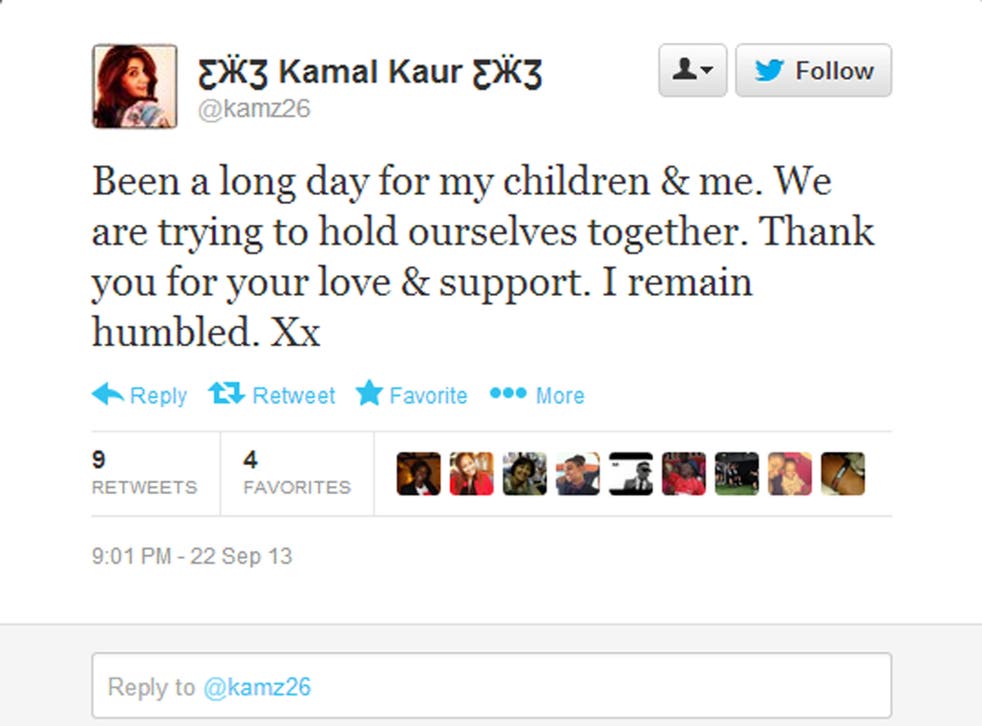 Survivors of the Westgate mall terrorist attack have spoken about their ordeals on Twitter, recording in detail their fear and suffering through the events of the siege which has now claimed 68 lives and injured more than 170.
Radio Africa journalist Kamal Kaur used social media to tell her heart-breaking story, in which she saw her six-months pregnant colleague and friend Ruhila Adatia killed.
Also witnessing that shooting, as well as the apparent attempts of one terrorist to escape disguised as a fleeing hostage, was a girl who names herself only as Shirley.
These are the posts which record their harrowing experiences:
Kamal Kaur (@kamz26)
"My kids were hurt. We're ok. Unable to call or msg. Thank you for love & prayers. Donate blood. Please. I saw children in need. Please."
"Image of the boy I was trying to save but got shot instead of my son keeps swimming in front of my eyes. How do I sleep after seeing that?"
"Crying. And praying. I lay in a pool of someone's blood, a dead little boy lying on my side. Trying to call for help, keeping others calm."
"I saw my little boy, my son help a small girl out from Java's service entrance. I could only send him love from where I was watching."
"Please tell me if everyone is out of the mall. Please. I can't stop crying."
"My Ruhila is gone..."
"Bodies of children were everywhere. Children. Innocent little children. Holding on to me asking me where their mummies were."
"The one guy I saw had magazines of bullets attached everywhere on him. Big gun that showered bullets. Randomly shooting at people. And kids."
"Just saw a pic of my daughter helped out of Westgate in New York Times. God bless you. I'm forever indebted. I didn't know where she was."
"Please go give blood. I'm begging you. If you'd seen what I saw you'd not think twice about it."
"I still have dry blood in my hair. Not mine. It's of that little boy who was shot instead of my son..."
"Images of the day keep flashing in front of my eyes. Dead bodies, injured people, wailing, crying, scared."
"Wide awake. My daughter has started running a fever. She still has shrapnel in her leg. Please go give blood to those who need it. Please"
"I still haven't told my children that their Ruhila Auntie is no more. I don't know how to. I can't. They're still in shock & wounded."
"My son almost had his head blown off. Missed by an inch. Hit wall. Bounced & killed the little boy next to him."
"I had a young lady who had fallen on me & she was calling her Dad to say goodbye & I love you. It broke my heart she had given up..."
"I've finally broken the news to the kids about their beloved Ruhila Auntie. My daughter's sobs will forever weigh on my soul."
Shirley (@ShirleyGhetto)
"Im under the matresses!!!!! This might be my last tweet #Westgate mall. :'( :'("
"I love you guys."
"OMG I was with kevin and he's at the parking. I'm safe in here but guys, pray for him guys, I think they took him!!"
"3 thugs are arguing about something. One of them is tryna convince two to surrender."
"Its getting calm. Pray for us guys. #Westgate .Pray for Kevin."
"When the first gunshot was fired, we ran into the mall instead of away. #Westgate"
"I don't care anymore. If they shoot let them come shoot.It doesn't even seem like we'll make it out anyway #Westgate"
"The cop who tried to save us, Thank you. I hope they didnt kill him."
"Had mistaken this guys next to me as thugs. Thank God. #Westgate"
"Kenya police,Check the people leaving! I think some gunmen are escaping among them. Black shirts #Westgate"
"Some guy at the parking has been shot for his phone ringing. Please Do NOT call anyone. #Westgate"
"Is it safe to come out from hiding? Its quiet. Have the cops tackled the culprits? Please keep me updated. #Westgate"
"The lady hostage who was shot. I'm told she's a journalist. That scream was deafening. R.I.P #Westgate"
"Cop who scared away the gunmen to the parking lot. May God be with his soul. #westgate"
"How is it out there? Is the backup here yet? #Westgate"
"I feel like I'm ready for anything now. All the fear is gone #Westgate"
"No, I dont wanna die this young! :'(. #Westgate"
"So this is how it feels like when you feel you might die the next minute. I think I'm ready to walk out now."
"I can see the guys in green now. Should I or should I not show myself. The guys I was with just left."
"I trust the guys in green. I think I'm gonna come out of hiding now. This feels like a movie."
"I hope this won't be my last tweet."
"I'm OK."
"I made it out of the mall yesterday. The 2 guys I was in hiding with made it out too. Thank you all for the concern. God bless Kenya."
"The cop who tried to lead us upstairs was sniped in the hip. No one knew where the bullet came from. Some fell downstairs and played dead"
"I have talked to mum like nothing happened. Told her I'm in bed. I didn't wanna scare her.The shock on her, I didn't want that."
"I think I'm the only one who didn't contact my parent. I didn't know how she would deal with the shock. She doesn't even know I was in there."
Further reading:
British boy freed after telling jihadist: 'You're a bad man'
Hero ex-Marine re-entered mall 12 times to save 100 people
The victims came from around the world. So did their killers
Was wife of 7/7 bomber among attackers?
'All hostages freed' as Kenyan soldiers take control of mall
Kenyans are more united in tragedy's aftermath
The victims: The architect and his pregnant wife
Video: Amateur footage from Kenya shopping mall attack
Ian Birrell: How to fight al-Shabaab
Register for free to continue reading
Registration is a free and easy way to support our truly independent journalism
By registering, you will also enjoy limited access to Premium articles, exclusive newsletters, commenting, and virtual events with our leading journalists
Already have an account? sign in
Join our new commenting forum
Join thought-provoking conversations, follow other Independent readers and see their replies