Libya attacks 'limited by UN'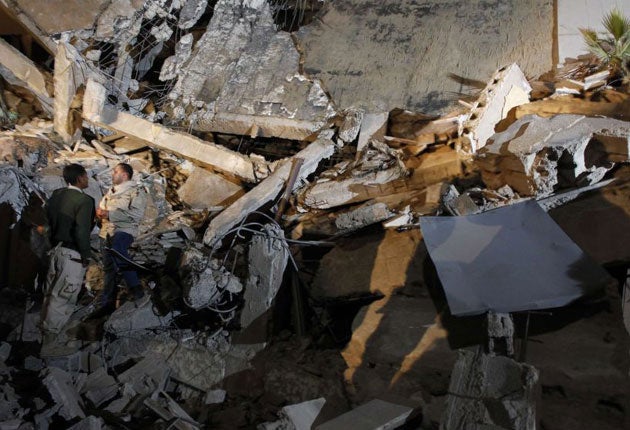 All military attacks on Libya will be "fully consistent" with the United Nations mandate, David Cameron said today as he faced pressure to clarify whether Muammar Gaddafi could be a target.
The Prime Minister said he was not prepared to offer a "running commentary" on targets amid apparent differences of opinion between ministers and senior military commanders.
Chief of the Defence Staff General Sir David Richards flatly insisted that seeking to hit the Libyan dictator was not allowed under the terms of United Nations Security Council resolution 1973.
But after Defence Secretary Liam Fox suggested over the weekend that Gaddafi could be a "legitimate target", No 10 sources insisted it was legal to target anyone killing Libyan civilians.
Updating MPs on the latest developments, Mr Cameron said the action would be "limited by what the UN Security Resolution says".
The resolution authorises the international community to employ "all necessary measures" to enforce a no-fly zone over Libya and to protect civilians from attack.
Mr Cameron told the Commons: "Let me say this about the issue of targets: targets must be fully consistent with the UN Security Council resolution.
"We therefore choose our targets to stop attacks on civilians and to implement the no-fly zone.
"But we should not give a running commentary on targeting and I don't propose to say any more on the subject than that."
Mr Cameron said he believed that Libya "needs to get rid of Gaddafi" but the role of the international coalition was to enforce the Security Council resolution.
"The Libyans must choose their own future."
He went on: "They have far more chance of choosing their own future today than they did 24 or 48 hours ago."
Following a meeting of the newly-formed Libya sub-committee of the National Security Council, chaired by Mr Cameron, Gen Richards was adamant that it was not permitted to target Gaddafi.
"Absolutely not. It is not allowed under the UN resolution and it is not something I want to discuss any further," he said.
Earlier, Foreign Secretary William Hague refused to rule out an attack on the Libyan leader.
"I'm not going to speculate on the targets," he told BBC Radio 4's Today programme. "That depends on the circumstances at the time."
Dr Fox also discussed the possibility at the weekend, although he stressed the need to avoid civilian casualties in any attack.
"Well, that would potentially be a possibility, but you mention immediately one of the problems we would have, which is that you would have to take into account any civilian casualties that might result from that," he said.
Mr Cameron told the Commons: "Many people will ask questions I am sure today about regime change and Gaddafi and the rest of it.
"I have been clear: I think Libya needs to get rid of Gaddafi but in the end we are responsible for trying to enforce the Security Council resolution; the Libyans must choose their own future."
The resolution "explicitly does not provide legal authority for action to bring about Gaddafi's removal from power by military means", he said.
But the premier fell short of directly endorsing Gen Richards's view that Gaddafi could not be a legitimate target under the UN mandate.
A second night of missile attacks and air strikes had "largely neutralised Libyan air defences and as a result a no-fly zone has effectively been put in place over Libya"," he said.
RAF Typhoon jets deployed to the Italian air base of Gioia del Colle, 25 minutes flying time from the Libyan coast, would be patrolling the zone from this afternoon, he said.
The MoD would not be drawn on a report in London's Evening Standard newspaper that the cruise missile which hit Gaddafi's compound was fired by a British Trafalgar-class submarine.
About 300 Gaddafi supporters were said to have been in the compound at the time, but it is not known if any were hurt. It was not clear where Gaddafi was at the time of the attack.
The Prime Minister's spokesman said the UN resolution did not support military intervention to "remove" Gaddafi.
But he repeatedly refused to clarify whether it was legal to attack Gaddafi personally, insisting the Government would not give a "running commentary" on targets.
"Targets will be chosen in order to meet those two objectives set out in the UN security council resolution," he said.
"It says the objectives of any action should be either to protect civilians or to implement the no-fly zone."
Pressed again on whether the dictator could be targeted to protect civilians, the spokesman said: "We have been very clear that all our targets will be legitimate targets, but we are not going to get into further detail than that."
He added: "I am not going to make comments on the legitimacy or otherwise of specific targets."
Asked if the Prime Minister had full confidence in the CDS and "everything he says", the spokesman replied: "He has full confidence in the CDS."
A senior military commander hailed the "Herculean" efforts of RAF jet crews launching attacks on Libya.
Group Captain Peter Rochelle said Tornado GR4 crews had twice flown thousands of miles from their base at RAF Marham, in Norfolk.
Group Capt Rochelle, Marham station commander, said: "They have flown 3,000-mile round trips.
"Our crews are trained to fly a whole range of different types of missions. They have not required any extra training.
"These kind of trips are not unique, although they are unusual."
He said an attack launched late on Saturday was successfully completed.
A mission launched late yesterday was aborted after intelligence revealed the presence of civilians near a target area.
"Our crews flew right up to the launch point, when we received intelligence about civilians and they turned around and brought their weapons back.
"We do not view this as any kind of failure.
"It showed that we are able to deal with changing circumstances."
Group Capt Rochelle said crews had been ready to go into action as soon as required following days of debate about the enforcement of the no-fly zone.
He would not discuss plans for future attacks or reveal whether Tornado crews might move to bases in the Mediterranean.
A convoy of five military lorries left Marham today carrying large containers.
Base sources suggested that the lorries were taking stores and supplies to the Mediterranean.
Join our commenting forum
Join thought-provoking conversations, follow other Independent readers and see their replies