Libya's coastal cities are 'making millions from people smuggling'
Islamic extremist groups also said to be among those involved in smuggling business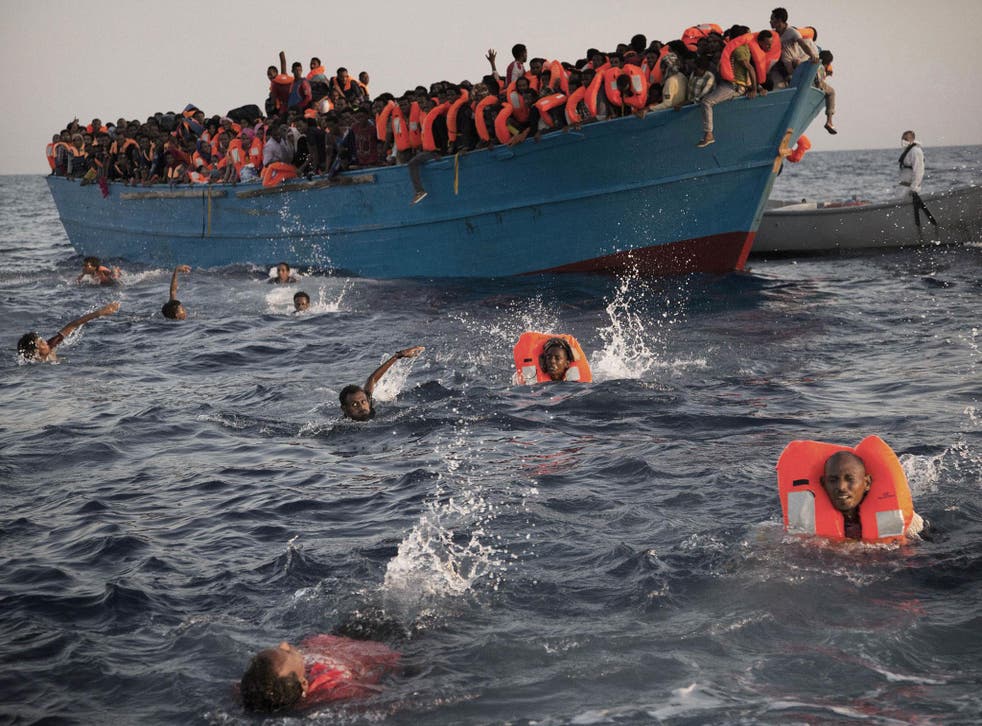 Libya's coastal cities are making up to €325m (£272m) in revenue each year from people smuggling, the commander of a EU military task force in the Mediterranean Sea says in a confidential report.
In a report to the EU's 28 nations, Rear Admiral Enrico Credendino warns "migrant smuggling, originating far beyond Libyan borders, remains a major source of income among locals in Libyan coastal cities".
The report, which was issued to EU member nations on Wednesday and seen by The Associated Press, provides no details as to how the figure was calculated.
Tens of thousands of refugees leaving Libya in unseaworthy boats have been picked up in the Mediterranean this year, often telling aid workers of the hundreds or thousands of euros they had to pay smugglers.
Refugee crisis - in pictures

Show all 27
The report assesses the work of Operation Sophia, a naval mission intended to stop the flow of refugees to Europe
Mr Credendino also notes that Islamic extremist groups are among those involved in the smuggling business, which sometimes begins far south in Africa's Sahel zone.
"Al-Qaida and al-Qaida AQIM [al-Qaida in the Islamic Maghreb], aligned with the Tuareg tribe in southwestern Libya, are assessed to be financially exploiting these smuggling routes," he says.
However, he adds that there was no evidence extremists were trying to enter Europe via the dangerous Central Mediterranean route that passes from Libya to Italy.
Before risking their lives to cross the sea, refugees and migrants are frequently kidnapped by gangs and forced into "modern slavery".
Others are detained in labour camps or forced into prostitution until they can pay their way out.
With routes out of Libya controlled by militias and many borders closed, the only option open for escape open to refugees are the flimsy rubber boats sent into the Mediterranean Sea by smugglers.
A day rescuing refugees from the Mediterranean Sea
The treacherous passage across the Mediterranean Sea from Libya to Italy has become the dominant route after the controversial EU-Turkey deal aimed to close the shorter and comparatively safer path across the Aegean Sea.
It has claimed the vast majority of over 4,600 lives of refugees lost in attempted sea crossings so far this year — making 2016 the deadliest year for refugees trying to reach Europe.
Charities have also raised concerns over reports of partner authorities in Libya intercepting migrant boats, shooting refugees and beating and torturing those detained.
Libya's internationally recognised government has pledged to tackle people smuggling in the Mediterranean.
Last week, authorities in Italy they had recorded a record number of arrivals by sea this year, with one month still to go in 2016.
Over 171,000 migrants have arrived, which beats the previous annual record of 170,100 from 2014.
Additional reporting by agencies
Register for free to continue reading
Registration is a free and easy way to support our truly independent journalism
By registering, you will also enjoy limited access to Premium articles, exclusive newsletters, commenting, and virtual events with our leading journalists
Already have an account? sign in
Register for free to continue reading
Registration is a free and easy way to support our truly independent journalism
By registering, you will also enjoy limited access to Premium articles, exclusive newsletters, commenting, and virtual events with our leading journalists
Already have an account? sign in
Join our new commenting forum
Join thought-provoking conversations, follow other Independent readers and see their replies