More than 140 rescued refugees taken to Libya despite violence and human rights abuses
'Survivors tell us they suffer torture, forced labour, physical and sexual violence,' UNHCR spokesperson says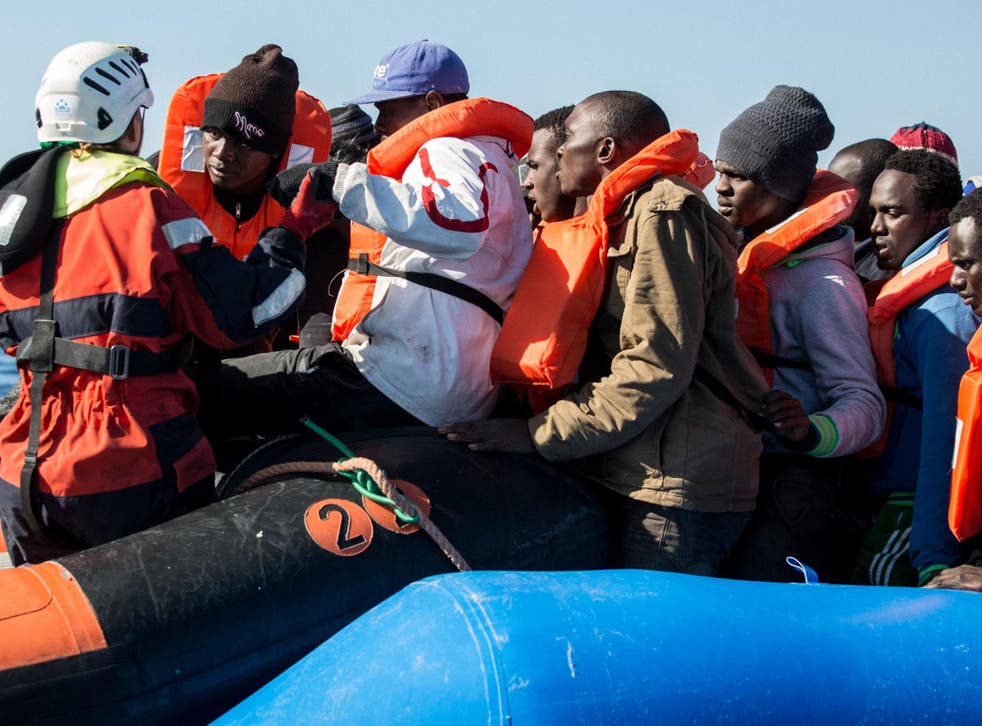 United Nations aid organisations have criticised European countries for closing their ports to migrant vessels after more than 140 people rescued in the Mediterranean were taken to a detention centre in Libya.
An estimated 144 refugees and migrants, including four children and four pregnant women, were taken to a detention centre in Misrata, northwestern Libya, on Sunday after they were rescued by cargo ship Lady Sham, according to the UN's refugee agency.
Wracked with violence and widespread human rights violations, Libya is a dangerous destination for refugees and migrants, UNHCR spokesman Charlie Yaxley said.
"Refugees returned to Libya after being rescued in the Mediterranean face automatic detention upon their return. In these detention centres, they face appalling, squalid conditions," Mr Yaxley told The Independent.
"Reports from survivors tell us that they suffer torture, forced labour, physical and sexual violence at the hands of the unscrupulous smugglers who seek to profit on the desperation of people fleeing war, violence and persecution."
Refugee crisis - in pictures

Show all 27
Italy has barred rescue vessels from entering its ports since mid-2018 when a populist government came to power.
Italy's interior minister, Matteo Salvini, has said the ports will remain closed to deter human traffickers.
Following Italy's refusal, Spain and Malta said they would accept some of the migrants rescued at sea, but not before lengthy negotiations with other EU countries.
The UNHCR called on European countries to stop "politicking around sea rescues" and focus on a solution to the humanitarian crisis in the Mediterranean.
"Politicians must stop using human beings for political pointscoring and to instead address this as a humanitarian issue, with saving lives the priority," the UNHCR said in a statement.
Human Rights Watch said this week that migrants detained in Libya are "trapped in a nightmare" and that the European Union is perpetuating a cycle of abusive detention rather than protecting vulnerable people.
Eight migrants die as 86 rescued from sinking boat off Libya
Migrants held in Libyan detention centres, including many children, suffer severe malnutrition, overcrowding and violence, the human rights group said in a 70-page report.
"Fig-leaf efforts to improve conditions and get some people out of detention do not absolve the EU of responsibility for enabling the barbaric detention system in the first place," said Human Rights Watch's Europe director Judith Sunderland.
An estimated 170 migrants drowned in the Mediterranean last week after two overloaded dinghies capsized off the coast of Libya.
Survivors told the International Organisation for Migration (IOM) that one of the dinghies was transporting 120 people.
An estimated 200 people have already drowned trying to reach Europe in January and more than 4,000 have attempted the crossing, according to the IOM.
Register for free to continue reading
Registration is a free and easy way to support our truly independent journalism
By registering, you will also enjoy limited access to Premium articles, exclusive newsletters, commenting, and virtual events with our leading journalists
Already have an account? sign in
Register for free to continue reading
Registration is a free and easy way to support our truly independent journalism
By registering, you will also enjoy limited access to Premium articles, exclusive newsletters, commenting, and virtual events with our leading journalists
Already have an account? sign in
Join our new commenting forum
Join thought-provoking conversations, follow other Independent readers and see their replies