New mafia-led militia may be stopping refugees from leaving Libya for Italy
The number of migrants attempting the deadliest route to Europe has plummeted by more than 50 per cent since mid-July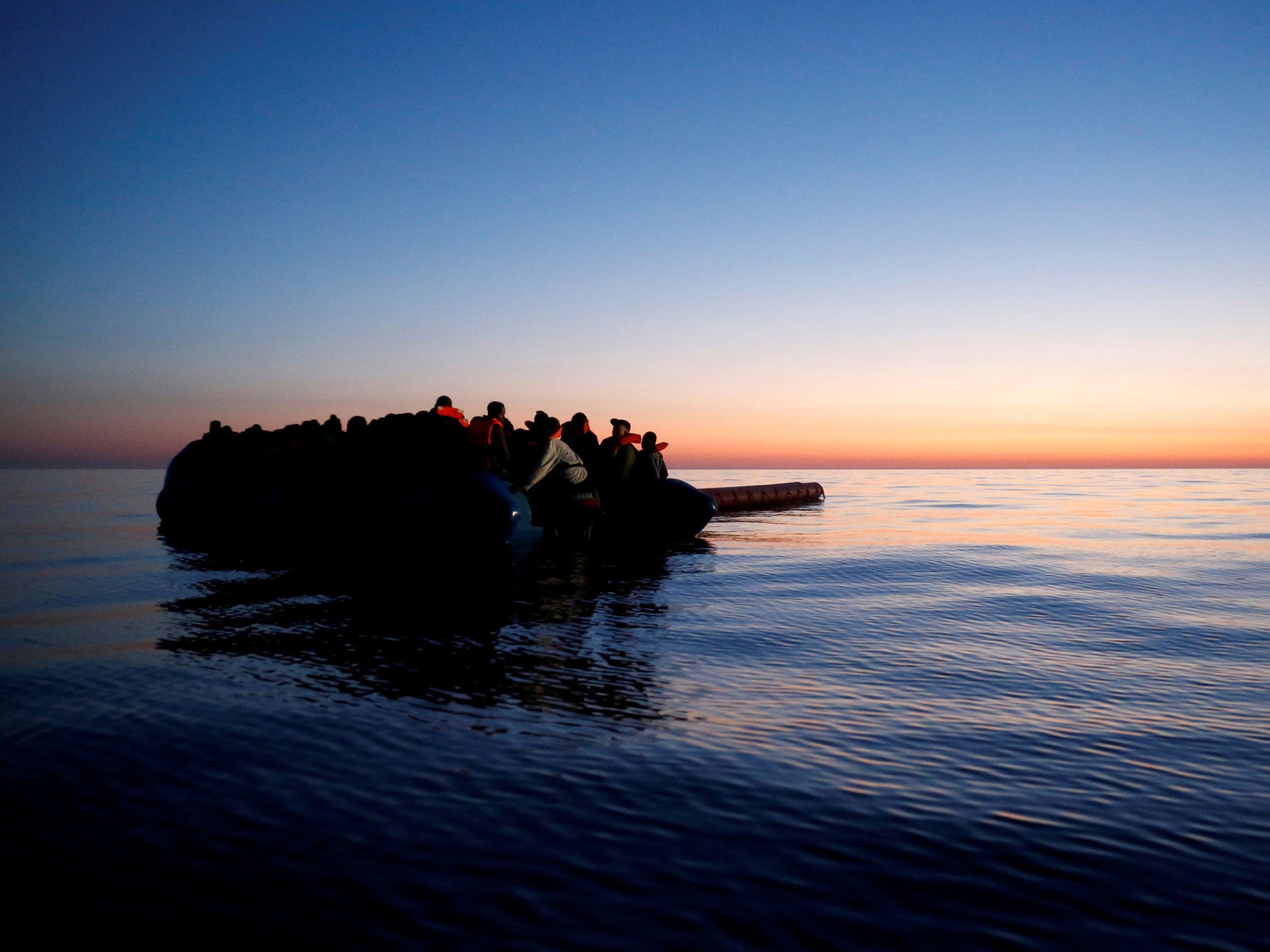 A newly formed militia may be the reason why the number of migrants arriving in Italy from Libya has plummeted over the past month.
Sources told Reuters a "former mafia boss" is leading a group of several hundred policemen, army officials and civilians as part of a "very strong campaign" to stop boats taking off from Sabratha, an ancient city 45 miles west of Libya's capital, Tripoli.
The number of arrivals in Italy has dropped by more than 50 per cent since mid-July in what is usually a surge period, when smugglers encourage Mediterranean crossings before winter approaches and the sea gets rougher.
Since 2015, Sabratha has been the most regular departure point for migrants and refugees attempting to reach Europe.
Migrants coming from across Africa told The Independent they usually pay smugglers between $1,700 (£1,300) and $2,200 (£1,700) for the dangerous sea journey from Libya to Italy. However, many are captured by militias inside Libya, some of whom hold them hostage while demanding more money from their families.
Simon McMahon, a University of Conventry research fellow who has written extensively about the migration crisis, told The Independent that the latest reports highlight some of the complexities European countries face when it comes to working with the government in Tripoli.
"These groups may be trying to get access to funds for migration control coming from Europe or trying to position themselves as legitimate partners for future developments. Whether they will continue to play this role, face competition from others who wish to restore smuggling routes or will change their minds and take part in facilitating smuggling, rather than preventing it, is something we will have to wait to see."
The central Mediterranean route is currently the deadliest way to Europe. So far in 2017, more than 2,400 people have drowned or gone missing while crossing the Mediterranean, mostly while travelling from Libya.
Around 600,000 migrants and refugees have made the journey since 2014, while around 12,000 have died on the way. Italy has repeatedly asked for help from other EU countries in managing the burden caused by the migrants and refugees who do arrive.
On 14 July, 5,115 migrants arrived to Italy within one day, the highest number so far in 2017, but there hasn't been a major spike since.
Italian Interior Minister Marco Minniti said he was thankful for the drop in arrivals, calling it a "light at the end of the tunnel".
Politicians in Italy - who face elections early next year - are under pressure domestically to reduce migration.
As part of their efforts, Italy has been trying to discourage nongovernmental organisations from running search-and-rescue missions off the Libyan coast, and has attempted to cement a formal deal with Libya to stop departures.
Italy and the EU have also been providing training and resources for the Libyan coastguard in a bid to encourage them to intercept boats.
Human rights groups and humanitarian workers have condemned the attempts, pointing out that Libya has no stable government, and is instead governed by rogue militias guilty of abusing and profiteering from migrants.
A recent report by British charity Oxfam found that 84 percent of refugees and migrants who have come through Libya suffered inhuman or degrading treatment, extreme violence or torture there. Some 80 percent were regularly denied food and water, while 70 percent said they had been tied up.
A 2016 UN report documented sexual abuse, beatings, forced labour and malnutrition inside Libyan immigration detention centres.
"I'm not so naive as to not understand the situation there," Mr Minniti told journalists in March. "But we cannot remain immobile and wait for the country to stabilise."
Join our commenting forum
Join thought-provoking conversations, follow other Independent readers and see their replies