Al-Qaeda claims responsibility for terror attack that killed at least five people at luxury resort in Mali
New alliance of Islamist militants claims responsibility for bloody assault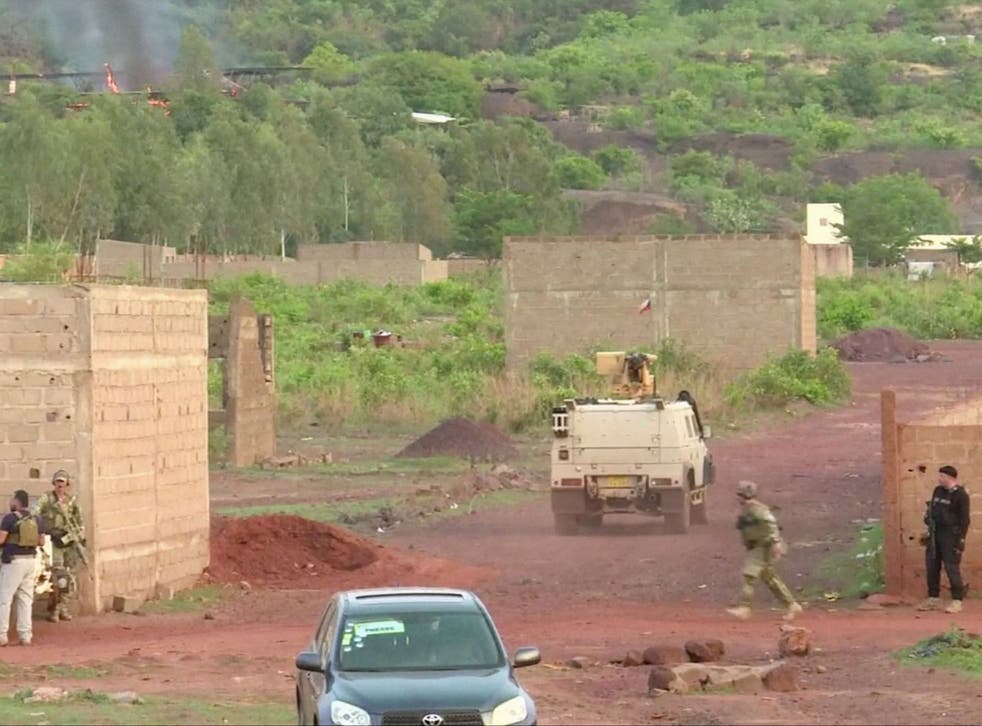 A new alliance of Islamist militant groups linked to al-Qaeda has claimed responsibility for an attack that killed at least five people at a luxury resort in Mali.
The assailants stormed the Le Campement hotel on Sunday afternoon, opening fire on guests and battling with French and Malian special forces deployed to try to free those trapped inside.
Mali's Security Ministry said in a statement late on Monday that four of the dead were guests and one was a local soldier who died in the firefight.
The nationalities of the dead were a French-Malian, a French-Gabonese, a Chinese, a Portuguese and a Malian soldier, the ministry said. The European Union's foreign policy chief, Federica Mogherini, confirmed that two of the dead were working for its mission there.
Although the attackers succeeded in mounting a lethal assault, security forces backed by French and United Nations troops managed to rescue around 60 residents in two batches on Sunday night, including 13 French citizens and several children.
Some survived thanks to a hotel cashier who led them to a cave embedded in the red-earth hillside near the hotel, according to an interview he gave to Radio France International (RFI).
"This was without doubt a terrorist attack," Security Minister Salif Traore told RFI on Monday.
His ministry's statement added that authorities had killed four attackers and arrested five others.
Earlier in the day, Mr Traore said some of the militants' accomplices were still at large. Several security forces were still being treated for serious injuries.
Le Campement resort sits in Dougourakoro on the outskirts of Bamako, where the Radisson Blu hotel was the target of a previous terror attack that left more than 20 people dead in November 2015.
French troops and a 10,000-strong U.N. peacekeeping force have been battling to stabilise Mali, a former French colony, ever since France intervened in 2013 to push back jihadists and allied Tuareg rebels who had taken over the country's desert north a year earlier.
The alliance that claimed the attack, Nusrat al-Islam wal Muslimeen, was created earlier this year from a merger of local groups and is led by a notorious Tuareg commander. It was later endorsed by al-Qaeda in the Islamic Maghreb.
Islamist groups have claimed increasingly frequent attacks on Western targets in Mali and the wider West Africa region, including a raid on a Bamako hotel in late 2015 which killed 20 people.
But analysts said security forces appeared to have responded more quickly this time than in previous such attacks.
World news in pictures

Show all 50
"One thing is sure: They are becoming more responsive," said Adam Thiam, a Malian analyst and expert on the conflict. He said this was partly because an elite counter-terrorism unit was now properly up and running.
"They're specialised in this kind of operation," he said.
French President Emmanuel Macron spoke to the leader of Mali after the attack and pledged his country's full support for the country, Macron's office said on Monday.
"France condemns with utmost firmness this murderous attack," the Foreign Ministry said in a statement.
The African Union condemned the attack and reiterated its commitment to support Mali in combating terrorism.
Earlier this month, the United States warned its citizens about a possible increased threat of attacks against places popular with Westerners.
"I am tired, shocked. I have no other words to say," the resort owner Manou Morgane, a French national, told Reuters TV overnight. "All I want to do is to see the list of my clients. I want to find them (anyone missing)."
A spokesperson for the US State Department expresses its condolences to the victims and their families.
"We appreciate the efforts of Malian, French, and United Nations peacekeeping forces in responding to the attack and securing the compound," a statement said.
"The United States reiterates its firm resolve in the fight against terrorism worldwide and its solidarity with the government and people of Mali in that effort. "

The US Embassy in Mali released a warning over an "increased threat of attacks" last week, listing diplomatic missions, places of worship and "other other locations in Bamako where Westerners frequent" among potential targets.
"Avoid vulnerable locations with poor security measures in place, including hotels, restaurants, and churches," said a statement released on 9 June.
The US warns its citizens against all travel to Mali, while the British Government advises against all travel to northern areas and "all but essential travel" to Bamako and the south.
Additional reporting by Reuters
Register for free to continue reading
Registration is a free and easy way to support our truly independent journalism
By registering, you will also enjoy limited access to Premium articles, exclusive newsletters, commenting, and virtual events with our leading journalists
Already have an account? sign in
Register for free to continue reading
Registration is a free and easy way to support our truly independent journalism
By registering, you will also enjoy limited access to Premium articles, exclusive newsletters, commenting, and virtual events with our leading journalists
Already have an account? sign in
Join our new commenting forum
Join thought-provoking conversations, follow other Independent readers and see their replies