'We will never kneel for terrorists': How staff at the Radisson Blu in Bamako are picking up the pieces after massacre
Lizzie Dearden finds it's almost business as usual at the hotel, but the luxurious bars and swimming pool complex are now shielded by blast-proof metal shutters and a 15ft-high security gate manned by gun-toting police and soldiers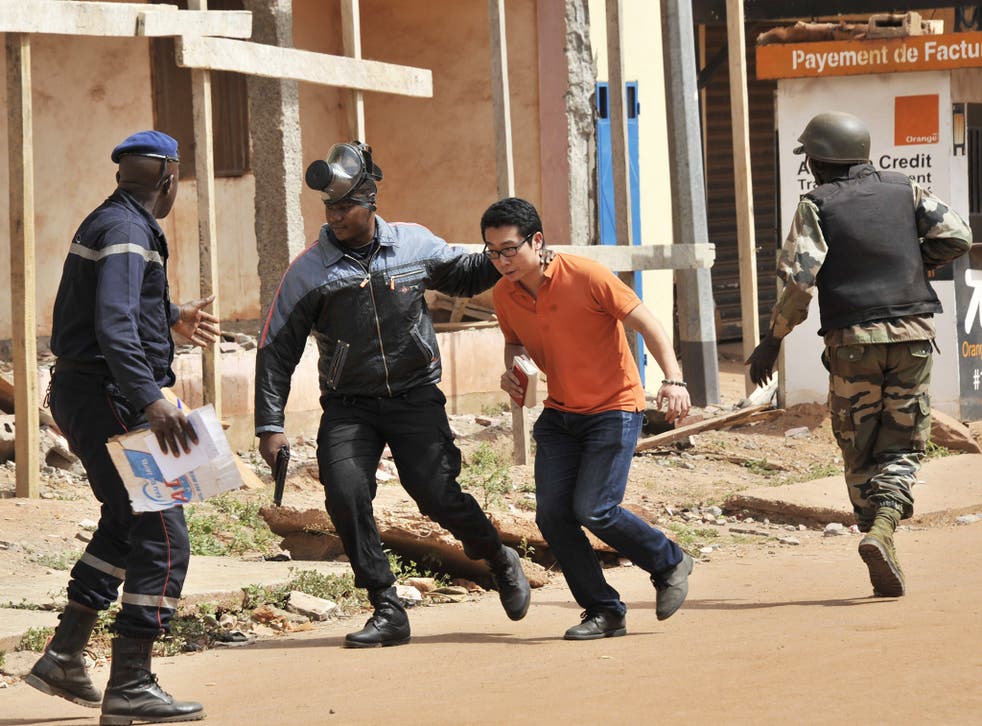 Standing in the pristine lobby of Bamako's luxury Radisson Blu hotel, it is difficult to believe that the bustling foyer was recently the scene of a terrorist massacre.
In a pattern that is becoming grimly familiar in West Africa's hotels, Islamist gunmen announced their arrival with hand grenades and Kalashnikovs on a sunny November morning, mowing down international guests as they gathered for breakfast.
The assailants killed more than 20 people and took 170 hostages in the following siege, battling security forces for nine hours until two gunmen were dead and suspected accomplices fled.
Soldiers stormed in to find scenes of horror spread over seven floors, with bodies piled in a lift and lying where they fell in pools of blood, surrounded by shattered glass and spent ammunition.
But four months later it is almost business as usual at the Malian hotel, which reopened within weeks and is attempting to regain the favour of its affluent international clientele.
The Radisson Blu has been very careful to eradicate any physical trace of the butchery with an extensive refurbishment, and staff assuring guests that a bullet-sized chip in the foyer wall was there "before".
But although its luxurious bars and swimming pool complex remain, they are now shielded by blast-proof metal shutters and a 15ft-high security gate manned by gun-toting police and soldiers.
Guests are welcomed with airport-level body searches and bag scans, while vehicles are swept for explosives before being allowed through the barrier.
UN and Mali forces patrol Bamako after attacks
Once inside, hotel life continues as much as normal. Impeccably dressed staff serve a flurry of guests, some in suits, some in shorts and dresses carrying armfuls of shopping from the capital's boutiques.
Locals, too, have returned, chatting over coffee or making use of the gym and health complex.
Seydou Sidibe, the hotel's 22-year-old communications manager, sits by the pool in the shade of a straw awning as guests splash around in the water.
He was on his way into work on 20 November when a friend called him at 7am to warn that gunfire was heard.
"The first thing I did was try to call everyone I know inside the hotel to let them know something was wrong and tell them to stay safe," he recalled.
"One of my colleagues answered his phone and said people were inside. He asked me not to call him again because he was hiding and was afraid what would happen if his phone rang."
In pictures: Mali Radisson hotel attack

Show all 20
As the area was shut down by security services, Mr Sidibe was left watching live television coverage of the unfolding hostage crisis for news of his friends. Not all of them survived.
"Two of our colleagues were killed – there are trees there that we planted over there for them," he says, gesturing towards a small poolside garden.
"We named them after them, to have something permanent and to show them that we are still thinking about them and praying for them."
Survivors described a militant mowing down desperate guests packing in a lift to try and escape, with one man playing dead among the bodies until he could escape.
Drafted in to help clean up the hotel after investigators left, Mr Sidibe described seeing "bullets everywhere, fires and blood on the floor," adding: "It was horrible, it was really horrible."
Managers insist business is back to normal at the "most secure hotel in Bamako" but the atrocity has clearly taken its toll, with one staff member admitting that its rooms were nowhere near full.
A Belgian civil servant, American aid worker, Russian airline staff and Chinese railway executives were among the victims of the attack, claimed by allied insurgent groups al-Mourabitoun and al-Qaeda in Maghreb (AQIM).
In a statement claiming responsibility, jihadists demanded the release of imprisoned fighters and stop "aggression" in northern Mali, where France led an international intervention to drive back rebel factions that seized control of more than half of the country in 2012.
Most of the violence has been confined to the north, where repeated attacks on United Nations forces have made their peacekeeping mission the deadliest in the world, but Bamako had been considered comparatively safe nestled deep in the south-west.
But almost exactly a year ago, an Islamist massacre at the La Terrasse restaurant signalled the start of a wave of attacks in the capital that shows little sign of slowing as reports mount of increasing militant activity in former al-Qaeda strongholds.
After a series of kidnappings, sieges and shootings around the country, the latest assault came at a hotel serving as a European Union military training base in March.
A teenage gunman was killed in a battle with security guards and his attackers fled before reaching their target, but a bag of unused grenades and ammunition showed how close Islamists were to another massacre.
Mr Sidibe, who was born and raised in Bamako, said the city's residents have become "careful".
"It's normal to be afraid because they know that it's not only here, it's all over the world," he added, pointing to a shooting on an Ivory Coast beach that left more than a dozen dead just days before we met.
"Wherever you go, those people can do bad things. All we can do is pray and do our best with security."
The Foreign Office advises against all but essential travel to the city, which is home to Mali's political and security headquarters as well as that of the UN intervention force Minusma, international embassies and countless charities and NGOs.
Humanitarian aid workers are well aware of the risk as they remain in Mali to help people displaced by the conflict and struggling against the longstanding challenges of poverty, food and water shortages and disease.
One European worker based just metres from the now derelict La Terrasse restaurant said charities were determined to stay despite the threat of indiscriminate attacks.
"That's the thing with terrorism – it could happen anywhere, in any place," she said. "But life doesn't stop: you just have to keep on going."
Staff at the Radisson Blu share her resolve after reopening in December, with celebrations that saw the former manager carried through the lobby on the shoulders of jubilant staff.
"It's a message for the terrorists," Mr Sidibe said. "We want to show them that we will never kneel for them.
"We will still rise up and keep doing and what we are doing because we know it is good for everybody. There is nobody and nothing that can stop us."
Join our new commenting forum
Join thought-provoking conversations, follow other Independent readers and see their replies