Mali hotel attack: Gunmen take 170 hostages in Bamako amid reports of 'five dead' in shootout
Early reports claimed as many as five people were killed
Rose Troup Buchanan
Friday 20 November 2015 09:37 Comments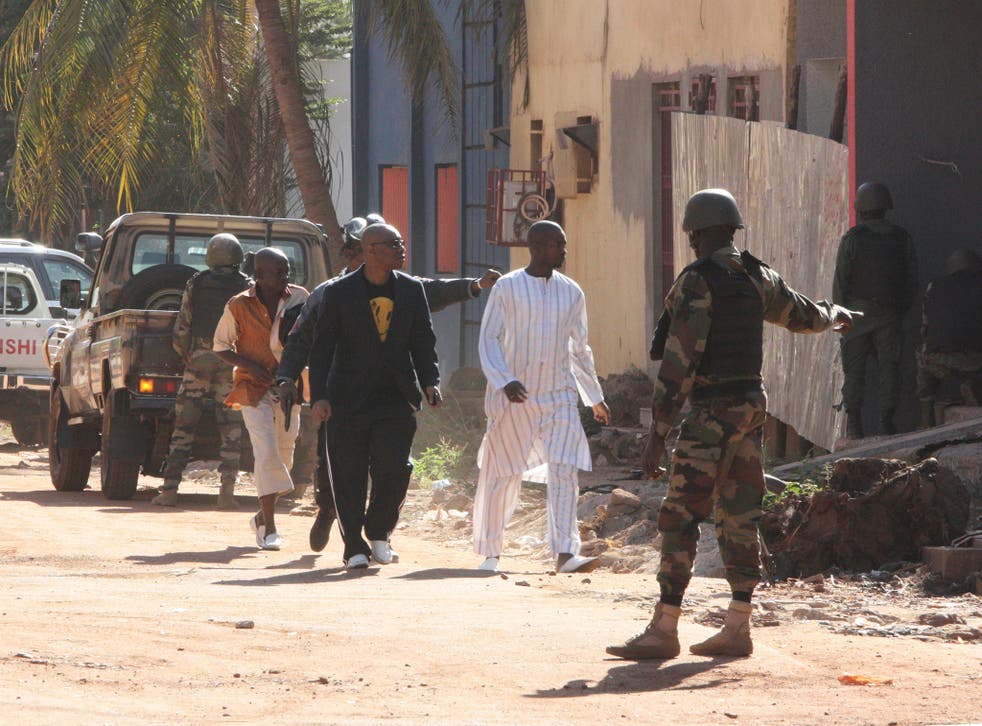 Almost 200 people are being held hostage in a hotel in Mali's capital after armed gunmen stormed a Raddison Blu hotel in Mali.
The unidentified men attacked the hotel in the country's capital of Bamako at around 8am on Friday, with some reports claiming grenades as well as automatic weapons were used in the initial assault.
"They have locked in about 140 guests and about 30 employees," a spokesperson for the hotel, owned by the Carlson Rezidor group, told NBC. "So the hotel is locked down and there is no possibility to go out or come in."
Local news reports claim the gunmen arrived at the hotel in a vehicle with a diplomatic pass. There have also been reports as many as five people were killed, while nearby residents have reported hearing on-going gunfire and explosions.
Malian army commander Modibo Nama Traore told the Associated Press as many as 10 gunmen were invoved in the assault.
Mr Traore also claimed the men shouted "Allah Akbar" before they fired on the guards and took hostages.
"Very early in the morning there was gunfire. Apparently it's an attempt to take hostages. The police are there and are sealing off the area," a security source told Reuters.
In a release, the US embassy said there was an "active shooter operation at the Radisson Hotel." It advised people to contact their families and monitor local media for updates.
In pictures: Mali Radisson hotel attack

Show all 20
The hotel, which has around 190 rooms, is well known in the city and is popular with both foreign tourists and companies. There are indications the hotel was "90 per cent" full when the attack commenced, however, The Independent has been unable to verify these claims.
It comes following another hostage situation in August in the central Malian town of Sevare. Suspected Islamic gunmen killed 13 people, including five United Nations workers, during a siege.
A former French colony, UN peacekeepers have controlled security in Mali since 2013.
Islamic extremists, who have been linked to al-Qeada, made gains in the country's north from 2012. After defeating government forces, the militants imposed harsh Islamic law across the desert region until an ostensive defeat in 2013.
Despite this, in a report in April of this year Human Rights Watch characterised the region as "devoid of state authority in which Tuareg separatists, Islamist armed groups, pro-government militias and bandits have committed abuses with impunity".
Register for free to continue reading
Registration is a free and easy way to support our truly independent journalism
By registering, you will also enjoy limited access to Premium articles, exclusive newsletters, commenting, and virtual events with our leading journalists
Already have an account? sign in
Join our new commenting forum
Join thought-provoking conversations, follow other Independent readers and see their replies