Mandela greets team, but will he see them play?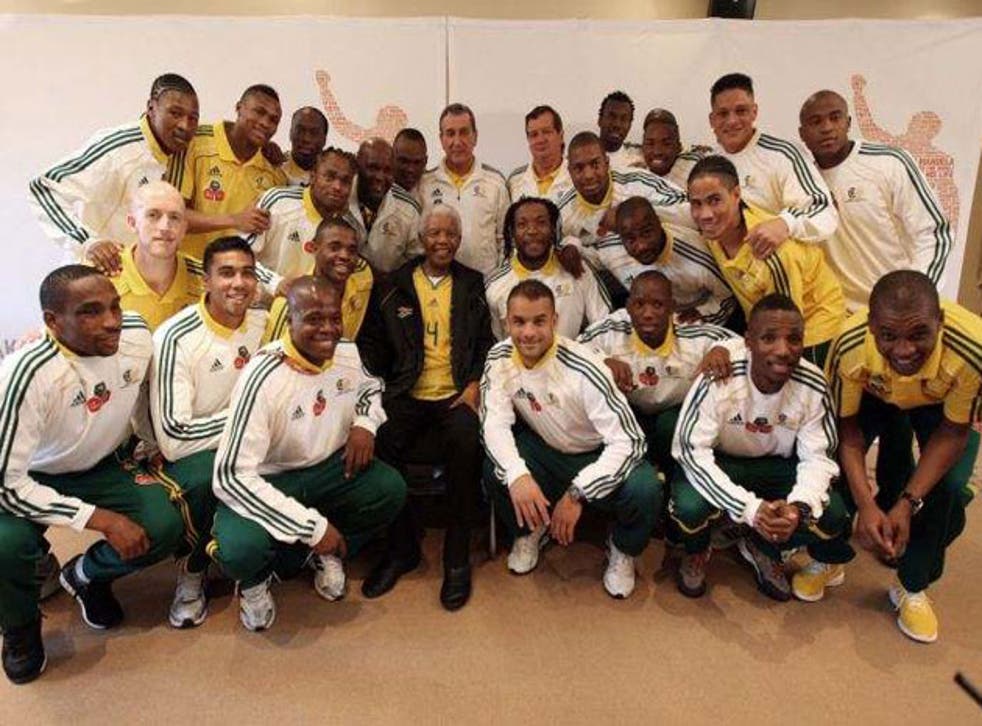 World Cup host South Africa was left in suspense last night over whether Nelson Mandela would be attending the country's opening match against Mexico one week from today.
Government officials and world football's governing body, FIFA, said that he would, but members of his family later said he was too frail to go to football matches on winter nights. The former leader's charitable foundation has refused to confirm his attendance on security grounds.
The day began with an unexpected reprise of Mr Mandela's famous visit with the Springbok team before the 1995 Rugby World Cup. The 91-year-old hosted the Bafana Bafana football team at his foundation in Johannesburg.
Sporting a South Africa shirt with the captain's number 4, just as he had worn Francois Pienaar's jersey 15 years ago, a jovial looking Mr Mandela was introduced to the players by skipper Aaron Mokoena.
The increasingly frail former leader was walked over to towering defender Matthew Booth, who at 1.98m was jokingly described as the "tallest man in the building". Mandela himself is 1.94 metres tall.
The rare public outing for the popular icon was a cue for an afternoon of confusion over his plans.
South Africa's sports minister, Makhenkesi Stofile, said Madiba, as he is known in South Africa, had asked for four tickets for the opening and closing events. "Mandela has demanded to attend the World Cup," he claimed.
A spokesman for the ruling party added: "We are very honoured to have an icon of Mandela's calibre to grace this important event. We arevery happy that Madiba will come. The Madiba magic will add to the excitement."
However, his grandson, Mandla Mandela, who has previously been criticised for pushing Mr Mandela to attend political rallies, said he had taken the decision "with the rest of the family" to spare the former leader the discomfort of going out "on a cold night to watch a game of football".
"We, as South Africans and the international community need to start considering his health. I really know that he'll not be at the opening match," he added.
However, the Mandela Foundationhas disagreed in the past with Mandla and FIFA president Sepp Blatter was sure that the Nobel laureate would be there. "It was not FIFA who decided to give the 2010 World Cup to South Africa," Mr Blatter said in Switzerland. "Nelson Mandela, the world's great humanist and charismatic leader, was the person who got the World Cup for South Africa."
The former ANC leader and the only living person whose birthday is a UN day of celebration, is in constant demand despite retiring from public life at the age of 90, and the pressure to attend events and endorse former colleagues can be extraordinary and damaging.
In the run-up to last year's elections there was a very public falling out between his foundation and the ANC after he was helicoptered in to act as guest star at a rally in support of the candidate who went on to win the presidency, Jacob Zuma. Mandela's grandson was blamed in some quarters for orchestrating that appearance.
Madiba's shock of white hair and famous smile has been used to sell everything from mobile phones to real estate in South Africa prompting frequent court action in defence of his image rights.
In a tacit acknowledgement that FIFA needs Mr Mandela's endorsement to burnish the football tournament's popularity, Mr Blatter admitted it would not be the same without him. As the South Africa national team sang yesterday: "Nelson Mandela there is no one like you".
Register for free to continue reading
Registration is a free and easy way to support our truly independent journalism
By registering, you will also enjoy limited access to Premium articles, exclusive newsletters, commenting, and virtual events with our leading journalists
Already have an account? sign in
Register for free to continue reading
Registration is a free and easy way to support our truly independent journalism
By registering, you will also enjoy limited access to Premium articles, exclusive newsletters, commenting, and virtual events with our leading journalists
Already have an account? sign in
Join our new commenting forum
Join thought-provoking conversations, follow other Independent readers and see their replies