Mass graves discovered in Central African Republic as bodies pile up in streets
John Lichfield
Friday 27 December 2013 19:04 Comments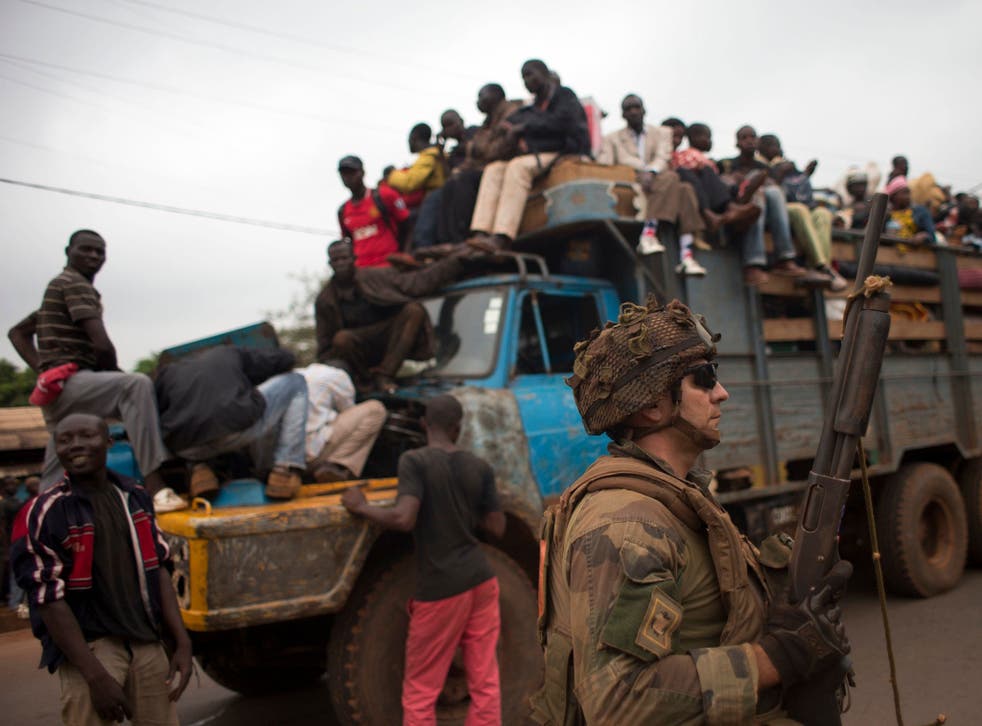 The Central African Republic's spiral into murderous anarchy continued on Friday despite efforts by French and African peacekeeers to impose a ceasefire.
Red Cross workers said they had recovered 44 bodies from the streets of the capital, Bangui, in the past two days but this was probably only a fraction of the victims of inter-religious fighting and random attacks on civilians.
At least 30 other bodies, some showing signs of torture, were found in mass graves near a former base of the mainly Muslim Seleka rebels. Six Chadian peacekeepers, part of a force sent by the African Union, were killed in a rocket attack on their car by Christian militia on Thursday, as other Christian fighters tried to storm the presidential palace but were beaten back.
Having maintained a relatively low profile in recent days, strong elements of France's 1,600-strong intervention force poured on to the streets of Bangui yesterday.
In France, the media, always doubtful about the mission ordered by President François Hollande three weeks ago, are growing increasingly anxious about the French presence. A cartoon in the centre-left Libération newspaper on Friday showed French soldiers sinking into quicksand while trying to hold Christians and Muslims apart.
The political structures in the Central African Republic have collapsed since the Seleka rebels, including many fighters from Chad and Sudan, installed a Muslim President in the 80 per cent Christian country last March. President Michel Djotodia rapidly lost control of his own forces, who have since been accused of a series of savage attacks on Christian communities.
Christian vigilante groups have made revenge raids on Muslim areas. Muslims accuse the French of taking sides and disarming the Seleka rebels but not the Christian militia. Christians accuse Chadian soldiers within the African Union peackeeping force of supporting Muslim rebels.
The UN says 639,000 people from a population of 4.5 million have fled their homes, and up to 2 million civilians depend on humanitarian aid.
Register for free to continue reading
Registration is a free and easy way to support our truly independent journalism
By registering, you will also enjoy limited access to Premium articles, exclusive newsletters, commenting, and virtual events with our leading journalists
Already have an account? sign in
Join our new commenting forum
Join thought-provoking conversations, follow other Independent readers and see their replies