Meriam Ibrahim release: Woman jailed for apostasy reunited with husband as family 'looks forward to new life in US'
Ms Ibrahim's release came after lobbying from charities, human rights watchdogs and governments around the world
Adam Withnall
Tuesday 24 June 2014 17:20 Comments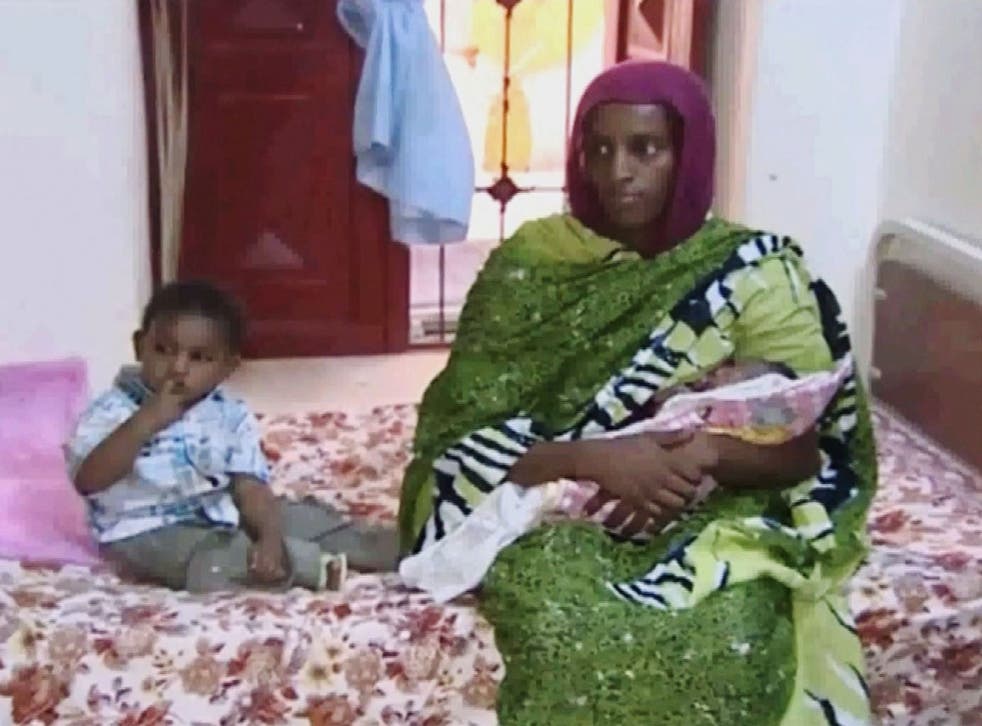 A Sudanese woman who was sentenced to death for converting from Islam to Christianity has been reunited with her family after her release from prison.
Meriam Yehya Ibrahim, her American husband Daniel Wani and their two young children have been taken to a safe house because of the high-profile nature of the case, but said they are looking forward to starting a new life in the US soon.
Amnesty International, which has campaigned on Ms Ibrahim's behalf since she was put on death row while eight months pregnant on charges of "apostasy", said her release from Omdurman Woman's Prison yesterday was "a small step to redressing the injustice done to Meriam".
An appeals court yesterday found Ms Ibrahim not guilty on two charges of apostasy and adultery, the latter of which was to see her flogged 100 times.
Mr Wani said he was "so happy" to be reunited with his wife and children. Their 18-month-old son Martin was jailed with Ms Ibrahim and she gave birth to baby daughter Maya while shackled to the prison floor.
Speaking to the Guardian from Khartoum, Mr Wani said his family were in "relatively good condition" considering what they had been through, while Ms Ibrahim's lawyer Elshareef Mohammed added that she was "fine and very happy".
More than one million Amnesty International supporters petitioned for Ms Ibrahim's release in the past month, and the organisation's deputy regional director Sarah Jackson said their letters "showed the Sudanese authorities that people around the world were outraged by Meriam's ordeal".
"Today's ruling is a small step to redressing the injustice done to Meriam. However, she should never have been prosecuted.
"Meriam was sentenced to death when eight months pregnant for something which should not be a crime. Furthermore, her abhorrent treatment, including being shackled, violated international human rights law against ill-treatment."
A number of other Sudanese nationals have been convicted of apostasy in recent years, but they all escaped execution by recanting their new faith.
Ms Jackson added: "Amnesty International will continue to urge the Sudanese authorities to repeal provisions that criminalise acts of apostasy and adultery so that nobody else in Sudan has to endure the same ordeal as Meriam, and to establish a moratorium on executions as a first step towards abolishing the death penalty."
The UK Foreign Office was among those who lobbied for yesterday's court decision, and the minister for Africa Mark Simmonds wrote on Twitter: "Delighted by release of #MeriamIbrahim Important that government of #Sudan follows up to ensure freedom of religion is guaranteed for all."
David Cameron, who previously said he was "absolutely appalled" when he heard about Ms Ibrahim's case, tweeted today: "As #MeriamIbrahim enjoys her first full day with her family, we should remember how crucial freedom of religion is around the world."
The US has indicated its willingness to expedite the family's route to starting afresh across the Atlantic after State Department spokeperson Marie Harf praised yesterday's decision.
Congressman Chris Smith, who chairs the US's global human rights subcommittee and met with the Sudanese ambassador to discuss the case, said the release was "a huge first step".
"But the second step is that Ms Ibrahim and her husband and their children be on a plane heading to the United States," Mr Smith added.
Register for free to continue reading
Registration is a free and easy way to support our truly independent journalism
By registering, you will also enjoy limited access to Premium articles, exclusive newsletters, commenting, and virtual events with our leading journalists
Already have an account? sign in
Join our new commenting forum
Join thought-provoking conversations, follow other Independent readers and see their replies