Modern-day flight to Egypt brings fighting Sudanese factions together in church
A long-running ethnic conflict, both within and between Sudan and South Sudan has displaced almost 2.8 million people internally, while Egypt has taken in at least 267,000 refugees and asylum seekers who face widespread prejudice
Ruth Michaelson
Cairo
Wednesday 23 December 2015 20:10 Comments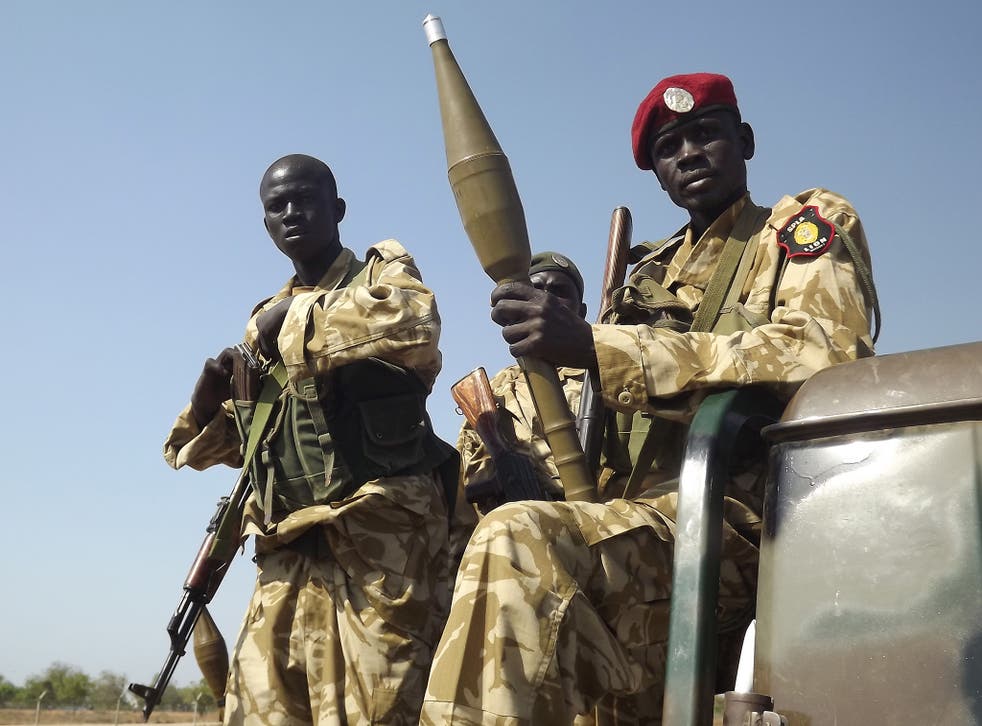 In a church hall adorned with quotes from the epistles, an impassioned choir dressed in matching black-and-claret ensembles is belting out a hymn. An ebullient man dressed as Santa Claus dances to the lilting rhythms, as audience members stand up and clap along. Occasionally one cranes their head around, grinning, checking that the other onlookers are enjoying the show as much as they are.
Most are in their twenties, many of them students from Sudan and South Sudan now in Cairo to try to finish their education. For many, the journey to Egypt has meant fleeing conflict in their home countries, much of which still continues. The rapt expressions on some of their faces as they listen to the hymns is in part because the All Saints Cathedral in the Egyptian capital's central Zamalek district is a rare example of Sudanese and South Sudanese co-existing alongside Egyptians.
A long-running ethnic conflict, both within and between Sudan and South Sudan has displaced almost 2.8 million people internally. Meanwhile, Egypt hosts at least 267,000 Sudanese refugees and asylum seekers, who fled across its southern border to join existing communities of migrants. Some estimate the number of Sudanese and South Sudanese people in Egypt as high as 4 million. Nonetheless, there is widespread prejudice against them within Egypt.
"When we came to Egypt, it was difficult for us to even find a place. To hold any kind of meeting was impossible," said Khan Gabriel, a law student who fled the war in Juba in 2013 to continue his education in Cairo. He leads a students' group that meets regularly at All Saints, and organised the carol service – for which he dressed in a sharp navy blue suit, adorned with a rhinestone bow-tie. "Over time, our relationships with Egyptians improved, and they gave us opportunities in their church," he said.
On Sundays, as the sunlight filters through the cathedral's stained-glass windows and modernist concertina steeple, songs and prayers take place in Arabic, English and three Sudanese dialects. A service for Arabic-speaking Egyptians takes place in the morning. In the afternoon, worshippers from Sudan, South Sudan and neighbouring Chad fill the cavernous cathedral with upbeat songs and hopeful prayers.
"It's one church with different languages. Same faith, same bible. One tradition, and one liturgy – the difference is between Egyptian and Sudanese languages, that's all," said Father Yeshua Bekheet, an Egyptian priest at the cathedral.
"This is the message of the gospel, you know?" says lay minister Dany Missangwa, who leads the Sudanese and South Sudanese congregation. "We're different in our languages or even in our cultural background, and so forth. But in Christ we are united."
The Anglican faith they all share acts as a bond between them in a country that has long struggled with integrating the needs of its Christian community, the majority of whom are Coptic Christians. "The Church shows the love of Sudanese and South Sudanese people, that's all," says Fr Bekheet.
Outside the church, prejudice against migrants is rife. Mr Gabriel quietens when asked about it. "We believe that as it's not our country, there's nothing for us to do about it," he said. "We really hate the way they treat us, but we can't do anything."
But the Egyptian, Sudanese and South Sudanese members of the congregation will all come together on Christmas Day for Holy Communion – and for those trying to make the best of their lives in Egypt, the Church remains a welcome refuge. "Even if I hate having to stay in Egypt, I thank the government and the Egyptian people for giving us the space to be here," said Mr Gabriel.
Register for free to continue reading
Registration is a free and easy way to support our truly independent journalism
By registering, you will also enjoy limited access to Premium articles, exclusive newsletters, commenting, and virtual events with our leading journalists
Already have an account? sign in
Join our new commenting forum
Join thought-provoking conversations, follow other Independent readers and see their replies