South Sudan: More than 250 dead as violence breaks out in capital of Juba
Concerns over fragile peace deal as conflict between rival troops forces hundreds fleeing their homes
Elsa Vulliamy
Tuesday 12 July 2016 16:58 Comments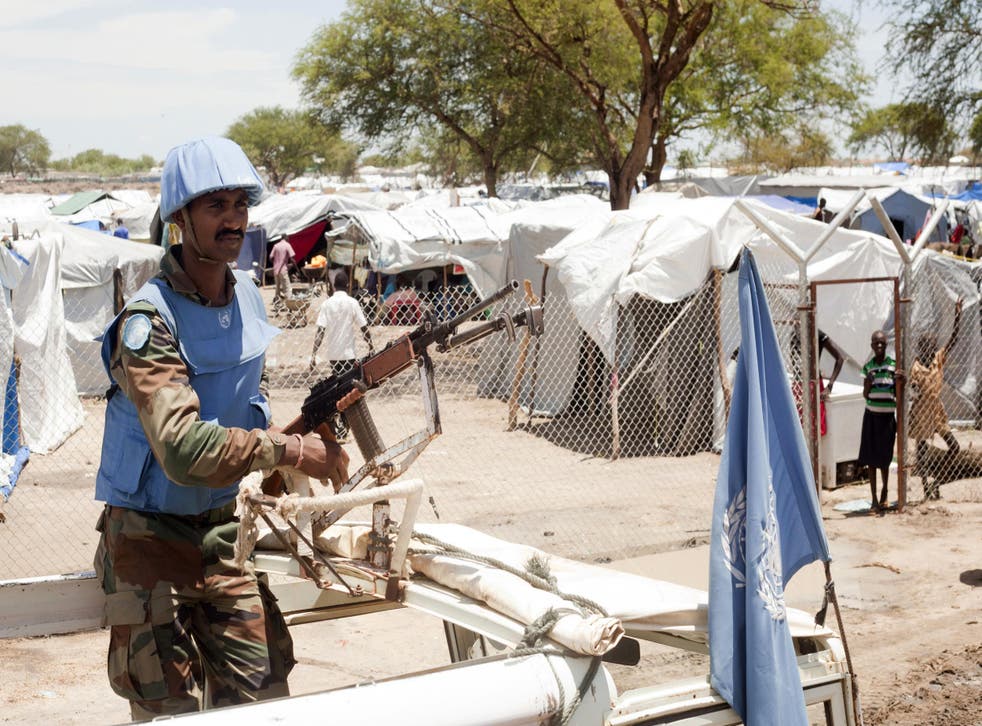 Hundreds of troops and dozens of civilians have died amid intensifying gun battles in the South Sudanese capital of Juba, which have forced residents to seek shelter at a UN base.
Fighting broke out on Thursday between troops loyal to President Salva Kiir and those loyal to Vice President Riek Machar, and have continued through to Sunday morning.
Many civilians have been forced to flee their homes to escape the violence, which has also hit a UN camp for displaced people sheltering from the violence.
"The condition is really very bad. We have a lot of casualties this side, I think around 50 to 60 besides those of yesterday," said Budbud Chol who oversees security at a clinic in the base. "We have civilian casualties. We have rocket-propelled grenades that have landed in the camp which has wounded eight people." Among the wounded are five children and two women while the rest were men, he said.
One resident, who gave the name Steven, said he had seen hundreds attempt to flee to safety.
"I saw dead bodies of civilians and others, moving with blood on their bodies," he said.
In pictures: Hundreds killed in South Sudan clashes

Show all 12
The conflict in Juba raises concerns that the already fragile peace deal which has been in place for the last 11 months may be in jeopardy, and the country could return to civil war.
UN Secretary-General Ban Ki-Moon said "This outbreak of hostilities in the capital, on the eve of the country's fifth anniversary of independence, is yet another illustration of the parties' lack of serious commitment to the peace process and represents a new betrayal of the people of South Sudan, who have suffered from unfathomable atrocities since December 2013."
People all over the world have spoken out on social media claiming that conflict in South Sudan has been under-reported by the international press.
More than five million people are still in need of aid in South Sudan, and lack of press coverage in the West has led to concerns that other countries will not be urged to offer help.
Journalists in South Sudan have reported limited press freedom; eight journalists have reportedly been killed in the past five years, meaning international media plays a vital role in holding the country's government to account.
The public are calling for media around the world to ensure the horrors in South Sudan are reported extensively, in the hope that this may help civilians affected by conflict.
War broke out in South Sudan in 2013, after tensions arose between President Salva Kiir and Vice President Riek Machar, who is of the Dinka ethnicity and Vice President Riek Machar, who is of the Nuer ethnicity.
The armed forces divided into two factions, primarily divided along ethnic lines, and Mr Machar was sacked.
What started as political infighting led to violence across the country, resulting in the death of tens of thousands of people, and more than two million South Sudanese citizens fleeing their homes.
After two years of civil war, a peace deal was signed by President Kiir under threat of EU sanctions, and Mr Machar was reinstated as vice president.
But the two are yet to integrate their armed forces, part of the peace deal, which has led to continual tension between the two factions.
The rival politicians both called for calm in Juba, and said they do not know what sparked the conflict, thereby raising concerns that they do not have enough control over their troops.
Neighbouring country Kenya has called for Mr Machar and Mr Kiir to move soldiers and weaponry out of civilian spaces to prevent further casualties.
Michael Makuei, Information and Broadcasting Minister for the South Sudanese government said the conflict had ended: "At present, the situation is calm".
He said the government was calling those who fled back to their homes.
Register for free to continue reading
Registration is a free and easy way to support our truly independent journalism
By registering, you will also enjoy limited access to Premium articles, exclusive newsletters, commenting, and virtual events with our leading journalists
Already have an account? sign in
Join our new commenting forum
Join thought-provoking conversations, follow other Independent readers and see their replies