Nigeria elections: Continued Boko Haram insurgency prompts fears of Valentine's Day massacre when country heads to polls later this month
With the Islamist militants closing in on Maiduguri in the north-east, there are concerns that a closely fought election could prompt more violence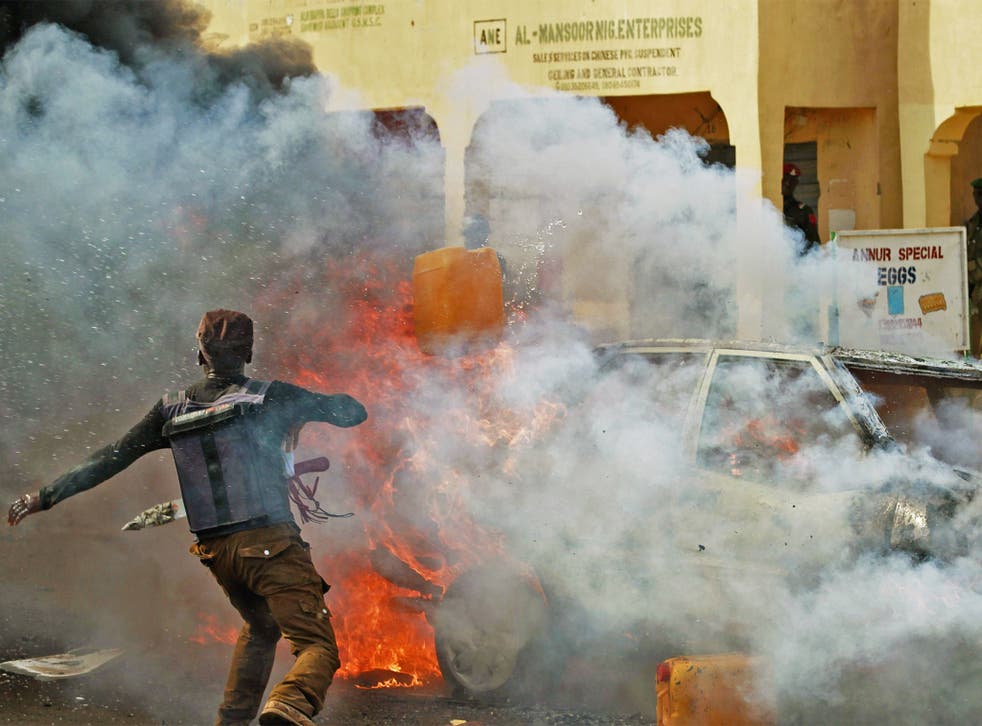 Nigeria's commercial hub is in the middle of election fever. The country heads to the polls on Valentine's Day amid a Boko Haram insurgency wreaking havoc throughout the north-east.
The security situation deteriorated further this week when a female suicide bomber blew herself up at a rally in Gombe, a city in the north-east, a few minutes after President Goodluck Jonathan had left. The presidential convoy was parked 200 metres from the explosion on Monday. One person was killed and 18 others were injured.
At the same time, Nigerian soldiers and vigilante groups were trying to repel the Islamist militants' advance on the northern city of Maiduguri. Boko Haram fighters initially tried to capture Maiduguri a week ago, but were resisted by Nigerian troops.
With a population of over one million, it is a key strategic battleground in a conflict that shows no sign of abating. It is also a city, as with the vast majority of the north-east, that is expected to vote for the opposition All Progressives Congress party, led by the former military ruler Muhammadu Buhari.
"Our vote will certainly be impacted," said Lai Mohammed, an APC spokesman. "It is the responsibility of the government to ensure voter security but they've failed to achieve this." The vote on 14 February will pit the ruling People's Democratic Party (PDP) of Mr Jonathan against Mr Buhari's APC.
Doyin Okupe, senior adviser to Mr Jonathan, disagreed that the violence will harm Mr Jonathan's chances. "We're doing all we can to fight this insurgency and ensure voter security," he told The Independent. "This is the largest deployment of troops in Nigerian history and the elections will go ahead."
Despite calls from security experts to postpone next month's election, both Mr Jonathan and Mr Buhari have reassured voters that it cannot be done. Any postponement would be an admission of failure, while the APC believes that it has the momentum to sweep to victory. "The whole country is ready for change and a leader with the moral authority to fight Boko Haram; only Buhari can win this war," said the APC's Mr Mohammed.
As Nigerians gear up to vote in the shadow of daily terrorist attacks, there are also concerns that the Independent National Electoral Commission (INEC) is running out of time to oversee credible elections. Just over half the electorate have collected their electronic permanent voter card, and enabling the thousands of internally displaced people to vote is problematic.
The rise of Boko Haram

Show all 20
"People in refugee camps will get to vote but the army must provide security," said the INEC spokesman, Kayode Idowu. In order to beef up security in the north-east, vigilante groups have now joined forces with the Nigerian army to fight Boko Haram. One such group, the Vigilante Group of Nigeria, said it was facing "heavy attacks" every day.
A spokesman for the group, Abbas Gava, said: "We were fighting for five hours yesterday and we're expecting more attacks today. There's unity between us and the military to fight the insurgents. Together we will provide security for the elections."
In addition, French military aircraft are carrying out surveillance missions to help countries bordering Nigeria tackle the insurgency. And today the African Union authorised a force of 7,500 troops from Nigeria, Chad, Cameroon, Niger and Benin to fight the militants.
Many ordinary Nigerians are worried, however. At the huge electronic market of Alaba in Lagos, trader Ibrahim Bakare is one of many who will travel back to the north-east to vote. "I'm scared to vote, it's true, but it's not in our nature to give in to terror and we must remember that democracy must be fought for," said Mr Bakare.
Nigeria remains split between a predominantly Muslim north, and Christian south. When Mr Buhari, a Muslim, lost the last presidential elections to Mr Jonathan in 2011 it set off a wave of violence in the north. Mobs of Muslim youths rioted in the northern city of Kaduna, and retaliatory attacks left hundreds dead. The head of a leading Nigerian civil rights group blamed Mr Buhari for failing to rein in the violence.
There are now fears that a closely fought election, with the same result as in 2011, could result in further violence. "General Buhari speaks for peace but how can he control every single individual?" the APC's Mr Mohammed said. "The APC chairman is a Christian and the APC is not a Muslim party. We speak for the whole of Nigeria."
In a Lagos bar, PDP activists were meeting this week to plan the final stages of their campaign. PDP supporters were confident Mr Jonathan would be re-elected. "We will beat Boko Haram in the next four years; we don't want change," said one PDP supporter.
Many Nigerians however, disagree. In Lagos, multicoloured APC posters ("Change!") adorn walls in huge numbers. Their supporters are increasingly enthusiastic they will win, believing Mr Buhari can provide the impetus to restore peace within Nigeria.
If enough Nigerians agree, then Nigeria could be on course for a new government after 16 years of PDP rule.
Join our new commenting forum
Join thought-provoking conversations, follow other Independent readers and see their replies