Oscar Pistorius trial: Athlete 'cheated on me' with Reeva Steenkamp, former girlfriend Samantha Taylor tells Pretoria court
Taylor told court Pistorius always 'carried a gun' and kept it on his bedside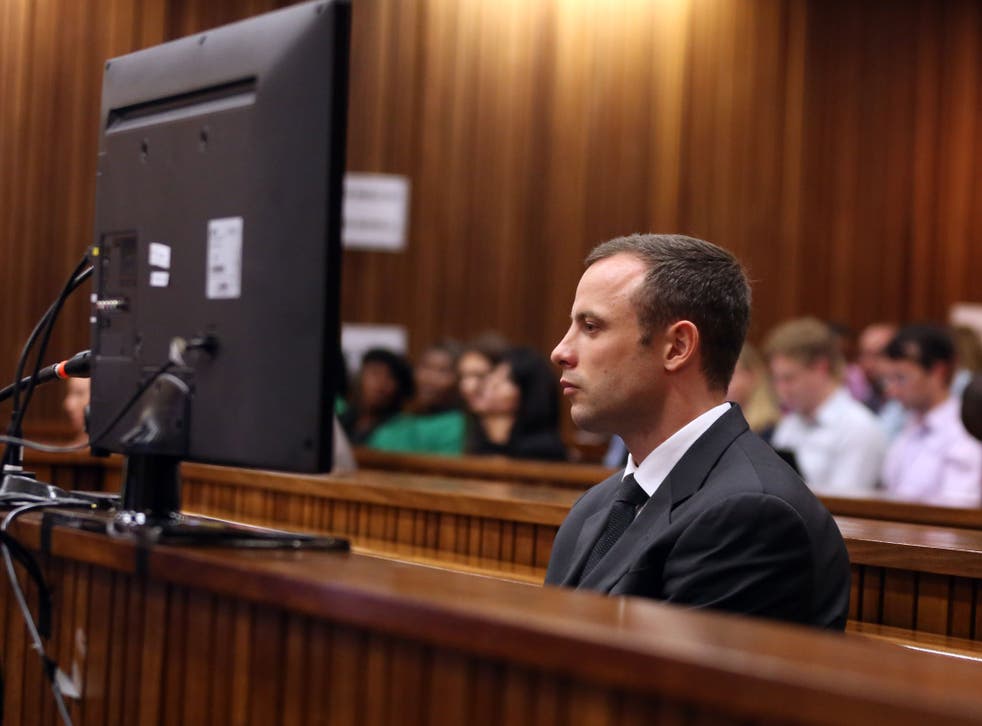 Oscar Pistorius "cheated" on former girlfriend Samantha Taylor with Reeva Steenkamp, the model he is accused of murdering at his home on Valentine's Day last year, Pretoria's High Court heard.
Ms Taylor broke down in tears multiple times on the fifth day of the Pistorius murder trial as she painted a picture of a man who never went anywhere without his gun.
She told the court Pistorius always "carried it around with him" and would keep it on his bedside table or next to his prosthetic legs on the floor at night.
Ms Taylor recounted an incident where Pistorius allegedly fired at a traffic light after he and a friend, Darren Fresco, the same man who passed him a gun that discharged under a table a restaurant last year, were stopped for speeding, and became very angry with a police officer.
"Oscar left his gun on the seat of the car. When the police had a look he saw the gun was on the seat. He said to Oscar the gun couldn't just stay there.
"Oscar got very angry. He shouted at the policeman that he was not allowed to touch his gun."
Later they drove off intending to fire a gun at a traffic light, to "annoy the police" but instead fired a shot out of the car's open sun roof.
Ms Taylor said the athlete was "often" worried about intruders breaking into the house. In one occasion, Pistorius woke her up in the middle of the night after he heard noises coming from the window. She tried to calm him down but he still grabbed his gun to inspect the house.
She also denied Pistorius sounds "like a woman" when anxious and told court she heard the athlete shout at her "sister, best friend, another friend, and his best friend" and "never sounded like a woman".
"I have heard him scream a few times," Ms Taylor said. "It's not true [that he sounds like a woman]. He sounds like a man."
The athlete's defence claims that the sounds of a woman screaming heard by all four neighbours who have so far testified, were in fact, Pistorius's own "high pitched screams" that "sound like a woman", a claim that was undermined by Ms Taylor's testimony.
Ms Taylor also said Pistorius would use his phone and iPad constantly during the night, "to send messages". Becoming tearful Ms Taylor said their relationship came to an end in November 2012, when he "cheated" on her with Ms Steenkamp.
She said Pistorius took the model to a Sports Awards ceremony, while the pair were "still in a relationship".
Ms Taylor told court she met Pistorius when she was just 17. They began a romantic relationship after they met at a rugby game and he added her on Facebook. She said there was "a lot of commotion" in her relationship with the South African athlete.
Asked if she sent Pistorius two e-mails admitting to cheating on him, Ms Taylor told court she went on holiday with a man to Dubai but insisted this was after they pair had broken up.
The final witness of the day, Pieter Baba, a security guard at Pistorius' Silver Woods estate on duty the night Ms Steenkamp died, told the court the athlete said "everything was fine" following reports of gun shots near his house at around 3am.
Responding to the alert, Mr Baba phoned Pistorius, and the athlete first responded: "Security? Everything is fine". He tried to call him back. Pistorius then called him but the line went off.
Mr Baba said the athlete was sobbing over the phone and did not seem well.
Mr Baba told the court he saw Pistorius coming down with Ms Steenkamp but lost consciousness as a result of the shock and missed details as to how he carried her from the top floor.
Earlier, Johan Stipp, a neighbour, testified that on the night Pistorius shot Ms Steenkamp dead, he heard a woman screaming and a man shouting before what he said sounded like gunshots.
Prosecutor Gerrie Nel asked him if the bangs following the screams could have been Pistorius swinging a bat at the toilet cubicle door in an attempt to get to the mortally wounded Ms Steenkamp. Mr Stipp said the noises came in too quick of a succession to be bat swings.
Discussion over the sequence of events when Ms Steenkamp was killed in the early hours of Valentine's Day last year is a critical part of the case against Pistorius, who shot here in the bathroom of his home. He is charged with premeditated murder.
Mr Stipp, who lived in a house behind and across the road from Pistorius' villa, described the shouts of a man and a woman as "intermingled", saying he believed two people were yelling at the same time.
In pictures: Oscar Pistorius trial

Show all 90
The evidence corroborates a central part of the prosecution's case, which claims the couple had an argument before Pistorius intentionally shot Ms Steenkamp through a locked toilet door in his home. Pistorius says he fired after mistaking Steenkamp for an intruder.
Continuing his cross-examination of Mr Stipp, Pistorius' defense lawyer Barry Roux said audio tests conducted after the shooting would show that Mr Stipp couldn't have heard a woman screaming from the toilet cubicle as Pistorius shot through the door.
Roux also asked Stipp if he heard the emotion in the woman's screams that night, the "blood-curdling" yells that other witnesses who lived further away from the athlete's villa have testified to.
"Not at that moment. No, I didn't," Mr Stipp said.
Mr Stipp also said he saw a bathroom light on in Pistorius' house before the sound of the woman's screams.
On Monday, Pistorius pleaded not guilty of murdering Ms Steenkamp, claiming he shot her in a case of mistaken identity thinking she was an intruder.
Ms Steenkamp was shot three times, being hit in the head, arm and hip from three bullets from a 9mm pistol through the locked bathroom door of Pistorius' upscale villa on Valentine's Day last year.
Prosecutors argue he intentionally shot and killed his girlfriend following a domestic dispute. If convicted of murder he will almost certainly receive a life sentence, with a minimum term of 25 years.
The case continues.
Register for free to continue reading
Registration is a free and easy way to support our truly independent journalism
By registering, you will also enjoy limited access to Premium articles, exclusive newsletters, commenting, and virtual events with our leading journalists
Already have an account? sign in