Oscar Pistorius trial: Paralympian has 'anxiety disorder'
Defence team claims 'vulnerability' contributed to him shooting girlfriend Reeva Steenkamp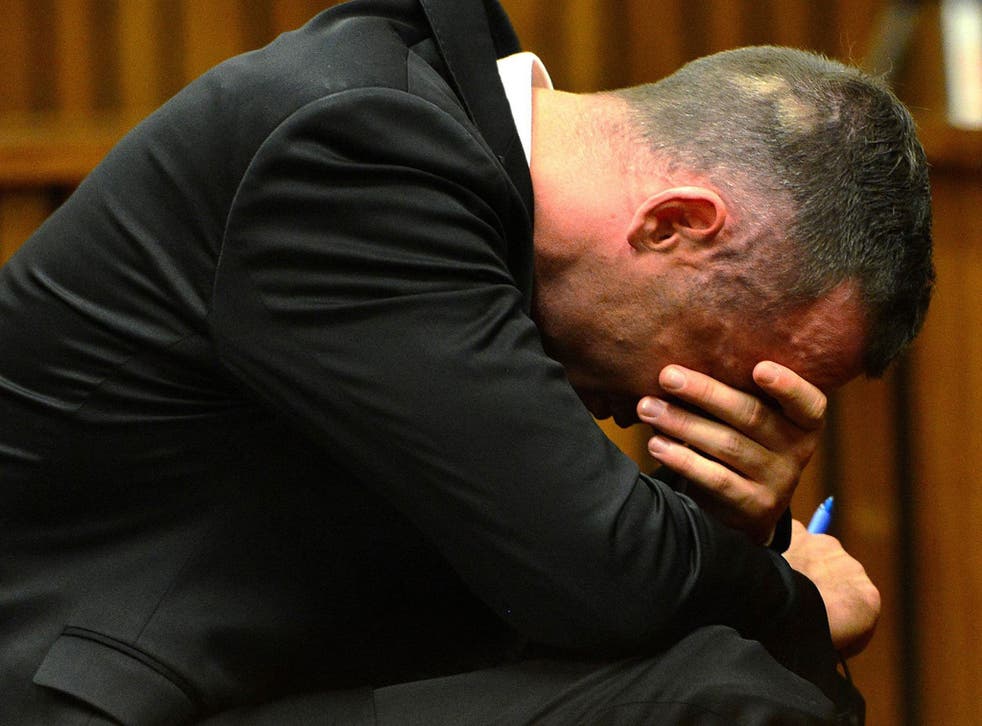 Oscar Pistorius's defence continued to paint a picture of a vulnerable man crippled by fear after an expert witness claimed the athlete suffers from an "anxiety disorder", his murder trial heard.
Dr Merryll Vorster told the court his double leg amputation as a baby and his complicated relationship with his parents turned him into a "distrusting and guarded" person who often kept his feelings to himself and felt "alone and isolated" despite his fame and status as South Africa's national hero.
"He was never able to allow himself to be seen as disabled. Always encouraged to be seen as normal," she added. "Over time, this could result in increasing levels of anxiety as the stress of appearing normal continued."
Offering a rare glimpse into the athlete's mindset, Dr Vorster told Pretoria's High Court Pistorius viewed his father, Henke Pistorius, as an "irresponsible and mostly absent parent" and was raised by a "very anxious" mother who slept with a gun under her pillow and "abused alcohol intermittently".
She told the court Pistorius was "reared to view the world as threatening" from an early age and this contributed to his fear of crime, which made him "perceive his surroundings as being threatening when perhaps they're not".
In pictures: Oscar Pistorius trial resumes

Show all 37
Dr Vorster said Pistorius's anxiety combined with his physical disability may have caused him to act differently from an able-bodied person without generalised anxiety disorder.
Pistorius' defence team claims his feelings of "vulnerability" and fear of crime contributed to him shooting girlfriend Reeva Steenkamp by mistake last year fearing she was an intruder hiding in a toilet cubicle at his Pretoria home in the Silver Woods gated estate.
The state argues the athlete shot and killed his girlfriend deliberately, knowing full well she was behind the toilet door, following a domestic dispute in the early hours of Valentine's Day 2013.
South Africa does not have trial by jury, meaning Judge Thokozile Masipa will decide Pistorius' fate with the help of two assessors.
The murder trial continues.