Oscar Pistorius Trial: Prosecution considers referring Paralympian for 'mental evaluation'
Athlete could be referred for further psychiatric observation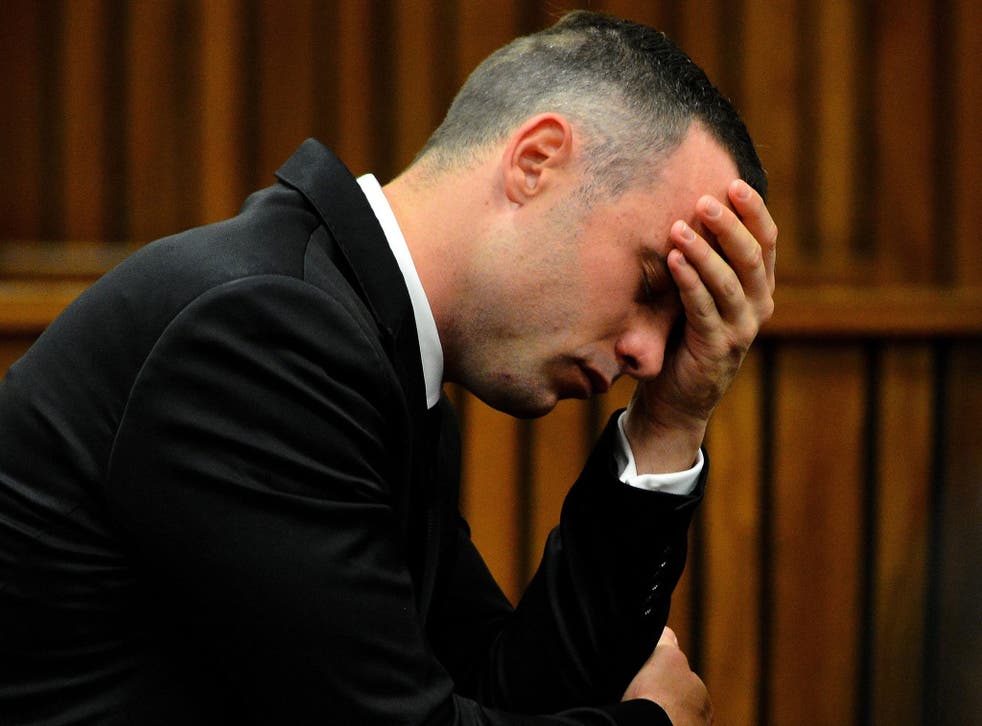 The Oscar Pistorius murder trial took a dramatic turn today after the prosecution argued the athlete should be sent for further "mental observation" after a defence expert witness claimed he suffers from an "anxiety disorder".
In an unexpected twist, state prosecutor Gerrie Nel told the court he would consider filing an application for the athlete to be referred for 30 days of psychiatric evaluation at a state mental hospital in South Africa.
His request followed the testimony of Dr Merryll Vorster, a witness for the defence, who argued the athlete's actions the night he shot and killed Reeva Steenkamp should be "seen in the context of his anxiety", which made him "hyper vigilant" and fearful for his own safety.
Judge Thokozile Masipa has not yet ruled on the request. The athlete's defence will oppose the application. If approved, Pistorius could spend up to 30 days in observation at a mental health institution.
"Suggesting Pistorius has a mental disorder at this stage of the trial is a rather strange, questionable move, " said William Booth, a Cape Town-based criminal lawyer. "Judge Masipa has been very objective throughout and she will probably accept Nel's request."
VIDEO: Prosecution says Pistorius had a difficult childhood
Taking the stand, Dr Vorster said Pistorius's anxiety combined with his physical disability may have caused him to act differently from an able-bodied person without generalised anxiety disorder the night of the shooting.
In cross examination, Mr Nel asked the psychiatrist if someone suffering from an anxiety disorder similar to the kind that she had diagnosed in Pistorius, and had access to guns at home, would be a danger to society.
Dr Vorster conceded the person would be a danger.
In pictures: Oscar Pistorius trial resumes

Show all 37
Earlier in her evidence, Dr Vorster told the court his double leg amputation as a baby and his complicated relationship with his parents turned him into a "distrusting and guarded" person who often kept his feelings to himself and felt "alone and isolated" despite his fame and status as South Africa's national hero.
She said Pistorius was "reared to view the world as threatening" from an early age based on interviews with the athlete, family members and friends and this made him "perceive his surroundings as being threatening when perhaps they're not". If exposed to a threatening situation, Pistorius is more likely to "fight" than "flight".
"Are you saying Mr Pistorius had diminished responsibility?," Nel asked.
Dr Vorster argued Pistorius understands the difference between right and wrong, but his "reaction to situations would be different" to those of an able-bodied person without generalised anxiety disorder. She also told the court the athlete feels guilty and is suffering from depression as a result of the shooting.
Pistorius' defence team claims his feelings of "vulnerability" and fear of crime contributed to him shooting his girlfriend by mistake last year fearing she was an intruder hiding in a toilet cubicle at his Pretoria home in the Silver Woods gated estate.
The state argues the athlete shot and killed his girlfriend deliberately, knowing full well she was behind the toilet door, following a domestic dispute in the early hours of Valentine's Day 2013.
South Africa does not have trial by jury, meaning Judge Thokozile Masipa will decide Pistorius' fate with the help of two assessors.
The murder trial continues.