Outcry as Ugandan paper names 'top homosexuals'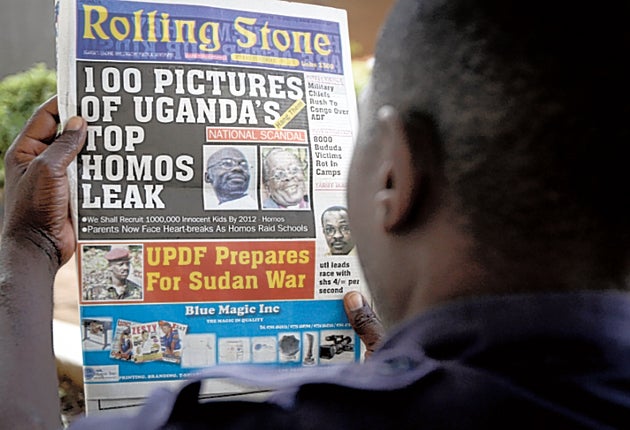 Gay Ugandans have faced a fortnight of attacks and intimidation, say human rights campaigners, after a local newspaper published a list of the country's "top 100 homosexuals". As well as naming gay Ugandans – complete with photographs and addresses – Rolling Stone newspaper also claimed that a deadly disease was attacking homosexuals in Uganda, and said that gays were recruiting one million children by raiding schools.
Activists say a number of Ugandans have been attacked since the Rolling Stone newspaper published the front-page story on 9 October under a banner that read, "Hang Them".
"Some people could not even get out of the house, as they've been throwing stones," said Frank Mugisha, the director of LGBT group Sexual Minorities Uganda. "People have received verbal and physical threats."
After the article hit the streets, the government's Media Council ordered the newspaper to stop publishing – not because of the content, but rather as the newspaper had not registered with the administration. After it completes the paperwork, Rolling Stone will be free to publish again.
The newspaper's managing editor, Giles Muhame, maintains that the article was in the public interest. "We felt there was a need for society to know that such characters exist amongst them. Some of them recruit young children into homosexuality, which is bad and needs to be exposed," he said.
"They take advantage of poverty to recruit Ugandans. In brief, we did so because homosexuality is illegal, unacceptable and insults our traditional lifestyle."
The article in Rolling Stone emerged about a year after the Ugandan MP David Bahati introduced a bill that would have imposed the death penalty for some homosexual acts and life imprisonment for others.
Drawn up following a visit to Uganda by leaders of Christian ministries from the US, the legislation was quietly shelved after an international outcry. However, gays in the conservative country – where 85 per cent of the population of 32 million are Christian and 12 per cent Muslim – believe the proposed law has still had an impact on their way of life.
"Before the introduction of the bill in parliament, most people did not mind about our activities. But since then, we are harassed by many people who hate homosexuality," 27-year-old Patrick Ndede told AP. "The publicity the bill got made many people come to know about us and they started mistreating us."
"We are an endangered species within our country," added Nelly Kabal. "We are looked at as if we are outcasts. One time, I was in a nightclub with a friend when someone who knew me pointed at me shouting, 'There is a gay!' People wanted to beat me up but I was saved by a bouncer who led me out."
Although Ugandan Rolling Stone published its first issue only in August, it is already locked in competition with Red Pepper, another garish local tabloid. Rolling Stone's print run is about 2,000 copies, but 10 or more people often read a single newspaper in Uganda.
Homophobia is rife in many African societies, with gay behaviour condemned by both traditional values and missionary-brand Christianity. Many states on the continent have also not changed the punitive legal attitude to homosexuality that they inherited from colonial powers at independence.
In Nigeria, Africa's most populous country, homosexuality is punishable by death or imprisonment. South Africa is the only African nation to recognise gay marriage, but even there, gangs carry out so-called "corrective" rapes on lesbians.
Join our commenting forum
Join thought-provoking conversations, follow other Independent readers and see their replies