Protesters gain ground. But have the Western powers forsaken them?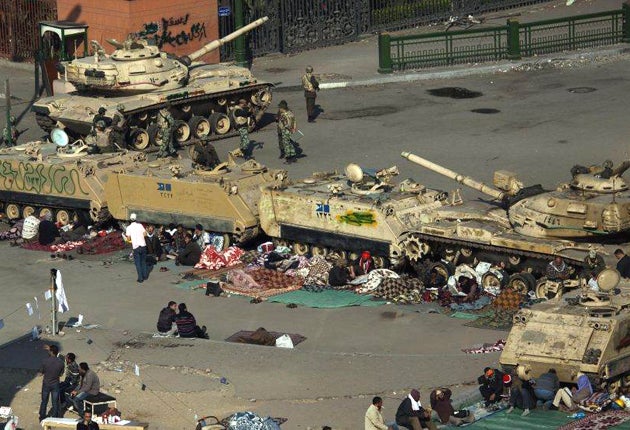 Hundreds of pro-democracy demonstrators were occupying the street outside parliament and the Cabinet Office yesterday after spilling out of Cairo's Tahrir Square as the 16-day-old protest expanded across the country.
With thousands of workers responding to their calls for strikes - and poor Egyptians launching other protests in several regions - anti-Mubarak organisers regained the initiative despite heavy hints from the regime that force might be used if the uprising was prolonged.
Four people were killed as armed police moved against around 3000 protesters in the New Valley province of Egypt's Western desert. The casualties appeared to be the most serious of their kind since police were withdrawn after they quelled the big January 28 demonstration in Cairo with tear gas and rubber bullets.
The determined mood of the protesters exposed a division between the perceptions of Western governments that Hosni Mubarak will not go until September, and the demonstrators' continued calls - and predictions - for an imminent end to the President's 30-year rule.
There has been a growing acceptance in Washington and European capitals that Mr Mubarak will remain until September. While recognising they are not yet conclusive, Western governments believe that pledges of reform, and the removal of some key regime figures, reflect progress towards the democratic Egypt the protesters are seeking.
But Wael Ghonim, the 30-year-old Egyptian Google executive who has emerged as a spokesman for the protesters after spending 12 days in detention, told CNN he was "ready to die" to bring change to Egypt and said it was "no longer the time to negotiate" with the regime. Calling on its top officials to go, he added "If you are true Egyptians, if you are heroic Egyptians, it's time to step down."
A crowd of around 8,000 people in the southern province of Assiut blocked the main road and railway to the capital with burning palm trees to complain of bread shortages, and then drove off the governor by pelting his car with stones. In Port Said, hundreds of slum-dwellers set fire to part of the governor's headquarters.
Outside the gates of the Cairo parliament building, where someone had hung a "Closed for Cleaning" sign in a clear reference to the widespread accusations of corruption among many of Egypt's MPs, dozens of protesters marched to chants of "It's beautiful: Mubarak's people dismiss him," and "After Friday prayers we will bring him from the Palace." Activists have called for another massive turnout of demonstrators tomorrow.
Protesters had moved into the parliament area on Tuesday evening, many sleeping there overnight, as Egypt's Vice-President, Omar Suleiman, warned Egyptian newspaper editors about the protests centred on Tahrir Square. "We can't bear this for a long time. There must be an end to this crisis as soon as possible." He said the regime wants to resolve the crisis through dialogue, and added: "We don't want to deal with Egyptian society with police tools."
Adopting a tone that appeared to conflict with that of earlier promises not to harass or use force against protesters, Mr Suleiman, who is conducting a US-backed effort to reach agreement with some opposition groups on a series of reforms, warned that calls for a campaign of civil disobedience are "very dangerous for society and we can't put up with this at all".
He implied again that Egypt was not ready for democracy, the "culture" of which he told the editors was "still far away". And he added that chaos would ensue if "the dark bats of the night emerged to terrorise the people," before suggesting that the alternative to dialogue might be a "coup".
Human Rights Watch say the number of people killed in the protests has reached 302.
Outside the closed gates of the parliament building, Ibrahim Haddad, a 23-year-old student, said protesters had been planning to move from Tahrir Square for some time. "We were worried it was becoming a carnival against Mubarak instead of a revolution."
Mr Haddad, who combines studies for an archaeology degree at Alexandria University with a job in customer services for AT&T, added that on Tuesday "there were so many people in the square we thought it was safe to leave."
Despite Mr Suleiman's remarks, Mr Haddad insisted: "I don't think there will be force. The Army has been co-operating with us and I think they will stay neutral."
Mr Haddad rejected suggestions that Mr Mubarak should be allowed to stay in accordance with his timetable for dialogue on reform, leading to elections in September, adding: "If he was going to leave he could have done it during the last 30 years. He is actually a criminal and we don't accept to be ruled by criminals."
One protester at the parliament, Mohammed Abdullah, 29, warned that the mixed messages from Washington in the last fortnight would not endear the Obama administration to the protesters.
"We are disappointed. First they say they are with the Egyptian people, then they say he can stay [if there is] dialogue," he said.
Protests across Egypt
New Valley Three people were killed in clashes between security forces and about 3,000 protesters, according to state television. It was the first serious clash between police and protesters since officers beat protesters on Jan. 28.
Alexandria Tens of thousands of people joined a protest march.
Port Said Around 3,000 protesters demanding cheaper housing torched government offices in the city and a governor's car.
Suez A few thousand workers from three state-owned companies protested asking for higher pay.
Islailia Hundreds of workers from two Suez Canal companies demonstrated for better pay and conditions.
Join our commenting forum
Join thought-provoking conversations, follow other Independent readers and see their replies