Refugee crisis: Children among more than 100 bodies recovered after migrant boat capsizes off the coast of Libya
More than 1,000 people have drowned in sinkings between Libya and Italy in recent days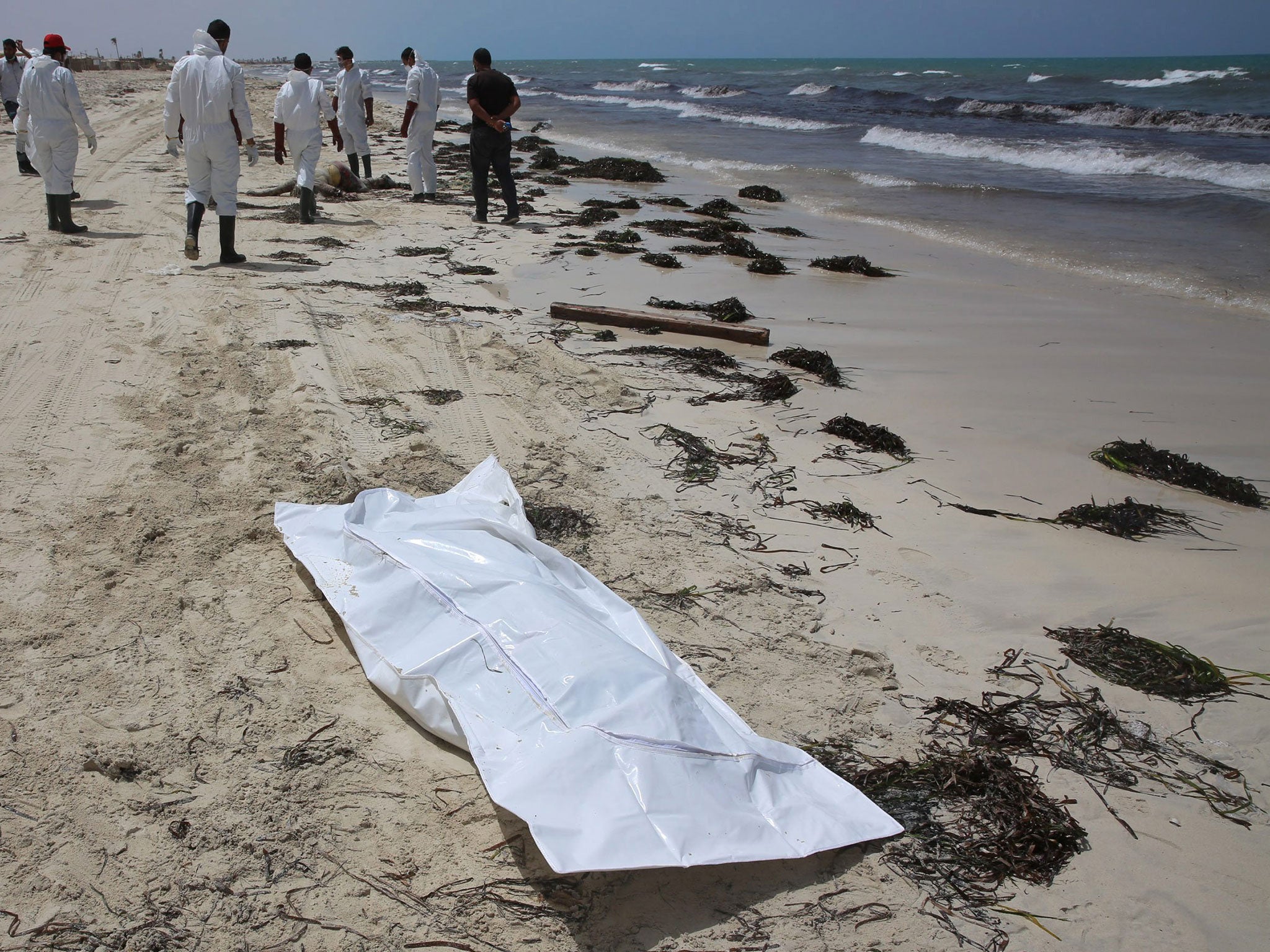 The bodies of more than 100 refugees have been recovered in the Mediterranean Sea after a boat capsized off the coast of Libya.
Colonel Ayoub Gassim said the corpses - 75 women, six children and 36 men - were pulled from the water near the western city of Zuwara but that the expected death toll from the disaster is likely to be higher.
Libyan coast guards found the vessel drifting on Thursday but believe it may have capsized the previous day with an unknown number of people on board.
Number of child refugees crossing into Europe swells
At least 85 bodies were found washed up on Zuwara's sandy beaches on Thursday but it was unclear whether they were from the same disaster or other sinkings.
Speaking to the Associated Press, Col Gassim blamed Europe for "doing nothing but counting bodies" to stop migration from Libya.
The country is a common launching point for smugglers sending migrant ships towards Italy, normally leaving them to drift before being picked up by rescue ships.
Smugglers have taken advantage of the conflict and chaos since the fall of Muammar Gaddafi in 2011, with the new unity government struggling to re-gain control of parts of the country.
Aid organisations said the last two weeks have been especially deadly because smugglers are using riskier tactics, bigger boats and even less-seaworthy vessels at an increasing rate with the onset of summer weather.
Friday's disaster came as rescue operations continued after a separate sinking off the coast of Crete, where at least nine bodies had been recovered and more than 300 people rescued.
Refugee crisis - in pictures
Show all 27
Hundreds of asylum seekers have drowned in successive disasters in the Mediterranean Sea in recent weeks amid concerns that the EU-Turkey deal seeing migrants detained on Greek islands is forcing desperate migrants to take longer and more treacherous journeys.
The vast majority of arrivals are now landing in Italy after crossing the Central Mediterranean from North Africa.
At least 880 migrants died last week alone and deaths are up more than a third compared to the same period last year, according to figures compiled by the United Nations refugee agency (UNHCR).
More than 2,500 migrants have died at sea in attempts to reach Europe this year, while more than 205,000 people have made the journey.
David Cameron announced last week that Britain would send a warship to the Mediterranean to combat people smuggling as EU and Libyan naval operations continue.
The majority of asylum seekers currently arriving in Italy are from sub-Saharan Africa, with the largest group from Nigeria, at 15 per cent, followed by Gambia, Somalia, the Ivory Coast, Eritrea, Guinea and Senegal.
In Greece, 49 per cent of those to have arrived so far this year were from Syria, while a quarter were from Afghanistan, 15 per cent from Iraq and others from Pakistan and Iran.
Join our commenting forum
Join thought-provoking conversations, follow other Independent readers and see their replies